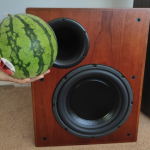 Mariusmssj
I use the 1961 as surrounds and height speakers and I've been pleasantly surprised by them. For such small speakers they do produce full rich sound.
One thing that I would say is that 1961 towers would be much more powerful than the center speaker. A few other people have shared the same view on other forums, when compared to the towers the center channel was a bit behind. Going for monitors instead would mean your whole front stage would be much better matched.
However if you care a lot about stereo music towers would be a better call.
To be honest, whichever option you chose I'm quite sure you'll be happy :)