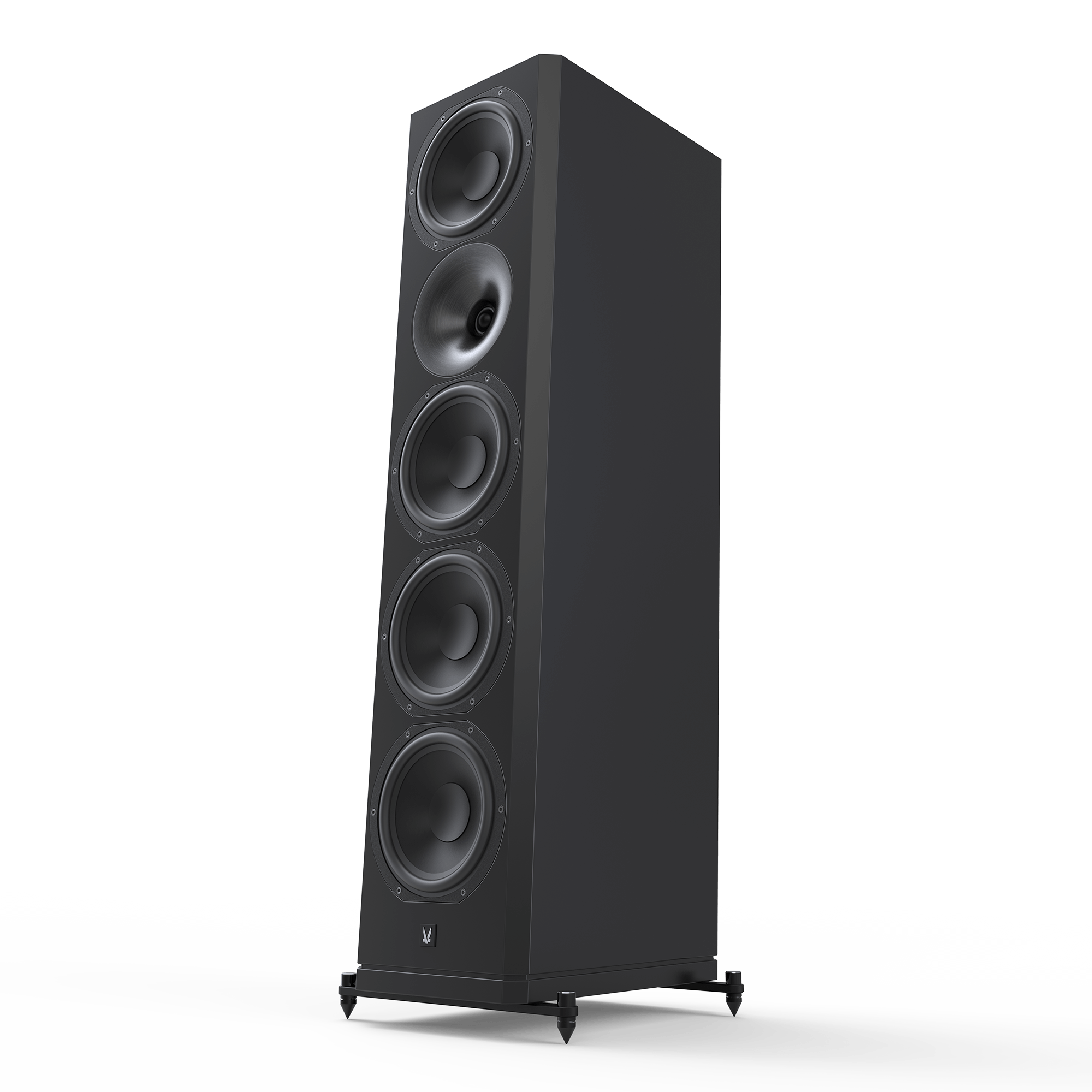 BIG ENTERTAINMENT FROM ARENDAL
There has been a lot of buzz surrounding Arendal Sound lately and that is how it should be when a new Norwegian producer sees the light of day. The new Tower speakers from Arendal are big entertainers, with capital letters. These are in fact, seriously grown up speakers. Arendal Sound emanates from L-Sound in Arendal where they, at a point in time, decided to produce speakers of their own, instead of having to be depend on what the producers of equipment and electronics decide at all times. Long-term and safety for the customers is not a bad thing.
Text: Håvard Holmedal
BIG AND POWERFUL
If you try to guess how these speakers sound, I think you may be very mistaken. One could easily assume they are speakers that should play loud, brutal and right in your face without much if any finesse, but that is actually a step away from reality. We will come back to that later.
Arendal Sound Tower is equipped four 8-inch drivers. It gives a pretty massive appearance! All of them work together as far down in the bass as they can manage. Two of the woofers are limited to a maximum of 120Hz, with the two woofers above and below the tweeter working in a D´Appolito configuration.
To get all of this to work together, Arendal Sound has made the crossover frequency between the two top woofers and tweeter as low as 1500Hz. This is fairly unusual, but with a tweeter that can take a beating or is very sensitive, or both, managing this is no magic trick. There is no intimation at all that indicates these loudspeaker have problems in the tweeters lower region during the test. The tweeter is mounted in a waveguide, something that increases the sensitivity a little, but also ensures controlled dispersion.
On the rear, there is a double pair of solid speaker terminals for bi-wiring or bi-amping. Massive connectors between the terminal pairs also enables the use of a single speaker cable driven by a single amplifier.
We have tested loudspeakers of this size with at least as impressing driver arrays, but with a weight that compared to Arendal Sound Tower, reminds us more of a beach ball. This loudspeaker is pretty solidly built, and it shows in the weight. HDF (High Density Fiberboard) is used for the cabinets and a very solid baffle (50mm) ensures optimal working conditions for the drivers.
The loudspeaker is not really okay to lift by yourself. You will probably have to borrow some serious muscle if you need to lift it up a few stairs. The height is also near 116cm, and even more with spikes.
The loudspeaker is specified as 4 ohms nominal, but that is still no difficult task for an amplifier. It does not drop below 4 ohms and has no sharp phase shifts – something that makes them fairly easy to drive. Anyway there is no reason in the world to buy a cheap one. Buy a powerful, stable and solid amplifier with 150-200 watt on tap. Start looking in the price range around 20.000 NOK (2100 EUR).
FLEXIBLE BASS SOLUTION
One of the main problem areas in a living room is the bass and especially when the loudspeakers are this size. The Tower's three bass ports can be damped in different arrangements. You can seal them totally, or seal one or two ports. All changes makes a relatively big impact on how they operate in-room.
In sealed mode the loudspeaker stretches down to almost 55Hz before reaching the -3dB point. In my opinion this is the configuration where it has the most controlled and precise bass response. With all ports open, the response and play style becomes a little different; we are talking about a bass that in the living room almost was a little too much. Still precise, but more difficult to place if you want balance and not so much emphasis on bass in the room. And you can of course seal one of the ports as a sort of a solution in between.
Compared to the size and driver array some will possibly wonder why it does not go deeper in the bass. But then you have been fooled by the measurements Arendal Sound has published. With all ports open the -3dB point is just below 40Hz, but in reality this is just a conservative measurement. They actually do not fall more than 5-6dB down to 20Hz, at that point we are talking about a pretty solid and massive deep bass response. You can of course find speakers at this size going even deeper in the bass, but with this precision and control, and at this price? I doubt it!
The sensitivity is almost 92dB at 1Watt/ 1meter, which means it can play pretty loud. Because it can handle 400watt!
SOPHISTICATION DEPARTMENT
L-Sound had broken the speakers in for us and that we thank them for. We can start the testing immediately after they arrived the house.
With four 8-inch drivers this loudspeaker moves a lot of air. With a proper amplifier it will play pretty loud and with the help you get from your room in the bass area, there is plenty of deep bass. But you should not buy this loudspeaker only to play loud and deep. It is a quiet, precise and controlled deliverer of most music genres and deserve an amplifier that can bring out its full potential. Because we are actually talking about a loudspeaker that has good resolution, is detailed and that plays very relaxed and unfazed. Maybe even to a surprising extent.
That's why I found all the roughest and most bass-heavy recordings to start with, while also letting the speakers calm down with more gentle stuff, as I adjust a little back and forth to bring out the best perspective and focus possible.
On our playlist in Tidal, there are a lot of delicate recordings to test and I started with Bob Dylan's Man in the Black Coat. After having heard this on B&W 805D3 and on the same amplifier in this edition of Stereo+, I am of course a little curious as to how His Bobness and the slightly bright room character surrounding his voice, actually works.
We are not talking about the super resolution of the 805D3 and the superior calmness in the midrange, however the Tower makes a more complete and a lot larger sound stage. There are good HiFi-experiences to be heard here. Bob's voice is very clear, and is nicely rough and throaty and is pretty well focused in the soundstage. Voices and instruments alike, are focused and credible, the soundstage is pretty deep and well proportioned.
I continue with the lovely Youn Sun Nah and La Chanson D´Helene. The Tower also shows they can be quiet, subtle and hold back when needed. The voice is actually nicely presented. It is detailed, full of contrast and colorful enough that it becomes a much more pleasant experience than I thought would be possible.
OVER TO THE FUN DEPARTMENT
And then! With Bliss and Song for Olabi there is clearly deep bass in spades, but also pretty violent dynamic tests. The sub-bass in the bottom of the soundstage, and the frenetic percussion instruments gives more than a hint of why you should buy these loudspeakers, or for what kind of music they are created. This is massive and very impressive!
With Porcupine Tree in the player and Anesthetize, there is both depth and control and a bass guitar that really sounds like it is delivered from a big live-scene. The heavy guitars sounds as if they come from a wall of big guitar amplifiers, but the speakers never sound harsh or stressed. They just play music and show that they have a vast headroom t'boot.
I play Trentemøllers Chameleon on the setup and now the speakers get to show how they handle electronica, synthesized sounds and dynamics are definitely on the list of things the speakers handle with panache. It just sounds so amazingly big and effortless and it is getting close to the experience you can get from really big and heavy, high-end speakers, minus a bit of resolution and the ability to dig very deep in the material and maybe also some of the three-dimensionality, but it is still impressing and definitely fun!
MOVIES
These loudspeakers almost scream to play a movie in the home cinema and with the latest Star Wars in the player (and completely without a subwoofer) this is very big, very deep and immensely fun. Actually to such an extent that I suspect Arendal Sound has had at least one eye in the direction of home cinema during the development.
The loudspeakers oozes with confidence and plays the movie forward with a high tempo and a vast ability for precision. The bass in movies is almost a chapter of its own. In a normal room I almost don't see why one would need a subwoofer. It would, in that case, have to be seriously big to have any chance of following the pace.
COMPETITORS
Arendal are not the only ones who can make a loudspeaker and with forexample, Dali Opticon 6, Dynaudio Excite 36, the slightly more expensive Focal 946 and Klipsch Reference 7 mkII, that at this moment costs 25.000 NOK, there are some very good alternatives for those who want it big. Nonetheless that does not steal from the fact that Tower plays amazingly good and maybe are the best speakers in the price range at this moment – if it is a big and powerful full range speaker you are looking for.
CONCLUSION
For such a big speaker it shows a lot of refinement and ability for details, however it also has a mid bass and a deep bass that you nearly can't find any other place in this price region. That makes it one of the few real fullrange speakers you can buy for under 30.000 NOK (3200 EUR).
WE LIKE
Big and robust sound
Precise and detailed
Surprisingly refined
A lot of entertainment and fun
WE DONT LIKE
Not a big charmer when it comes to design
STEREO+ THINKS:
This loudspeaker has an impressively large soundstage and impressively vigorous, detailed and dynamic playing style. Big and surprisingly refined entertainment!