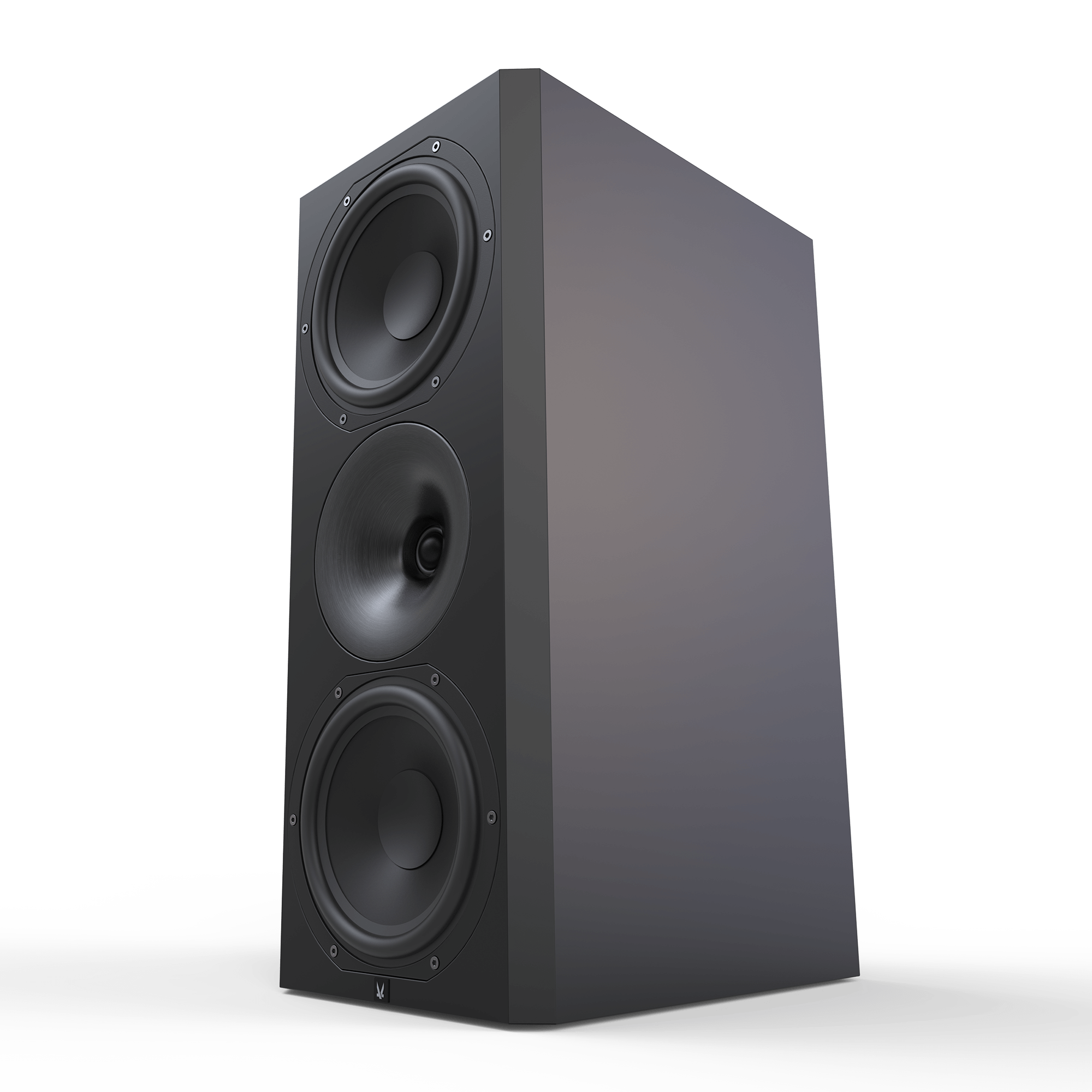 ARENDAL SOUND 1723 MONITOR – THE BOOKSHELF SPEAKER THAT KNOWS NO LIMITS
By Karl Erik Sylthe.
Arendal Sound emerged as a brand new Norwegian speaker manufacturer just over a year ago. And already at the launch they had a complete set of home theater in place. I've been testing the bookshelf speakers 1723 Monitor for a longer period, and they have left clear traces…
Although Arendal Sound is a whole new brand, they don't appear from a vacuum. Those who have followed the industry for a while often associate the town Arendal with the dealer L-Sound. And quite right, it's the same Jan Ove Lassesen – the wirepuller behind L-Sound – who is also behind the entrepreneurial speakers Arendal Sound. The product name reveals that we are dealing with an obvious Arendal patriot. And if you were wondering what the number 1723 stands for, I immediately refute that this indicates a cabinet volume of 1723 liters – it just seems that way. 1723 is actually the year when Arendal was founded.
HIGH LEVEL HOME CINEMA
The 1723 Series consists of all nine products, four of which are subwoofers. One should have quite poorly developed antennas to avoid thinking that home theater has been a priority area for ​​Arendal Sound. It is also obvious that it is in the premium segment they want to define themselves, with accentuation of uncompromising commitment to quality as an important marketing element. The interesting question for me is whether these speakers can also serve as good music purveyors?
It is my belief that it is often set up an artificial distinction between home theater and music. Really good home theater speakers will also be good music purveyors. Basically, both concepts require the same – they must reproduce the applied signal precise and neutral. One might argue that a mediocre or poor speaker setup easier survives in a home theater setup, as long as it is able to deliver a usable amount of bass.
But here we basically find ourselves in a segment where quality aspirations are on top. So, we should also expect that the 1723 speakers should be able to play music with high quality.
1723 MONITOR
Already a year ago we had the first discussion regarding a product test, and during the Horten Hifi show this autumn this discussion was resumed. For some reason it was the bookshelf speakers that interested me the most. The reason for that is perhaps that the 1723 Monitor is the most unconventional construction here, at least when it is combined with the custom 1723 Stand. Used together, they have an external volume which is quite identical to the tower model 1723 Tower. But in my eyes there is a touch more elegance in the 1723 Monitor / 1723 Stand combination. On another side, the price for this combination is not that far from the 1723 Tower, and maybe you get better sound with 1723 Tower, with its two extra woofers?
With 1723 Monitor one might be led to assert that Arendal Sound have not quite understood the concept bookshelf speakers. It should be small speakers that blend unobtrusively into the interior, delivered in a packaging where both speakers fit in a common shoebox. But such understanding is quite of history. A few decades ago it was not uncommon with bookshelf speakers with fairly large volumes – often equal volume as 1723 Monitor, though perhaps not as high weight. And the speaker stands were often low, specially designed for each mode. And then the speakers tend to be produced in England…
DESIGN
The 1723 Series design carries largely signs of being premium home theater speakers. High finish in every detail ensures premium feel, yet there are some factors in the design that perhaps make these speakers not quite reach up to some of the competitors regarding WAF. We are not quite in Sonus Faber's world when it comes to design.
For home theater the matte black finish could be the first choice, while in the living room if would prefer the black high gloss.
QUALITY IMPRESSIONS
As mentioned earlier Arendal Sound have an emphasis on quality in their marketing. This is something which is immediately confirmed when unpacking, starting with the white gloves located on top of the package. And although the volume should give a hint that this is not the speakers you would carry under each arm, there is a surprisingly (and uncomfortable) high weight on these models. This confirms the focus on robust construction.
On the back we find some of the most appealing and trustworthy speaker terminals I have been in contact with this side of the €10.000 mark. Materials used are copper, with Rhodium coating. This choice is made to ensure optimum contact, and also applies to the short-circuit terminals between tweeter and midrange / bass.
The terminal plate is made of anodized and brushed aluminum, and is extra large to accommodate for the crossover mounted on the other side.
CONSTRUCTION
Arendal Sound 1723 Monitor is basically a vented construction, but it comes with plugs that according to Arendal Sound define them as a closed structure when they are in use. Used with and without plugs produce a different bass response. With open ports the 1723 Monitor goes deeper before roll off starts, but the roll off is steeper. With the plugs in place the bass range farther down. Given measurement data is -3dB at 58Hz for closed construction, while -3dB extends down to 34Hz. It is important to look at more than just the stated frequency range – the roll off curve can be just as interesting. What is preferable is otherwise dependent on room placement and personal preferences. I have a friend who believes that bass reflex per definition is a faulty construction, while I prefer to reset my impressions before testing a new speaker.
1723 Monitor is a 2-way design, where a 28mm tweeter takes care of frequencies above 1500Hz. Below the crossover frequency the dual 8" woofers takes over.
The tweeter is a 28mm synthetic soft-dome, obtained from Dr. Kurt Mueller of Germany. Arendal Sound has constructed a wave guide – a kind of light horn-charging to optimize tweeter element spread. One of the treble characteristics Arendal Sound has emphasized is its ability to deliver signals at high volume all the way down to 1500 Hz.
The two 8-inch woofers are relatively conventional elements with paper membranes. Double 8-inch woofers provide a very good bass response, without setting excessive demands on the power amplifiers.
The crossover filters are developed by Arendal Sound, and are 4th order filters with 24dB / octave slope.
1723 STAND
This very untraditional speaker stand constitutes a volume that surpasses most bookshelf speakers. It applies weight too, and that's before you start sand filling them. The latter exercise should make the most robust surface you can think of for a couple of stand speakers. This will also make this a much heavier construction than the 1723 Tower. How this affects the sound is not known.
On the back we find holes used to physically connect the stand to the 1723 Monitor. One of the parameters 1723 Stand contribute with is that they tilt the speakers slightly backwards. This is of course an important design element. In addition, it makes the two woofers do not get identical distance to the ear, but the result of this is dependent on their height and distance between the speakers and the listening position. Theoretically this is not really ideal. On the other hand, I struggled to find any difference by tilting the speakers forward – an exercise that should be performed with caution with the weight of these speakers.
TEST SETUP
In the test period, the following equipment was used with Arendal Sound 1723 Monitor
Sound sources:
Vinyl:
Thorens TD 160B Mk2 – Hadcock 228 – Sonus Blue Gold
Onkyo CP1050 – Ortofon 2M Bronze / Van den Hul DDT 2 Special
Vertere SG-1 Standard Groove – Ortofon Cadenca Black
CD / SACD:
Denon DCD2000AE
Streaming:
Linn Akurate DS/0
Amplifiers:
Denon PMA-2500NE, integrated amplifier
Linn Kolektor, preamplifier
Linn LK100, 2 power amplifiers
WE PLAY MUSIC
We start with a description of Leonard Cohen's latest release You Want It Darker, streamed losslessly from TIDAL via Linn Akurat DS. Especially the title track has a pronounced bass reproduction that require a lot from the equipment that is rendered on. Yet this is handled with no hint of stress from the 1723 Monitor, while exercised good perspective properties. On the track "Treaty" Cohen's voice is deeper than I've heard it ever before, and it rendered brilliant by the speakers. And the special guitar in the intro of Leaving The Table is reproduced crisp and detailed.
The Re-release of Radka Toneff's Fairy Tales is for the occasion subject to a duel between vinyl and TIDAL Lossless. Played on a newly arrived test copy of the exclusive turntable vertere SG-1 with Cadenza Black, it is a a good old-fashioned knockout for the vinyl edition, although it also sounds utterly brilliant on TIDAL lossless, played on Linn Akurat DS. And in both cases, 1723 Monitor does an utterly brilliant job. Goose bumps are present of The Moon is a Harsh Mistress.
Jan Gunnar Hoff just published his album Stories on 2L, in a release that contains both Pure Audio Blu-ray and SACD. This time the stereo track on SACD is put on the Denon DCD-2000AE. The atmosphere of Sofienberg Church is rendered very good through 1723 Monitor on this stereo track, although I usually prefer multichannel versions of 2L. The nerve in Jan Gunnar Hoff's piano is reproduced very well on these songs that alternate between their own compositions, and JGH-interpretations of standard tunes, in the diffuse landscape between jazz, classical and contemporary music. Especially good I think his interpretation of God Only Knows is, bringing also to mind an incredible piece version performed by the Portuguese jazz singer Maria Joao (not to be confused with the Portuguese pianist with the same name.)
Oscalypso with Eric Friedlander is a release with shimmering sound. And the 1723 Monitor reproduces this with an almost spooky perspective, and sparkling dynamics. It is also interesting to compare this performance with how the XTZ Master M2 performed on the same album. With the XTZ the perspective was maybe a notch sharper, while the macro dynamics and bass response produced by 1723 Monitor is quite superb.
WE LOOK UP
The four album examples I have described above is of course only a small excerpt of the music that has been played during the test period. And to try to sum up the listening impressions, the Arendal Sound 1723 Monitor has performed extremely good in my 50 square meter large listening room during the test period.
We can start with what inevitably are the speakers' most impressive features. In the bass range, extremely few speakers in this price range are even close to keeping up with 1723 Monitor. And we don't of course speak of dominant bass that takes over the show and destroys for a balanced representation. This is precision bass at its very best, and personally I preferred with the plugs mounted in the bass ports. A terrific punch where it's appropriate, combined with a very balanced sound.
One of the major benefits of a successful two-way construction is that you get a seamless transition to the midrange. There is simply no transition to deal with. And both men's and women's vocals are brilliantly reproduced here – the same goes for piano and strings.
The tweeter can sometimes be perceived as a tad careful, although I am absolutely not sure that it is muted compared to the rest of the frequency range. It could probably also be the absence of individual frequencies that stands out. Yet some may prefer a little more accentuated highs, to be able to focus a little more on the micro detailing. I myself really enjoyed this great sonic balance.
CONCLUSION
Arendal Sound has made a very good speaker here. The combination of a very authoritarian and rock-solid bass with a remaining frequency range that swings gracefully from silky tones from Radka Toneff, to Miles Davis's Bitches Brew and Jimi Hendrix's In the west, does not grow on trees.
Arendal Sound has made a clear choice when it comes to the formal tuning here. It is a choice that will attract some, and perhaps get others to look for alternatives. With the authority Arendal Sound has displayed in the exercise loudspeaker design here, it's tempting to try to inspire Lassesen & Co. to develop a new model with a design that appeals to a wider audience for living room use. It just needs to be roaring success!
With 1723 Monitor Arendal Sound has created a speaker that impresses grand as music renderer in stereo. It also is an outstanding home theater speaker you can take as a pure bonus!