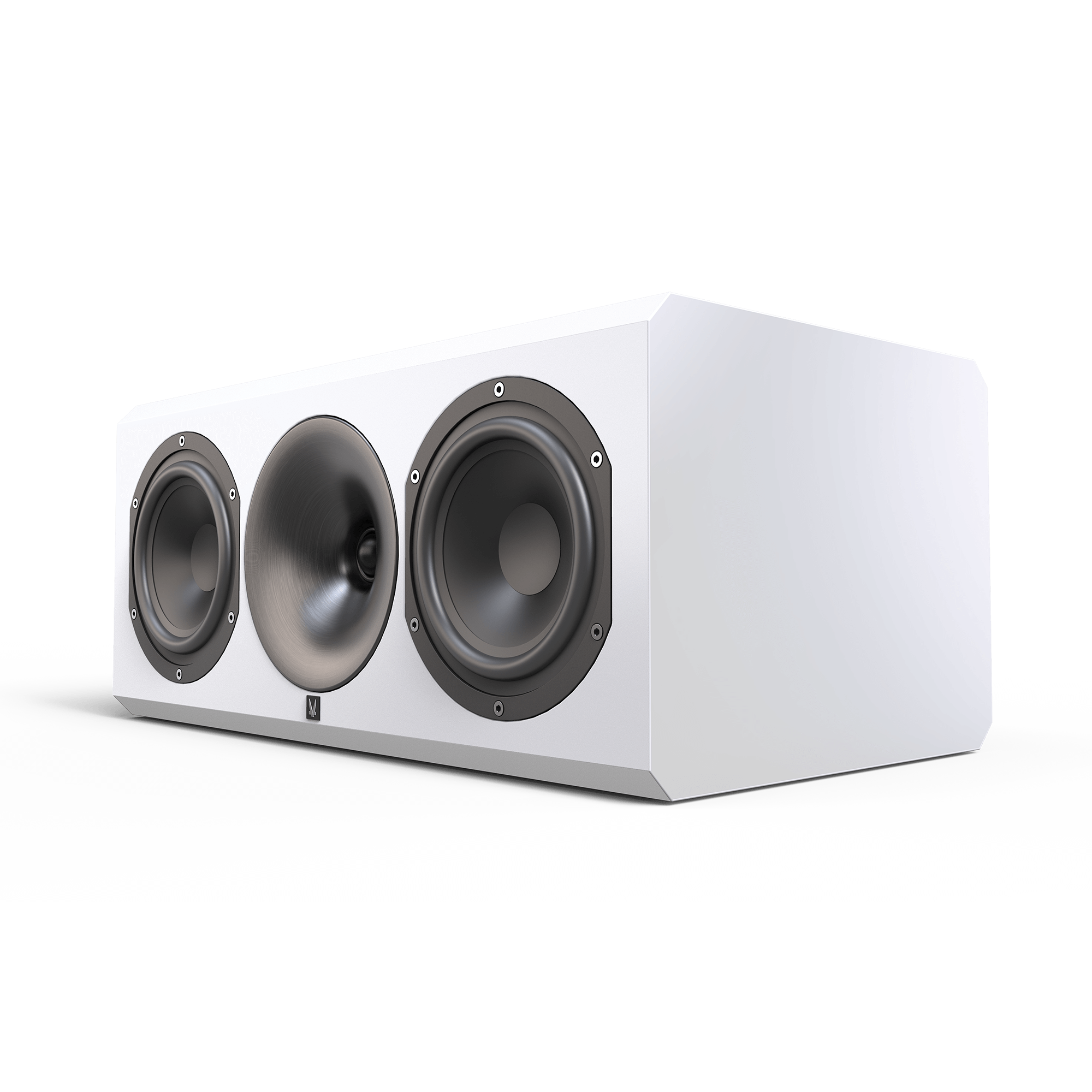 The complete package—the Arendal 1723 S speakers and 1723 Subwoofer 2S—looks great and sounds even better. If you want a small size yet big sound this is a system you should definitely consider.
I first ran across the company around 3 years ago but at that time they weren't doing much in the US so I filed them away in the "check back at a later date" section of my product review list. I guess you can consider it a later date as I now have before me a 5.1 system consisting of the following:
• Two 1723 Tower S
• One 1723 Center S
• Two 1723 Bookshelf S
• One 1723 Subwoofer 2S
The entire 1723 line is physically smaller than the driver quantity and their size would suggest, it's clear Arendal is going for room friendly here. The S in the speaker name actually stands for "smaller" (relative to their flagship 1723 series). Each speaker in the S line is THX Ultra certified meaning rated for reference level volume in rooms up to 3,000 cubic feet at a 12 foot listening distance. Products that have achieved Ultra certification are seriously capable, an impressive accomplishment considering their size.
Arendal includes free shipping, a generous 60-day in-home trial, and 10 years warranty.
First Impressions
Everything they sent me came wrapped in black plastic to protect it from the elements, a nice touch. The boxes themselves are triple walled which is very rare. Inside you'll find special corner edge protectors, the longest dimension is reinforced with cardboard slats to resist crushing forces. Sturdy foam covers the entire top and bottom, in some areas it's 2.5″ thick. Protecting all 4 sides of the cabinet are individual blocks of foam that have been custom cut depending upon what they're shielding (amp, driver, etc).
After extracting the speakers and subwoofer from their protective foam cocoon you'll find them tucked inside a satin-like drawstring bag. Grills are contained in their own cloth bag, separated from the cabinet, and securely held in distinct cutouts in the foam. Accessories include white cloth gloves and a product-line specific owner's manual. For the subwoofer, there's also a power cord and unpacking guide.
Calling what Arendal includes an owner's manual is probably a bit of a disservice, so extensive is the information that they actually refer to it as a handbook instead. I wholeheartedly agree, it's possibly the most impressive of its kind I've seen to date.
From the moment you open the Arendal handbook, you can't help but be impressed, words like "classy" and "elegant" come to mind. It harkens back to a day when companies made an effort to showcase their products. The pages are made from thick glossy stock, lending to the sophisticated image. They include artistic hi-resolution pictures, an explanation of their tech, placement options, setup, and a connection guide with in-depth instructions on all the configuration options.
1723 Subwoofer 2S
I've reviewed a lot of subwoofers during the past decade, most of which have been fairly generic black boxes. Unlike speakers, it seems little thought is given to subwoofer appearance. Arendal bucks this trend.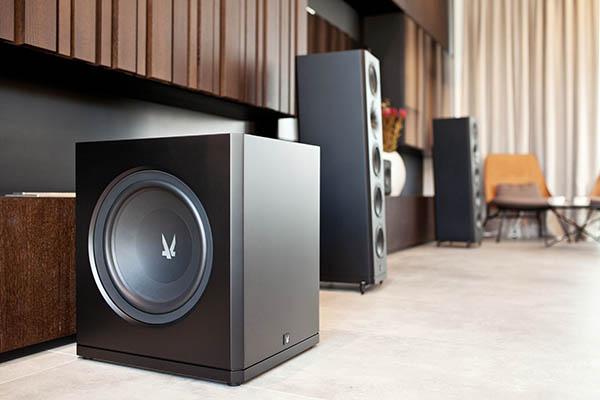 Made from HDF – rather than its less desirable sibling MDF – the review unit came finished with a very nice multi-layer satin black paint. The corners are not really corners, instead they're chamfered and rounded edges that create a fluid look. At the very bottom there's a plinth-like section that adds additional visual appeal.
When you consider the cabinet houses two drivers that are almost 14″ each—which equates to roughly the same cone area as a 21″ driver—your mind will almost certainly think this has to be a really large box. Your mind would be wrong however, I've seen sealed subwoofers with a single 15″ driver that had larger enclosures. The Subwoofer 2S will not seem the least bit imposing sitting in your room.
You can use both XLR and RCA inputs simultaneously, affording you the option to have different configurations based upon need. This is a unique setup, as few companies allow you to have two separate signal sources that can be custom-tailored for a specific purpose (like HT and music). The inputs are not auto-sensing, so you must select one from the menu and activate it or use the 12 volt trigger.
1723 S Speakers
Built using the same design language as the subwoofer, the speakers are doppelgangers.
They too are made from HDF. Everything in the 1723 S line shows a narrow front to the listener, nothing is tall or wide. Each has a bit of depth but even that is probably not what you might think.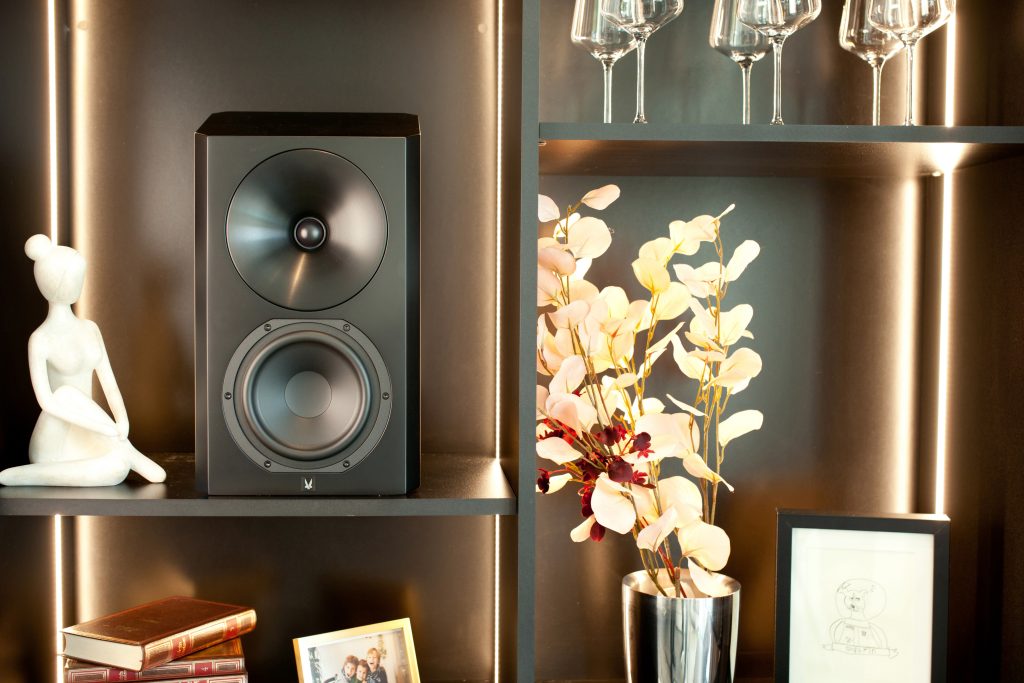 I'm 6′ 1″ and the 1723 Tower S tops out right about where my belt sits, certainly not what one expects when they hear the word "tower". Despite its less than imposing stature you don't have to worry about the drivers being positioned too low, Arendal has slanted the front panel upwards at a 2.5° angle to ensure they're aimed right at your ears. Despite the asymmetrical cabinet the slope is subtle enough to easily go unnoticed. The 1723 Tower S comes with carpet spikes and rubber feet, both attach to an outrigger and help ensure they remain stable.
The paint was applied brilliantly, with not a single flaw to be found. Run your hand over the cabinet and it feels smooth and flat.
The binding posts on all the entire 1723 S speaker line are some of the most robust I have seen. The 5 way design is made from Rhodium coated copper, they're large and feel very substantial. Luxurious even. Yes, I called them luxurious. The Tower S and Center S can be configured as ported or sealed, the Bookshelf S is sealed only.
Speaker setup is like any other so nothing groundbreaking there. The Subwoofer 2S is a different story, for that Arendal offers a phone app. With it, you can tailor just about everything…
The app is intuitive, responsive and easy to use. Not a fan of apps? No problem, every setting is available from the 2.6″ LCD control panel on the amplifier. There's no penalty if you go that route because it also has an intuitive interface. For those with multiple subwoofers Arendal allows you to group them and apply settings globally, negating the need to adjust each individually.
In a typical HT the rear of your subwoofer will be close to a wall making it difficult to access the adjustments. Knowing that Arendal reasoned you might be making changes while standing over it looking down so they added an option to flip the console 180°. That's right, the orientation of the text can be changed such that you don't have to contort into some unnatural position to see what's on the display. These people thought of everything.
Movies
Let's look at the score card.
Deep, meaty, articulate bass? Check.
Precise speaker imaging? Check.
Able to handle high volume? Check.
Remain accurate at lower volume? Check.
Really enjoying the Arendal 1723 system? Check.
Conclusion
The 1723 S speakers are balanced and neutral, placing no undue emphasis on any part of the frequency range. They are indifferent to volume and comport themselves when pushed, yet played with restraint they are just as revealing. I heard nuances in familiar songs that aren't anywhere near as evident with other speakers. I'm not kidding, I literally experienced details I didn't know were there. I could listen to these speakers all day every day, there is absolutely no fatigue or strain.
The 1723 Subwoofer 2S was no less impressive. During day-to-day listening it was content to play along, reproducing the low end with extraordinary detail and precision. Don't be deceived because it's merely lying in wait, when the time comes to be aggressive it springs to life. It can create impact with enough authority to fill a medium sized room. Visually it doesn't look like a brute but it can certainly become one if the situation warrants. It remained unflappable at all times producing deep, rich, powerful bass. Place your hand on top of the cabinet during the most intense scenes and you'll feel nothing, there's no perceptible vibrations. My house was rocking but the enclosure was dead still.
I have been evaluating speakers and subwoofers for over a decade and in that time I've always prided myself on finding flaws. Not that I'm a huge fan of negativity mind you, I just feel there is no such thing as perfect. The Arendal products left me with very few things to harp on, they're remarkably good. I'm a nitpicker when it comes to this stuff yet I have almost no nits to pick.
Arendal makes extraordinary speakers and subwoofers, there's simply no other way to say it. This is first class hardware, everything is well thought out and executed to near perfection. You get the feeling these folks left no stone unturned in their pursuit of excellence, they are clearly passionate about what they do. Arendal should definitely be on your short list.
Check the specs and the rest of the review here.