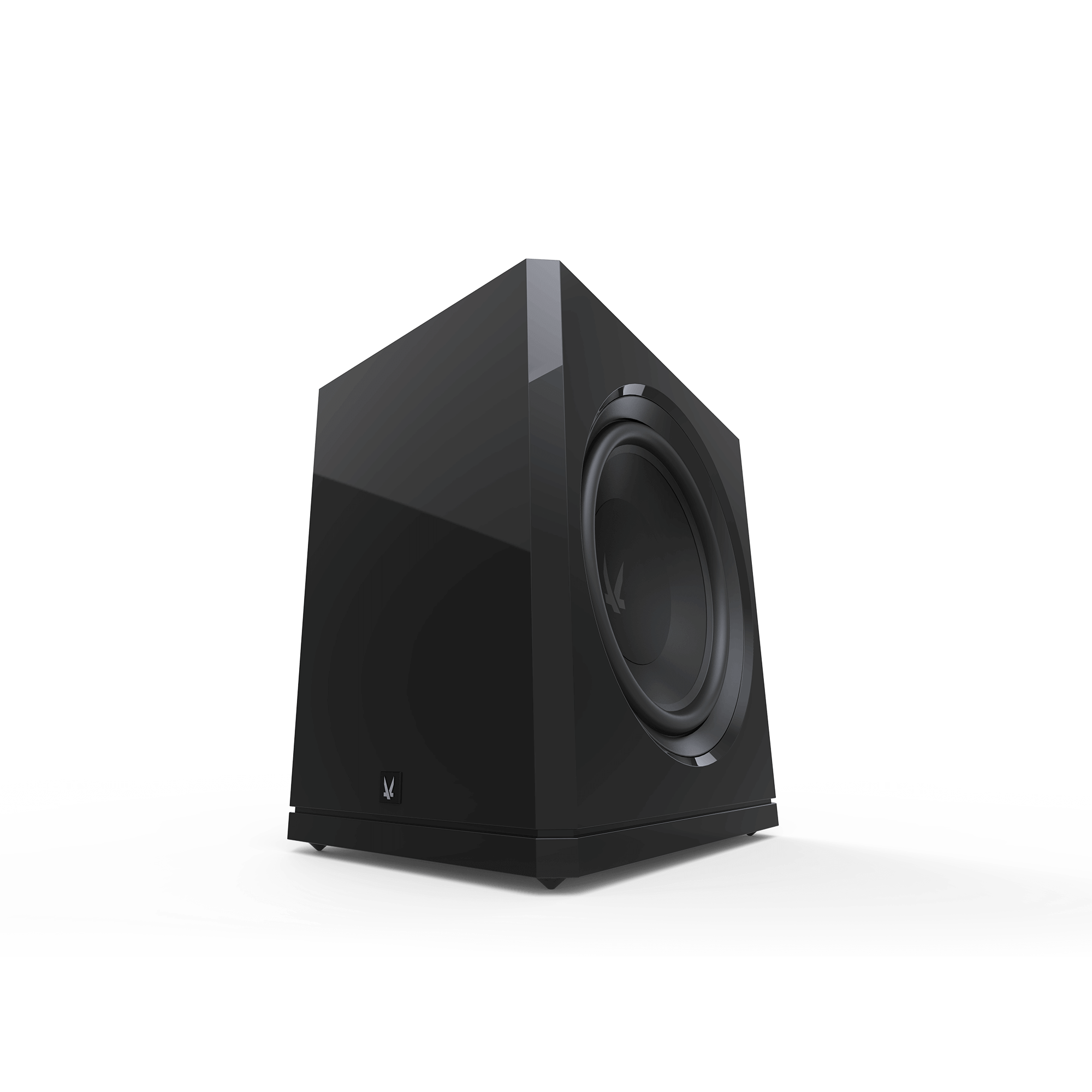 EXCELLENT!
The Norwegian brand Arendal already caused quite a furore with high-performance THX-licensed speaker systems. The Arendal 1723 systems are the first choice for ambitious home cinemas thanks to their dynamics, tight sound, low-distortion and unsurpassed finish. In our current issue, we line up the smallest out of four Arendal Subwoofers for a review as a solo performer.
By Michael Voigt, Hifi Test
Large membrane surface, massive enclosure and plenty of amplifier power are the standard ingredients for a high-performance subwoofer that wants to be taken seriously. The Arendal developers have not only taken this to heart, but also paid highest attention to every smallest detail of the 1723 Subwoofer 1, thus delivering the ideal basis for a precise, lush and deep bass to the smallest subwoofer of the Arendal range.
1723 Subwoofer 1
Admittedly, the Subwoofer 1 is not really "small". After all, both a huge woofer with 300-mm Membrane and a monstrous power amplifier had to be fitted in the enclosure. Nevertheless, the housing is still very manageable and can be surely placed in most rooms without problems with its approximate dimensions of 34 x 50 x 45 cm. The scale delivers substantial 24,5Kg for the 1723 Subwoofer 1, as its sealed enclosure is extremely solidly built to stay absolutely free of internal resonances and the massive magnet of the driver is no joke either.
The driver is by the way exclusively manufactured to the proprietary specifications of Arendal in order to ensure the extreme power rating, gigantic but low-distortion displacement and optimum driver parameters. The 300mm membrane of this "monster-driver" is made of a fibrepulp-fibreglass compound, lightweight but stiff and with high inner damping.
The 500W RMS digital power amplifier fitted to the 1723 Subwoofer 1 offers enough headroom for enormous dynamics, and its built-in DSP ensures an optimum frequency response and includes of course the usual filter, phase and EQ settings.
The Subwoofer 1 comes with two EQ presets: EQ1 produces the maximum depth for home cinema use, while EQ2 is more laid-back in the bass below 40Hz, but also somewhat more precise, which is ideal in smaller rooms or pure stereo setups.
The sealed enclosure of the Subwoofer 1 guarantees already by design a very precise and dry deep bass reproduction, because sealed systems usually have a better impulse response than bass-reflex configurations. The unobtrusive DSP makes up for the deep-bass limitation imposed by the sealed design.
Connectivity and adjustment features are limited to RCA and XLR sockets, as well as the usual knobs for gain, crossover and phase. Unfortunately, a remote control is not included.
Measurements and listening impressions
The respectable lower frequency of 20Hz gets everybody in the measurement lab very excited, which is guaranteed as long as the equalizer is set to 1. The setting EQ2 does not reach as deep, hitting 35Hz. The Arendal subwoofer tends to peak a bit at 45Hz in both settings, which turns out to be very pleasing and "lush" in real-life listening tests, without any hint of booming. When the Arendal 1723 Subwoofer 1 is challenged to higher SPL levels, it delivers massive bass-brutality up to 110dB without complaint. It is only possible to detect hints of compression above 110dB, but the neighbours from the semi-detached house next door will be up in arms well before reaching this limit.
The 1723 Subwoofer 1 provides a lot of home-cinema fun because its tight and precise way to catapult bass impulses through the listening room can indeed thrill you. The Arendal considerably expands the frequency spectrum of any setup to lower tunes absolutely free of booming and making the bass physically perceptible. On top of that, it is very easy to integrate with existing loudspeakers, being thus very versatile.
Charts
Technical info: Frequency response Subwoofer 1
The EQ setting EQ1 allows to reach 20Hz. The setting EQ2 delivers somewhat less pressurisation below 40Hz but more precision.
Dynamics Subwoofer 1
SPL up to 110dB are no problem for the Arendal. The physical limitations of the subwoofer only manifest above 110dB.
Conclusions
With a price well below 1.000 EUR and despite the manageable size of this 1723 Subwoofer 1, Arendal is offering a remarkably powerful deep-bass performer that can easily take on larger competitors. Its solid cabinet, the powerful 500W power amplifier and last but not least the heavy-duty 300mm driver ensure the ultimate deep-bass performance all the way down to 20Hz!
SCORE
Sound (70% of overall score): 1,0
Precision (20 %): 0,9
Power handling (20 %): 1,0
Dynamics (15 %): 1,0
Physical impact (15 %): 1,0
Speaker matching (10 %): 1,0
Listening region Center (10 %): 1,1
Measurements (10% of overall score): 1,1
Frequency response (5 %): 1,1
Distortion (5 %): 1,1
Use (15% of overall score): 1,0
Workmanship (15 %): 0,9
Features (5 %): 1,2
SUMMING IT UP
Arendal 1723 Subwoofer 1
+ massive cabinet
+ high power amplification
+ extremely heavy-duty driver
FINAL VERDICT
Excellent!