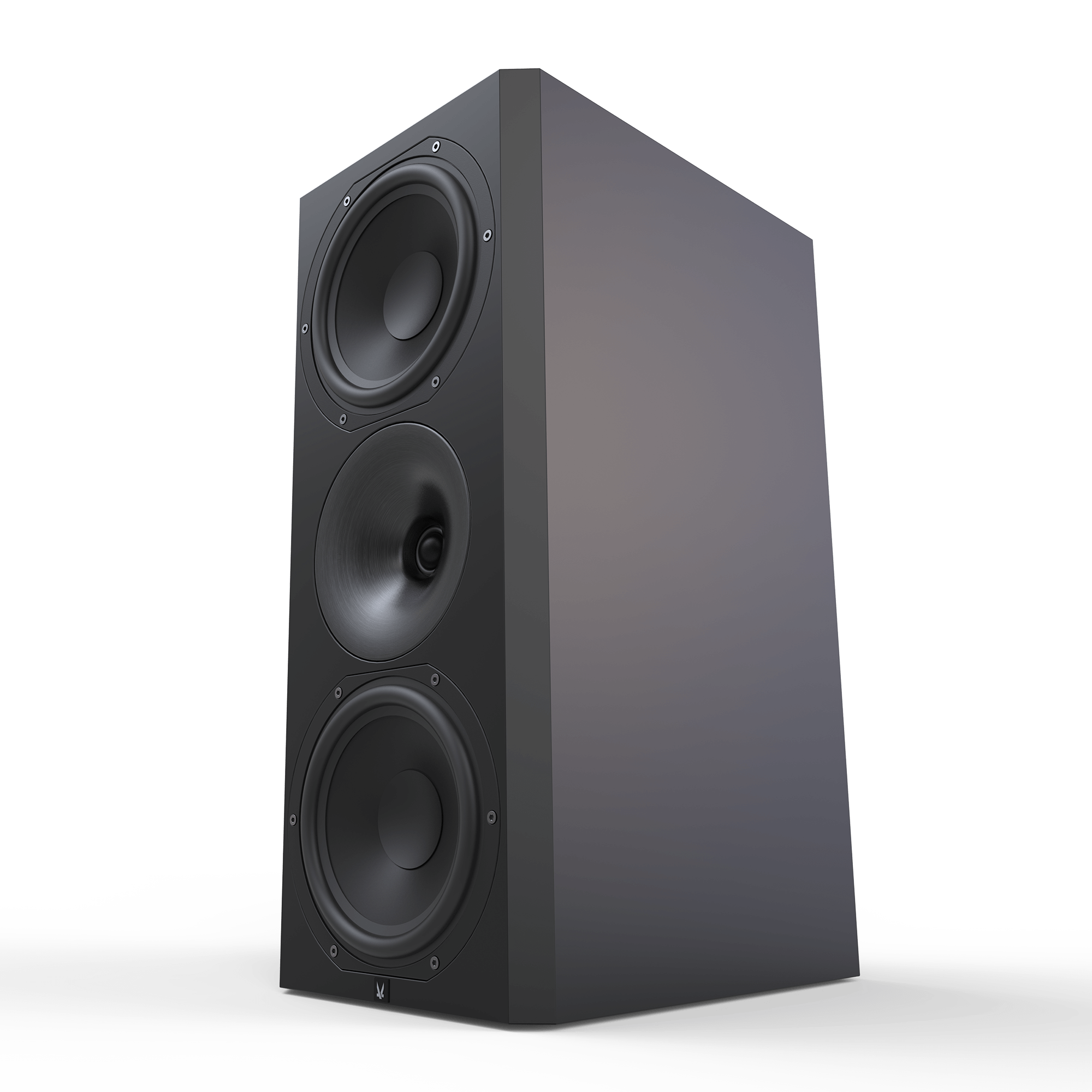 With their 1723 THX Series, Norway's Arendal Sound channel the might of Thor! Welcome friends, to home theater Valhalla.
Established in 2016, Norwegian brand Arendal Sound – named after the municipality in southeastern Norway where its founder was born – is a relative newcomer to the home theater and hi-fi scene. Its founders have been in the industry for almost 20 years though, having previously operated an online store, L-Sound, which took the American muscle of ATI amplifiers and SVS subs to European shores. As such, when the people behind L-Sound decided to set up Arendal Sound and build their own subs and speakers, they had a good understanding of the market and knew what they were up against. They asked themselves: what would a true, no-compromise home theater speaker package look like? The 1723 THX Series was their answer.
Arendal Sound 1723 THX 5.2 Channel Surround Sound System
Superb build quality with a host of premium touches.
High power handling, THX-certified 4 Ohm design.
Unusually large waveguide yielding excellent polar characteristics.
Superb coherence across the package, with surrounds sharing the same drivers as the mains.
Sub 1V digs comfortably into infrasonic territory with a host of PEQ and other setup options.
1723 Surround THX 'TriAxial' design contributes to an impressively immersive sound.
The 1723 THX Series consists of the Tower THX, the Monitor THX, the Center THX, the Surround THX, and a selection of subs. While Arendal's product line-up has evolved since the introduction of the 1723 THX Series back in 2016, the series still tops their range. In 2020, Arendal launched a new line of 1723 subwoofers, from a sealed unit with a 13.8" driver that Arendal amusingly describes as "compact", through to a dual 13.8" driver ported beast.
I'm familiar with the previous line of Arendal subs – my reference set up includes a Sub 3, their previous top of the line – so I was keen to see what the newer subs were capable of. I've also always been curious to hear the 1723 THX Series and hoped to use the release of their new subs as an excuse to have a full system in for review. Fortunately for me, Arendal were kind enough to oblige.
Design
The system in for review comprises a pair of Monitor THXs, the Center THX, a pair of Surround THXs, and two ported Sub 1Vs. The speakers are all 4 Ohm designs and reasonably sensitive at 89dB for the Monitors and 87dB for the surrounds. The recommended amplifier power for the Monitors is 400W at 4 Ohms and 300W for the Surrounds. That, combined with the sensitivity, means that the Arendals should comfortably hit 105dB reference peaks in all but the largest listening rooms, thereby meeting the requirements of THX certification, which the speakers wear so proudly.
The Monitors and the Center are identical two-way designs featuring two 8" mid-bass drivers alongside a 1.1" tweeter set within a deep waveguide. The mid-bass drivers are constructed of lightweight, long fiber pulp cones, handing over to the tweeter at 1500Hz and digging down to 58Hz in sealed mode or 34Hz in fully ported mode. The two ports on the rear are supplied with foam plugs, giving owners the option of a slightly fuller bottom end and steeper bass roll-off with ports open or a slightly tighter impulse response and more gradual roll-off with ports sealed. The cabinets are on the large side for a stand-mount design, at 25" high, 11" wide, 15 3/4" deep, and weighing in at nearly 60 lbs.
Perhaps the most notable feature of the 1723 THX Series is that deep waveguide, constructed out of a mixture of aluminum and high-density fiberboard. There are several benefits to such a waveguide. The higher up the frequency range sound goes the more directional it becomes and one consequence of that is off-axis performance suffers. The waveguide helps control the tweeter's off-axis response across its operating range, achieving a more disperse top end. It also helps control dispersion at the bottom end of the tweeter's range, ensuring that it closely matches the directivity of the woofer, assisting the integration between drivers.
A further advantage of the waveguide is that it increases the tweeter's efficiency (think about how your voice sounds louder when you cup your hands around your mouth). That increase in efficiency – which is another way of saying the driver works less hard for a given sound pressure level – reduces distortion. That, in turn, means the tweeter is able to operate down to an unusually low 1500Hz crossover, a frequency at which most tweeters without waveguides would suffer unacceptable distortion. A low crossover like this has benefits for the mid-bass woofer, reducing the requirement for it to produce frequencies it's not well-suited to producing. The 8" woofer used in the Arendals is great for impactful bass but less adept with the upper midrange. At 8" the woofer will start to beam at around 2kHz and lose off-axis performance well before that. Crossing over to the tweeter at 1500Hz means the woofer is not called upon to operate in a range where it suffers from beaming. In theory, this all adds up to speakers with carefully controlled distortion and dispersion patterns, with the fringe benefit of a simplified crossover, due to the similarity in polar characteristics between the woofers and waveguide-set tweeter.
The front of the Surround THX uses the same waveguide-set tweeter alongside an identical 8" mid-bass driver, employing a slightly lower 1400Hz crossover. The front-firing drivers are accompanied by 4" dipolar drivers on each of its angled sides, operating above 200Hz. Arendal refers to this as a 'TriAxial' design. It's a familiar arrangement to that seen on several other brands' surrounds and is said to provide a more enveloping soundstage by projecting sound outwards and to the side. It is, however, less familiar to see surround speakers that feature an identical mid-woofer and waveguide to that on the main speakers. As a result of using the same drivers as the mains, the surrounds are large for a design that's intended to be flush mounted to a wall. At almost 18" high, 17" wide, and weighing in at just over 38 lbs, you'll need sturdy walls!
Using the same drivers as those in the mains should ensure the surrounds integrate well, making that seamless 'surround bubble' all the more achievable. That's particularly the case if you're able to accommodate the three identical mains in a vertical orientation at the same height (e.g. behind an acoustically transparent projector screen), in which case the front three speakers should blend together perfectly.
The Sub 1V is the second-largest subwoofer of Arendal's new range and sports a single 13.8", side-firing driver. As with all subs in the 1723 range, the Sub 1V features both XLRs and RCAs. The 1V's Avalanche 800 IQ amplifier produces 800W and features a suite of adjustability options via a 2.6" LCD color display. The display can be used to select one of 6 pre-set EQ modes, low pass filters, slopes, and a 7-band parametric EQ. There's also a function that allows users to flip the orientation of the screen, which is particularly welcome when trying to change settings without moving the sub or practicing contortion.
While not available at the time of writing, Arendal is planning to introduce a phone app which will be able to connect to the sub via Bluetooth. That will delight system tweakers who like to put their speakers into optimal positions, then spend countless hours calibrating everything at a distance (I'm pointing the finger at myself here!). The 1V features a wide slot port and comes supplied with a foam port bung, allowing experimentation between sealed and ported modes. Arendal claims the Sub 1V's -3dB point in ported mode goes down to 17Hz without room gain, meaning that with room gain the Sub 1V should, in many rooms, produce a very respectable infrasonic response.
The cabinets of all the speakers in the 1723 range are built from thick, high-density fiberboard, coated in up to 12 layers of paint. The review speakers were finished in black gloss and the subs in black satin. The gloss black, in particular, looks fantastic in the flesh, providing a nice contrast with the brushed aluminum waveguide, but it had me reaching for the duster on a daily basis! The mirror-like sheen also makes them less than ideal for being on display in light-controlled home theater rooms, for which the black satin finish might be a better choice. The gorgeous paint finish, together with heavy cabinets gives the speakers a real sense of inert solidity, passing the knuckle rap test with flying colors. The grilles attach magnetically, on both the subs and speakers, meaning no unsightly holes for those who like to run their speakers without grilles. The premium build quality extends to the rear side, where Arendal employs rhodium-coated copper binding posts, set against aluminum backplates. All these premium touches, together with their imposing design and impressive specs, certainly suggests Arendal means business!
In Use
Given that my home theater room doubles as a living room (my family might say that should be the other way around!), my day-to-day speakers are reasonably discreet. I hide my center speaker within a custom-built cabinet, behind an acoustically transparent cloth, and my white wall-mounted surrounds are fairly unobtrusive. The Arendals are, by contrast, anything but discreet. They are large, heavy, imposing beasts that dominate the room and seem to radiate power before they even make a sound. That being the case, once everything was calibrated with Dirac I sat back, braced myself for impact, and kicked off my listening with some two-channel audio, limiting the upper curtain for room correction to 500Hz.
Conclusions
The Arendal 1723 THX surround system is an unqualified success from almost every standpoint I can imagine. Incredible value and highly recommended!
Try as I might, I could not wrongfoot the Arendals with anything I threw at them. I've alluded on occasion to the Arendals being a fraction laid back in the midrange, but I really do mean a fraction, and that is only when compared to speakers with dedicated midrange drivers that cost almost twice the price of the Monitors. Looked at in the round, the Arendals offer a truly compelling package that is difficult to better. Perhaps due to their waveguide, they project a vast and enveloping sound that is as equal to anything I've heard, at any price. They may be a touch large and imposing for living room-based systems like my own, where domestic considerations militate against imposing black boxes (although they do come in white, and Arendal produce a smaller 'S' version), but, if I were fitting out a dedicated home theater, I would add the Arendals to a very short shortlist. In fact, seeing as I can accommodate the Sub 1Vs in my room with a bit of work to hide them, I've put my money where my mouth is and bought a pair. I said at the outset that, with the 1723 THX series Arendal were aiming to achieve a no-compromise home theater package; in my opinion, that aim has, without a shadow of a doubt, been realized.