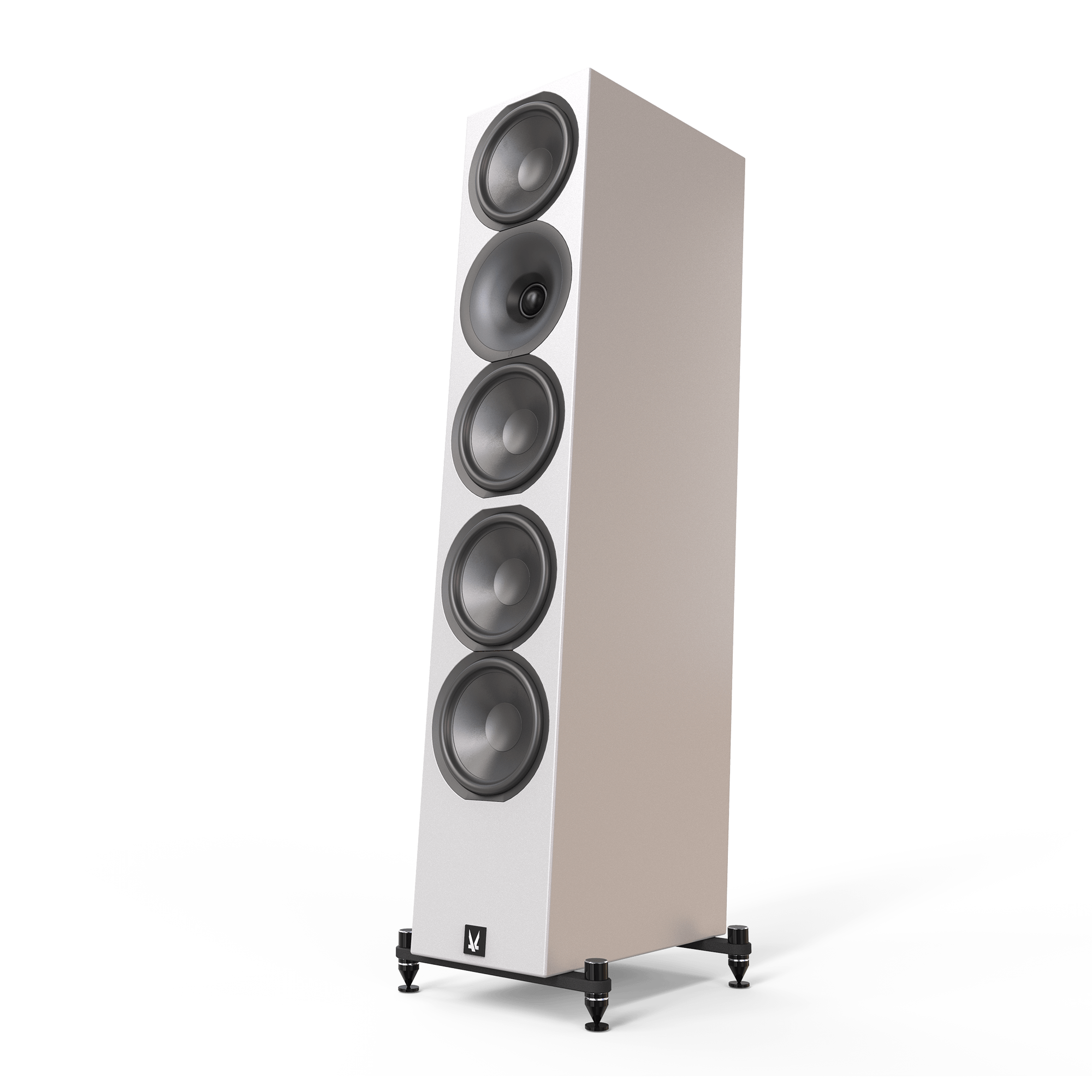 SLIM HOME THEATER SYSTEM
Recommended.
The Norwegian startup Arendal has completed its model range with a series which fits best in not too large rooms – 1961.
By Jamie Biesemans.
The Norwegian Arendal managed to convince last year with the 1723 surround speakers. This year, with the 1961 series, it presents a slimmer speaker line that fits better in a modal living room. But does it still sound good?
Arendal 1961 series speakers
For the second time in a row, Arendal wins an EISA Award for best surround speaker family. That is quite a remarkable achievement, at least for a relatively unknown brand that operates from a corner of Norway. In part, this recognition comes because there aren't that many speaker builders who really focus on surround. But also because Arendal Sound works in its own well-founded way and succeeds in building scientifically designed products that sound good but do not carry sky-high price tags.
Value for money is excellent
The above is absolutely true for the speakers we are going to review in this review. For the review we will work with models from the new 1961 family of Arendal. These are speakers that are a bit more compact and cheaper than the 1723 line that we reviewed last year – but which are built according to the same principles as the more expensive series. The cheapest members of the 1961 family are the 1961 Bookshelfs at 699 euros / pair, the most expensive are the Towers at 1,499 euros / pair. Anyone who builds a home cinema will find everything he needs, because the line still includes the 1961 Height (699 euros / pair), the 1961 Center (499 euros), the 1691 Surround (799 euros / pair) and the 1961 Monitor (a larger upright speaker from 899 euros / pair). At Arendal they also love subwoofers, as you would expect from a home theater company. That is why there are also two 1961 Subwoofers, the smaller closed 1S at 799 euros and the larger 1V with bass port at 999 euros.
Internet-only
Arendal Sound is not a brand that you will discover at your local store. From the town of Arendal in the south of Norway, the brand sends its speakers to customers who buy them online. A direct sales model, comparable to what the much larger Teufel does. Yet Arendal is not a smaller version of that Berlin audio giant. Where it offers a full line-up of audio, the Norwegian company sticks to a modest number of products aimed at the traditionally minded home theater enthusiast who builds his dream cinema with an AV receiver and a lot of speakers. It is also unique that Arendal is very open with its measurement data and admits without hesitation that its products are built in China. Most speakers in this price range are manufactured in the Far East, but this is often not really emphasized because some consumers see "Made in China" as a disadvantage. Arendal is less affected by this.
These are serious speakers built and finished to a high standard.
When we unpack the many 1961 models that Arendal has shipped (everything except the Monitors!), we don't exactly have the impression that they are low-budget products. The designers still call them premium – and that's right. Due to the use of High Density Fiber wood, all speakers are quite heavy and they also look relatively high-end. They are completely seamless with no grooves or transitions between pieces of wood. Small details such as the solid speaker terminals, the included spikes kit and the seamless integration of the drivers in the baffle greatly increase the quality feeling.
The Sub is at a high level
We see increasingly better finishes with affordable speakers (see for example the KEF R series or the Monitor Audio Bronze family), and Arendal is also following that trend. That is good news for the consumer; it is no longer the case that if you have a relatively smaller budget, you necessarily end up with poorly finished products. Each 1961 model is available in a matte black or a matte white. The latter almost looks like gray in some marketing photos, but it is really white. We received a visit from the black version, and we have to say: because of the screwless mounting of the matte drivers in the front, the speakers look really sleek and modern. An advantage is that dust and dirt are less noticeable; we did notice that removing a fingerprint was slightly more difficult due to the slightly rougher structure, even with a light cleaning fluid.
A whole family
As part of this year's EISA judging by the undersigned, Arendal sent all but one of the 1961 family models. A very heavy pallet full of speakers, of which we mainly worked with the Tower, Surround, Center and Bookshelf. We also received the Height speaker, but we did not use it. It is a dual-role speaker that you can hang to radiate the height channels directly or place on top of the Tower in Dolby Speaker mode to bounce off the ceiling. However, it was difficult to integrate this model in our setup, due to our fixed cabling for the height channels. We have not tested it, but do note that the Height is a sturdy speaker of 4.4 kg with an oblique baffle at 10 °. In our opinion, this makes it more suitable for larger rooms (if you hang it). Firm anchoring is certainly also a good idea.
…speakers look really sleek and modern
The Towers are the floorstanders in the company. Arendal opted for a 2.5-way design with four 5.5-inch woofers. They are not quite the same: the two lower ones take care of the lower frequencies, the two higher ones take care of the midrange. The tweeter is mounted between those two woofers, an arrangement that can ensure good integration between mid and high.
There are some unusual things about this Tower. For one thing, it's not a classic upright box. The Tower is leaning back; Seen from the side it looks like a parallelogram. That looks dynamic, but it may have been done before to bring the speakers into phase. Also unusual is that the front speaker grille consists of two separate pieces. So you can choose to cover the woofers at the bottom and show the top drivers naked (or vice versa).
The Tower looks like a completely closed speaker, but has a very narrow slot port at the bottom of the back. By default this opening is blocked, but you can clear it for a dash more presence in the layer. Please note, this is more appropriate if you move the Tower a bit further from the wall, because removing the prop will have an effect.
We also find the Surround a particularly interesting speaker. It is a so-called tri-axial speaker. In addition to the tweeter and 5.5-inch woofer in the front, it is also equipped with a 3-inch midrange driver on the sides (crossover at 200 Hz). This was done to spread the rear channel wider. So it is an answer to the problem of small rear speakers that often also sound "small", and therefore do not convey action in the rear convincingly. Tri-axial speakers cannot really deliver the experience of two surround plus two surround back channels (so 7.1), but they are still taking a step in that direction.
1961 Tower is a beautiful all-rounder
The Bookshelf is very similar to the Surround speaker, but lacks the two 3-inch drivers. What the two models do share is the low sensitivity of 84 dB, a value that the Height speaker also shares. The other 1961 models are more sensitive, but not really easy to control. The Tower has a sensitivity of 87 dB for example. What this means in concrete terms is that these speakers need a powerful amplifier to really perform well. That is also something that we really noticed during testing. When watching movies where we adjusted the volume by ear, we were sometimes surprised how far the volume knob on our Denon and Marantz receiver was turned up. We don't think it would be a good idea to hang the 1961's on a budget receiver.
A common denominator with all 1961 speakers is the placement of the tweeter in a deep waveguide. The newly designed liquid-cooled tweeter is thus relatively deep in the cabinet, surrounded by a cone with a special shape that improves performance in many ways. For example, it improves transition from midrange drivers to the tweeter and increases efficiency and directivity. The latter is important, because tweeters without a waveguide radiate the highest frequencies as a tight beam of light. And that's not ideal unless you're just in the right sweet spot place.
Subwoofer
The 1961 Subwoofer 1S that we received is the entry-level model at Arendal. With a price tag of 799 euros, it is now also not a budget product, something that the Norwegians have understood. You even get quite a bit for the price, as the 1S comes with a hefty 12.2-inch woofer powered by a DSP-driven 550 Watt RMS Avalanche amplifier. It's also a really solid, heavy thing, which has to do with Arendal's preference for HDF composite instead of the more common MDF wood. The matte black finish in which our test model was made does not seem that sexy at first sight, but after a few weeks of testing we come to the conclusion that it does have something. Fabric shows well, but when we look at what that glossy black paint finish of our Monitor Audio Silver W12 subwoofer looks like after a few years of use, we think that matte black might be a safer choice in the longer term. Just like the other 1961 models, the sub is also available in matte white.
You don't often see this at this price level.
What is not immediately noticeable is that this subwoofer can be set much more finely than most class peers. The reason it doesn't stand out? You don't really see any buttons or lights anywhere until you peer at the back. There, it turns out that the usual buttons such as crossover or volume are not present, but a small color display that you operate with two rotary / push buttons. In this way you are offered an above average number of options, such as a 4-band parametric equalizer. You can also set everything in terms of triggering and inputs. You don't often see this at this price level. The only downside is that you really have to lie down and crawl behind the sub to set things up. Depending on your space and your urge to always tweak, that is a bit of a hassle. In an ideal world you should be able to work via an app, but that is an option that you will only find with more expensive subwoofers. And even then …
It is also good to note that this "small" subwoofer is also quite large: 41.5 x 31.5 x 41.5 cm, 20 kg. The 1S comes standard on damping feet, which is a plus on a wooden floor.
Great integration
During the first part of our test we used our fixed Denon AVR-X6300H, later we switched to the brand new Marantz SR8015. Both use Audyssey MultEQ XT32 as room correction software. Via the MultEQ app we measure at the maximum eight positions in our test room. During testing we usually leave Dynamic Volume off, with Dynamic Volume we dare to experiment a bit more.
Alfonso Cuarón's Roma remains a reference for us when it comes to detail and positioning. Far from an action movie, it is real proof that Atmos soundtracks can contribute immensely to mood building, even when they aren't spaceships, Godzilla or explosions. The 1961's successfully convey the atmosphere, in part because they perfectly place the many fine details in the room. We can perfectly locate the street vendor calling in the background and moving through the image with our eyes closed. The Arendals are really very precise, which turns out to be just a disadvantage at a certain point. When the maid has to pick up the children at school, a car horns driving through the screen. But for the first time ever when we watch this movie scene, we think: this sounds added afterwards. That is true of course in the case of almost all sound effects; in some films, almost all dialogues are even re-recorded on a soundstage afterwards. But you are not supposed to notice. A bit of toe-in is a good idea to solve this problem.
When watching multiple movies, we are impressed with the integration. This is partly a merit of the receiver, but is also only possible if the different speakers match in terms of timbre. That is one hundred percent the case here. In the Roma scene where the dad struggled to drive his American sled into the garage, we really had an incredibly seamless feeling, as if we were really there. This is top level.
This is top level.
"Jojo Rabbit" was one of the more curious films of the past year. Not because it is stylistically some sort of Wes Anderson-light film, but because it revolves around a ten-year-old child with his imaginary friend, Adolf Hitler. The short content makes it sound like a Very Bad Idea, but this comedy is by Waititi, who previously convinced us enormously with "Thor: Ragnarok". In terms of sound, this film often alternates between scenes in which the craziest things happen to the tones of cheerful march music or pop hits and moments when the soundtrack consists entirely of dialogues. It is then that we still get the impression that the center speaker is a bit too small. Although the appearance comes across as broad thanks to that waveguide – making the stage sound large and in keeping with the two Towers – the Center seems to have to work too hard. It is not such a problem, but in a very large room you will have to take this into account. By the way: Arendal has provided an extensive PDF guide on its website in which the placement and toe-in is treated very clearly. It is recommended to take it if you would consider these speakers.
The slightly weaker performance of the center speaker is more than compensated by the good to excellent performance of the other 1961 parts. Especially the 1V Subwoofer is very good, but those 1961 Surrounds with their side speakers also impress. As they run through Dolby's official Atmos demos, these little ones create really big-sounding rear channels. They remind us a bit of the FX speakers from MA's Bronze and Silver lines, in how they simultaneously position effects well but also release the sound from the speaker through the rear channels. They sound like much larger speakers, which makes for a smoother transition as the two spaceships in "Horizon" fly from the back to the front of the room.
They sound like much larger speakers…
When listening to music we switch to a stereo mode, but in 2.1 mode (with the subwoofer as LFE + Main). The Towers are certainly capable of playing music without a subwoofer, but to our taste the bass could be a bit deeper and have punch. That works better with the sub there, as the Arendal subwoofer seems well damped and delivers beats perfectly timed. The "End Titles" that Daft Punk wrote for Tron: Legacy, followed by the funky David Hasselhoff mix on "Guardians of the Galaxy: Awesome Mix, vol.2" are very catchy. In terms of sound character, the Towers really please. Like the 1723's, they are not very colored, which gives them an almost KEF-like character for us, which reproduces the fine strings on "Foscarini's Groove" by I Bassifondi with the necessary finesse. You shouldn't be here for a warm glow, but for honesty you should.
Conclusion
Just ordering a set of five or more speakers via the internet and spending a few thousand euros, it requires some courage and confidence. Especially in these times when you are bombarded by kickstarter campaigns and cheap online-only offers. But with 1961 Arendal again shows itself to be a different kind of company. These are serious speakers built and finished to a high standard. You will never think: "This is a bit cheap".
They are also speakers for those who are more serious about building a home theater. You definitely need a powerful receiver from a higher class to make them perform really well. That's the downside. However, there are plenty of advantages: the smooth appearance of the sound, the many models, the excellent finish, the homogeneous sound character and the clear, detailed reproduction. The 1961's may sound a little reserved at first, but you need to give them some time to appreciate their natural character.
Recommended.
PROS & CONS
8.5 / 10 Pros:
Value for money is excellent
1961 Tower is a beautiful all-rounder
The Sub is at a high level
Neutral, sleek reproduction, also allows a lot of custom tuning
1961 family also includes dedicated home theater models
Cons:
Floorstand design just a bit more unusual to place
Display and controls subwoofer are awkwardly placed