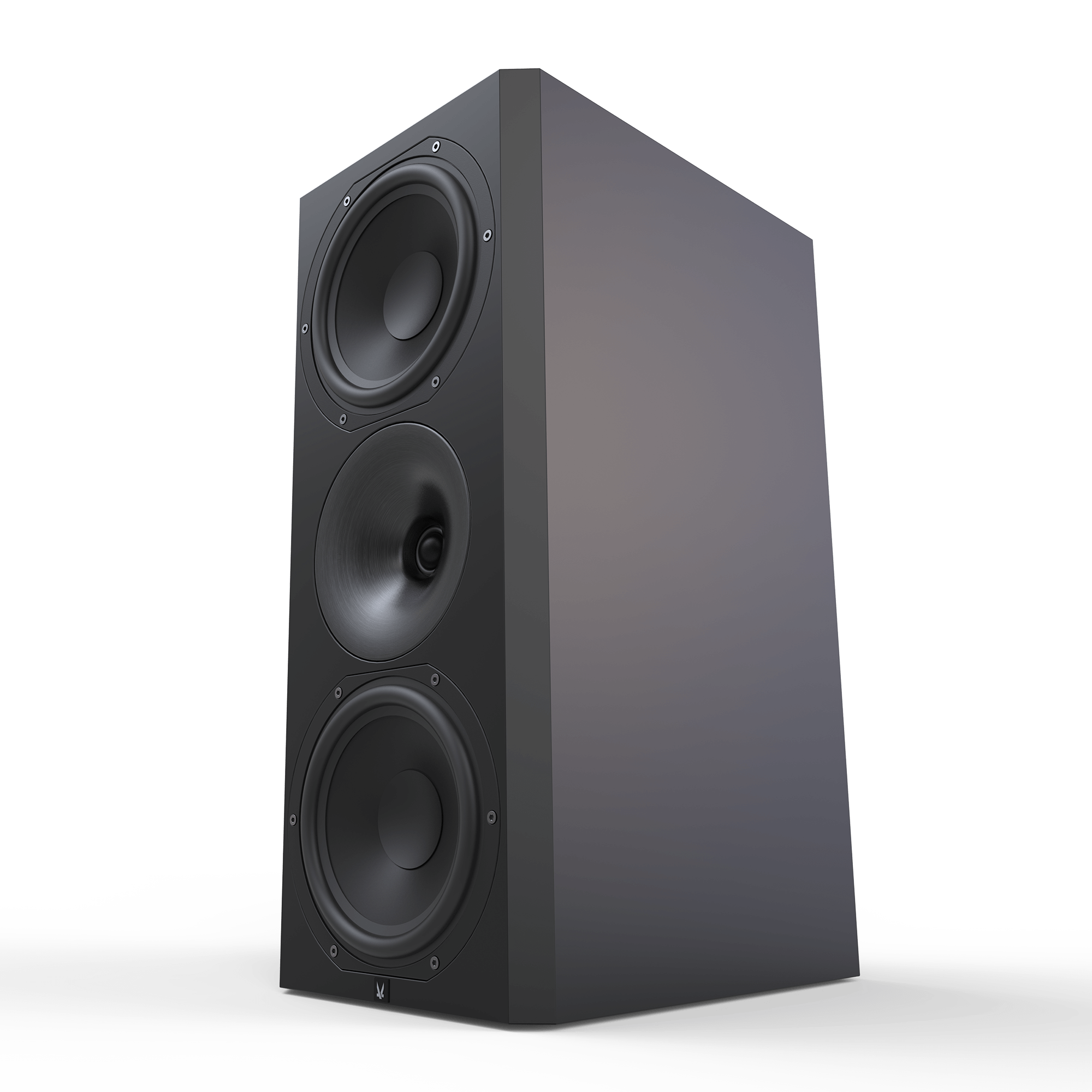 ARENDAL 1723 Series "directly-to-you" Home Cinema speakers

Conclusion: Value kings!
Home Cinema budget Nirvana!
A childhood dream became reality
Norwegian Arendal is a relatively young Norwegian loudspeaker producer that has set out to deliver large home cinema / HIFI speakers and subwoofers of a high standard, at very low prices.
This is done by designing and developing in Norway, producing in China and delivering directly to you from a warehouse in the Netherlands.
The showroom is as such moved to your own home, where you receive the loudspeakers with an open 60 days right of return at a cost.
The company is owned by Jan Ove Lassesen, who grew up in his fathers radio store, took an electronics engineer exam and dreamt about starting his own loudspeaker brand. The result is Arendal, that was brought to our attention on a recommendation of one of our readers.
The Arendal Family: 1723, 1723S and 1961 serieS
Arendals speakers consist of 3 series that contain everything you need for a complete home cinema or stereo setup.
1723 series is the top of the range, and it's the one we are testing here. The series utilise 8" drivers.
1723S series is a shrunken version of the 1723 series that instead uses 6" drivers.
1961 series is an even cheaper alternative, that builts on almost all the technology from the 1723 series, but with 5.5" woofers, slightly thinner cabinet, slightly cheaper finish, ferrite magnet instead of neodymium in the tweeter, slightly cheaper terminals and components in the crossover.
Design. Go big, or go home
"They are quite bit, right??" says Karsten "CD" Møller from the listening team, while we are unboxing the speakers. From the moment of opening the boxes until they are placed in the room, you get a sense of quality all the way. The speakers are wrapped in soft fabric bags that make it easier to handle the weight.
"FROM THE MOMENT THE BOXES ARE OPENED UNTIL THEY ARE PLACED IN THE ROOM, YOU GET A HIGH SENSE OF QUALITY WITH ARENDAL."
Eminent Finish
The speakers have simple lines, and are exquisitely finished in sturdy HDF boards with a nice "satin" finish. They are available in four colors. The terminals and the magnetic grill are also very confidence inspiring. It all feels and looks like a well built quality product in a finish that feels a level OVER the otherwise nice M&K S-300 (4499€ pr. pair) that I have in my reference home cinema setup. It is all just very well made, and you won't find a single piece of plastic here. Maybe the design is a bit simple, and does not try to make them appear smaller than they are. But the other way around, does a speaker need to apologize itself? We say no. :)
"IT ALL FEELS AND LOOKS LIKE A WELL BUILT QUALITY PRODUCT IN A FINISH THAT SEEMS A LEVEL ABOVE THE OTHERWISE BEAUTIFUL M&K S-300"
Technical
The 1723 series is the top range from Arendal – and it covers 1723 Tower THX, made in a 2.5 way design, 1723 monitor THX, 1723 Center THX which is identical with 1723 monitor (but is "laying down" design wise), as well as a matching surround speaker in tripole named 1723 Surround THX.
The speakers are THX Ultra certified.
This is a classical "D'Appolito" design, with a powerful 28mm dome tweeter placed in a waveguide, which should give us a large sweet-spot with an even frequency response. This is especially important in a home cinema setup, where the family has a wide array of seating positions.
The amplifier dilemma – how much is needed here?
The speakers are medium sensitive, and demands a serious amplifier to deliver sound pressures that live up to THX Ultra. Arendal themselves gladly recommend 300 watt in 4 ohm for the surround speakers (!), and gladly up to 500 watt for the tower speakers.
That simply means, that it could be difficult to find amplifiers that both deliver the power and that also harmonise from a price perspective, – IF it is important to be able to deliver THX Ultra reference sound pressure in a larger room. In this situation one should take into consideration the total price of speakers and amplifiers together. If the speakers are for example 10 dB more efficient, one would need 10 times less amplification, (where every 3dB is a doubling of the power) which again means that one could settle with an integrated surround receiver instead of a pre/pro in the home cinema. It all depends on room size, distance to speakers and consideration to existing equipment.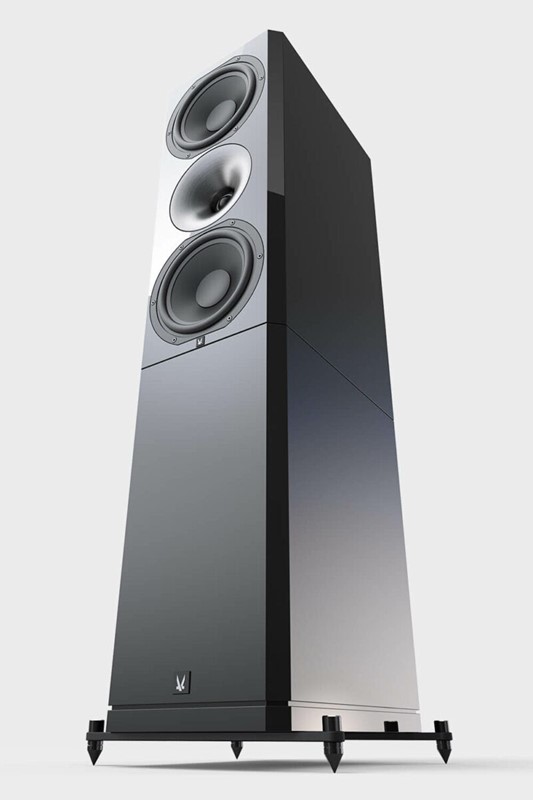 There is also made a "stand" for 1723 Monitor to get a floor standing speaker look if one don't want to go all-in with the Tower model. SMART!
If your room is smaller, then you will of course come much further even with a smaller amplifier with Arendal.
For the review of 1723 Monitor, I use a Lyngdorf SDA-2400 that cost the same as the speakers pr. channel, and that has ample amounts of power to drive the speakers to the edge of their capabilities. We also test them on the extremely fast Technics SE-R1 power amplifier for the listening session.
Listening impressions:
Arendal 1723 Monitor have been placed on a pair of B&W stands in the living room stereo setup. The stands place the 28mm dome at perfect ear level, with a slight "toe-in" towards the listening position. The speakers are in distinguished company, as we have connected them in the combination of a Lyngdorf MP50 (€ 9900,-) preamplifier and a Technics SE-R1 (€ 12990,-) power amplifier. Thereafter we used a Technics LAPC impedance matching and roomperfect calibration. MP50 is chosen as we will later review Arendal 1723 Subwoofer 2S, but for now we are listening to 1723 Monitor alone.
Sealed or Vented?
There are two bass reflex ports in the rear, that can be sealed with the added foam plugs. Sealing the ports affects the frequency response in the bass, and can give a sensation of tighter bass. We choose to use them with the ports open for the deepest possible response when the speakers are used alone, without a subwoofer.
We are doing listening sessions over 3 days with material primarily from the listening teams Tidal playlist, but this time also a lot of vinyl. The playback is primarily via Roon, with Cocktail Audio X45Pro as converted connected with AES/EBU to Lyngdorf MP50. Vinyl is played off a Technics SL-1200GAE with an Ortofon 2M Black MM pickup. We use a Cocktail Audio X45Pro as RIAA/DAC for the record player. Through the testing we try different pickups and power amps are being changed.
Home Cinema vs. (high-end) HIFI
The 1723 serien are first and foremost created to deliver a complete setup for serious home cinema enthusiasts, who want an economically manageable, but powerful home cinema system. We are primarily testing 1723 Monitor for music, set up in a pure music setup, to get the best insights to their sonic characteristics.
Impressive sound pressure
They are designed to deliver impressive sound pressure, which they do to the fullest, with the right amount of power. With a sensitivity of 89dB@1 meter (92dB for the tower model!) there is plenty of sound pressure in the listening position. In direct comparison with the JBL HDI series that we have in fresh memory, Arendal feels like they have more surplus of power in the bass under pressure, but do not have the same crispiness on vocales in the midrange as the three times more expensive JBL HDI do so well.
Genre shift
The collective listening impression is therefore a little more nasal and not as open when we are listening to vocal music, where we directly compare them to the four times as expensive Genelec 8431, we immediately recognise a lack of micro dynamics, details and air between the instruments. Karsten expresses: "The musical expression does not reach the foot" he says and continues: "The perspective is flat, and the room is small". I have to agree with him, there is something missing of the lively, snappy and relaxing sound that we are used to from far more expensive HIFI speakers. I recognise a tight, dry and "punchy" bass, and inspire therefore to change listening genre away from our uptight and sensitive "beautiful-perspective-and-dynamics-HIFI-pearls" and set some fire under tracks like:
Groove Amada "Raisin the stakes"
Sade "Soldier of love"
Skrillex "Make it Bun Dem"
The Prodigy "Need some 1",
Trentemøller "African People" ,
Infected Mushroom "Avratz",
Deadmau5 "Pomegranate"
Carpark North "Shall we be Grateful"
The Weeknd "Cant feel my face"
Beastie Boys "Sabotage" og "intergalactic"
as well as everything that is wrong (according to the listening team) with music in 2021 : "Different"….
With tracks like these, the 1723 Monitor feels much more at home in our ears. It will be interesting to test them in combination with the company's 1723 Subwoofer 2S, where this feeling could be expected to further be amplified with extra headroom and even more massive/deep bass response.
Conclusion: Value kings!
Arendal delivers – the price taken into consideration, an amazing value for the money with a performance and build quality, which one normally won't see ANYWHERE NEAR this price range.
In a direct comparison with MK S-300 which are nearly four times as expensive, there are a few points missing for dynamics, but there is not four times between them. When taking the price into consideration (and the fact that S-300 also NEEDS to be combined with a subwoofer) it is pretty clear that Arendals 1723 series offer something others will not come close to in combination with sound quality, experienced quality, sound pressure and price.
If one finds the 1723 series too large, the 1723 S series is a more interior friendly and even cheaper alternative in the exact same quality. If the budget is tighter or the space is tighter the 1961 series offer the same basic qualities, but at nearly an imaginative price.
"WHEN WE TAKE PRICE INTO CONSIDERATION IT IS CLEAR THAT ARENDALS 1723 SERIES OFFER SOMETHING OTHERS DON'T COME CLOSE TO, IN THE COMBINATION OF SOUND QUALITY, QUALITY, SOUND PRESSURE AND PRICE."
Are you on the lookout for some convincing performers for your home cinema project on a budget, we can highly recommend that you try Arendal and you can even do it completely "Covid-free" in your own home, with up to 60 days right of return!
STJERNHOLM REVIEW POINTS
9.0/10
PLUS
Experienced quality
THX Ultra certified
Sound pressure
60 Days Buy&Try
Incredible Value
Perfectly matching series
MINUS
Musical life and engagement
Will demand good WAC (Wife Acceptance Control)