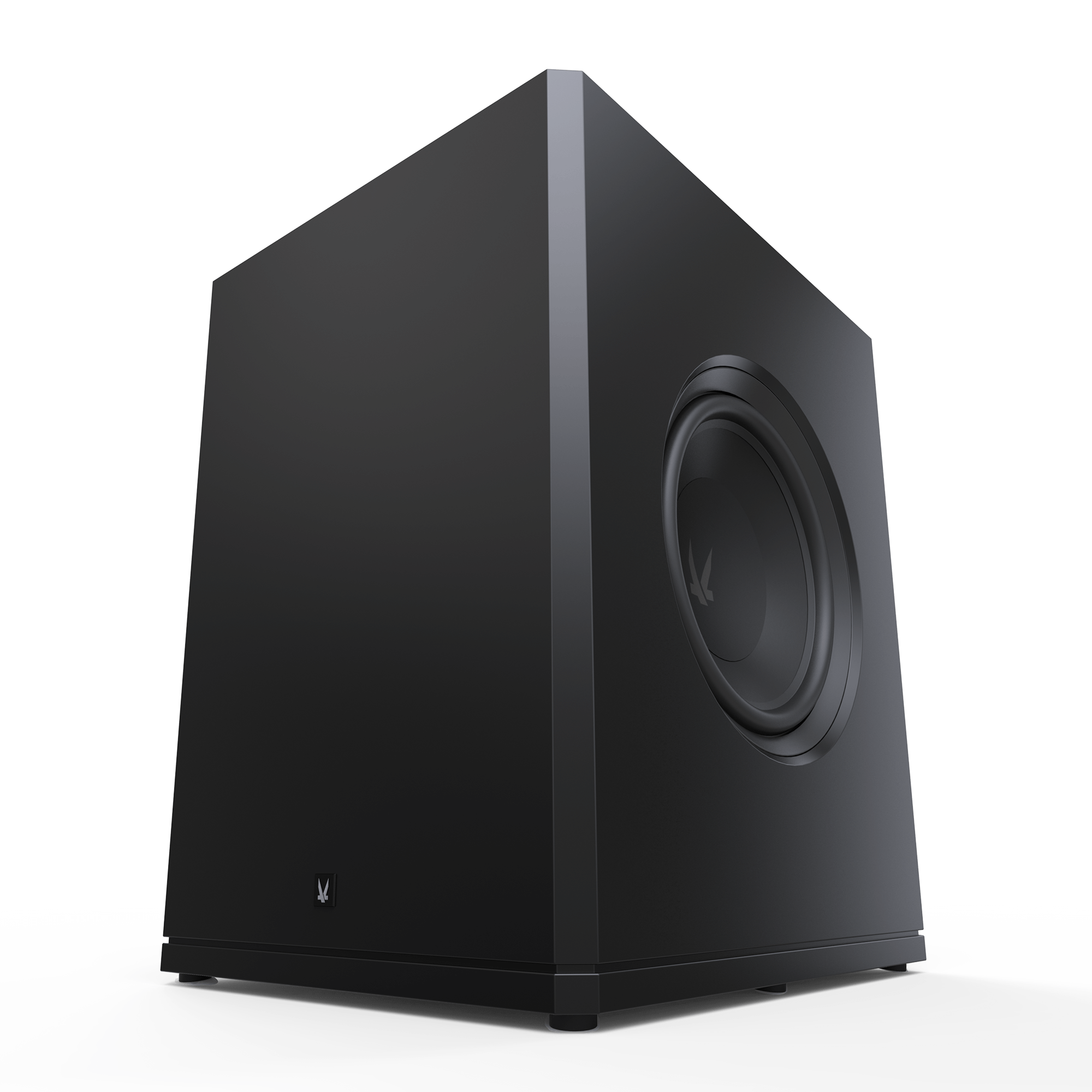 XXL ACTIVE SUBWOOFER FOR SEDUCTIVE DEEP BASS EXPERIENCES
If Thor had to trade his magical double hammer for an earthly tool, he would choose the Arendal subwoofer. The Scandinavian hammer with dual bass drivers is the universal weapon against boredom in the home cinema. In addition, it is a guarantee for spectacular deep bass in musical hi-fi setups and a mercilessly honest monitoring instrument in the recording studio. So much can be revealed in advance.
Find out in the following report why this is the case, which techniques Arendal uses, and what distinguishes this subwoofer in detail. It goes without saying that such generous use of materials has its price. The active subwoofer 1723 Sub 2V is available in the Arendal online shop from 2,799 euros. Free shipping and including a 60-day&try period and a whopping 10-year guarantee. AV-Magazin tested whether the XXL bass giant is worth the money and whether it is worth buying.
PRACTICE
Arendal has loaded its flagship woofer with the finest engineering to make it a high-performance woofer. Whether in hi-fi, home cinema, or studio use, the 1723 Sub 2V ensures perfect low-frequency reproduction with two large drivers, a super-powerful power amplifier, and numerous filter options. Due to the extensive sound settings that are made on the power amplifier module or via a smartphone app, the Arendal 1723 Sub 2V is a universally applicable woofer that can be precisely tailored to listening taste and room acoustics. A total of six EQ settings and seven fully parametric filters are available for meticulous sound tuning. In addition, the switchable high- and low-pass filters make it easier to adapt to the respective acoustic conditions.
In order to enjoy it, you should plan enough parking space. With the basic dimensions of 60 by 50 centimeters and a height of over 71 centimeters, the Arendal 1723 Sub 2V is an imposing piece of sound furniture.

The two-color variants, black and white, which are available in satin-matt and high-gloss, ensure optimum room integration. The cabinet is appealing with its perfect application of paint and first-class workmanship as well as an extremely robust, around 60 kilograms heavy, and therefore low-resonance construction. Six resonance-optimized disc feet made of soft rubber ensure effective noise decoupling from the floor.
CONNECTIONS
The Norwegians from the small town of Arendal (the town was first mentioned in a document in 1723, which explains the product name) have equipped the XXL subwoofer with all connections for all hi-fi, home cinema, and studio applications. Two analog RCA inputs are available for use at home. The 1723 Sub 2V uses this to accept unbalanced audio signals from all two- and multi-channel devices – whether from the pre-out of a hi-fi amplifier or from the LFE-out of an AV receiver. If you want to operate several 1723 Sub 2V, you can connect additional subwoofers to the outputs and combine them into playback groups in the app. The same applies to the underlying XLR connections, which are mainly used in professional recording studios.
Thanks to the symmetrical transmission over three conductors with inverted phases, the audio signals are transmitted over long distances without interference. The trigger connection, which automatically switches the subwoofer on and off as soon as a switching voltage is present, should not go unmentioned. Alternatively, the 1723 Sub 2V has a circuit that automatically activates the subwoofer when an audio signal is received.
TECHNOLOGY
A lot of air has to be moved in the bass range with wavelengths of up to 17 meters. In conclusion, a subwoofer cannot have enough power and cone surface area. Arendal has equipped its top model with only the best genes and the most potent technology. The driving force behind the 1723 Sub 2V is an active module called Avalanche.
With an RMS output of 1,200 watts, the power amplifier drives two large woofers, each with a diameter of 36 centimeters. Thanks to strong rubber surrounds and glass fiber reinforced paper cones, this driver duo ensures controlled stroke and maximum impact.
Since the two woofers are installed opposite each other in the solid HDF housing, cabinet resonances are minimized. And that ensures a particularly precise bass reproduction. In addition, the enclosure tuning based on the bass-reflex principle guarantees an audible and noticeable bass boost in the very-low-frequency range. You can read how good that sounds in the next chapter.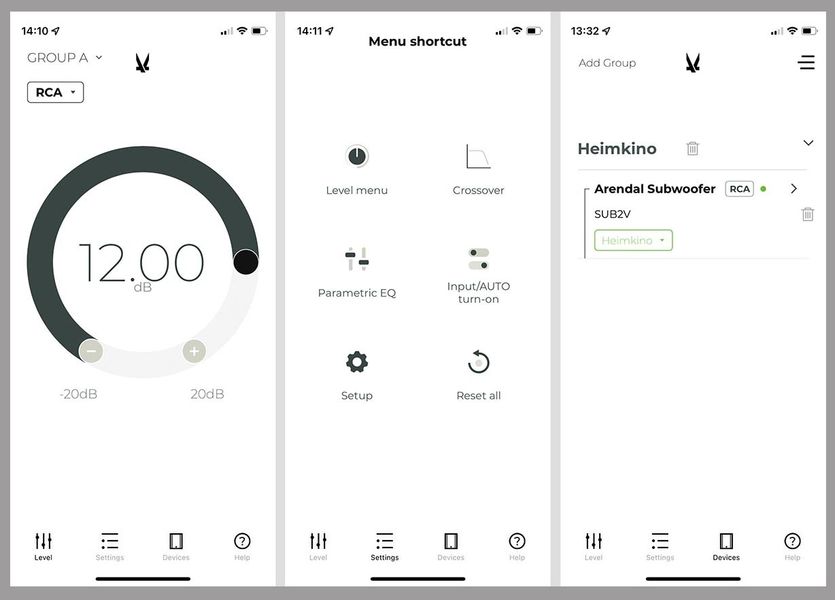 With the Arendal app, volume, crossover frequency, and sound can be adjusted very conveniently.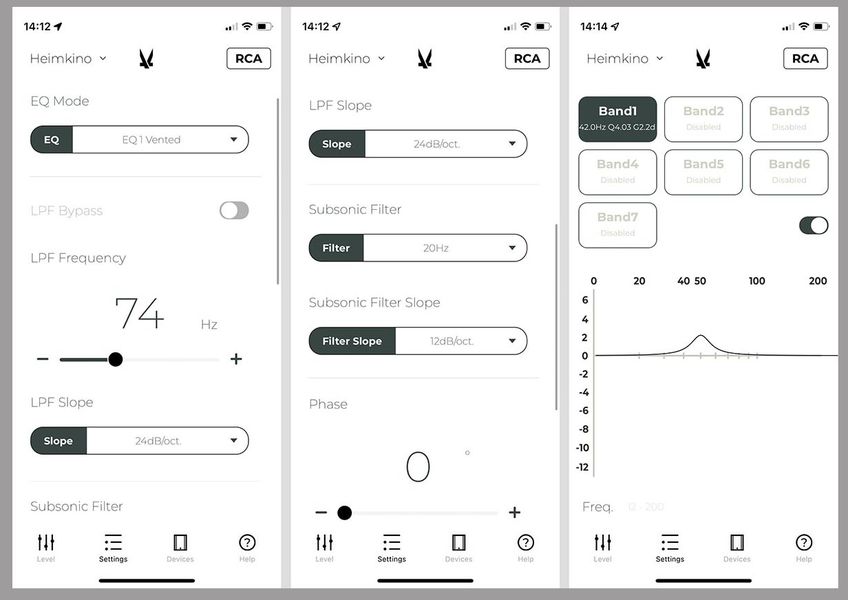 In addition to a high- and low-pass filter with adjustable slope, a seven-band fully parametric equalizer is available.
LISTENING TEST
In order to put the XXL subwoofer to the test acoustically, we play a colorful mixture of music titles, test signals, and film sound effects. The 1723 Sub 2V captivates with its extremely agile and spirited sound. This is characterized by explosive dynamics, which does not lose its assertiveness even at high volumes. Thanks to the lush overall driver surface, the excursion behavior at high levels is moderate, which leads to a very defined bass sound. Another specialty is the consistency with which the 1723 Sub 2V reproduces all tones and sounds. Whether abysmal bubbling or a powerful kick bass, the Arendal subwoofer converts all low frequencies in impressive quality. And that is quite a feat that only very few subwoofers can master. Whether music, film sound, or sound effects, the Arendal 1723 Sub 2V definitely raises the home bass reproduction to a new level.
TEST RESULTS
CHARACTERISTICS
XXL active subwoofer, 2x 36 cm bass drivers, 1,200 watts RMS power, 7-band fully parametric equalizer, smartphone control app, RCA and XLR connections, four finish options, bass-reflex tuning.
CONCLUSION
If you want to immerse yourself in the world of uncompromising bass reproduction, you can't get past the Arendal 1723 Sub 2V. The sound is sublime, it shines with explosive dynamics, physical and tangible pressure, and razor-sharp accuracy. The Arendal subwoofer is not cheap, but it's worth every penny – promised!
Weighting: Sound 50%, Functionality: 20%, Ease of use: 20%, Fit and finish: 10%
Sound: outstanding
Functionality:outstanding
Ease of use: very good
Fit and finish: very good
Price: 2799€
Class: High end
Price to performance: very good
Verdict: outstanding