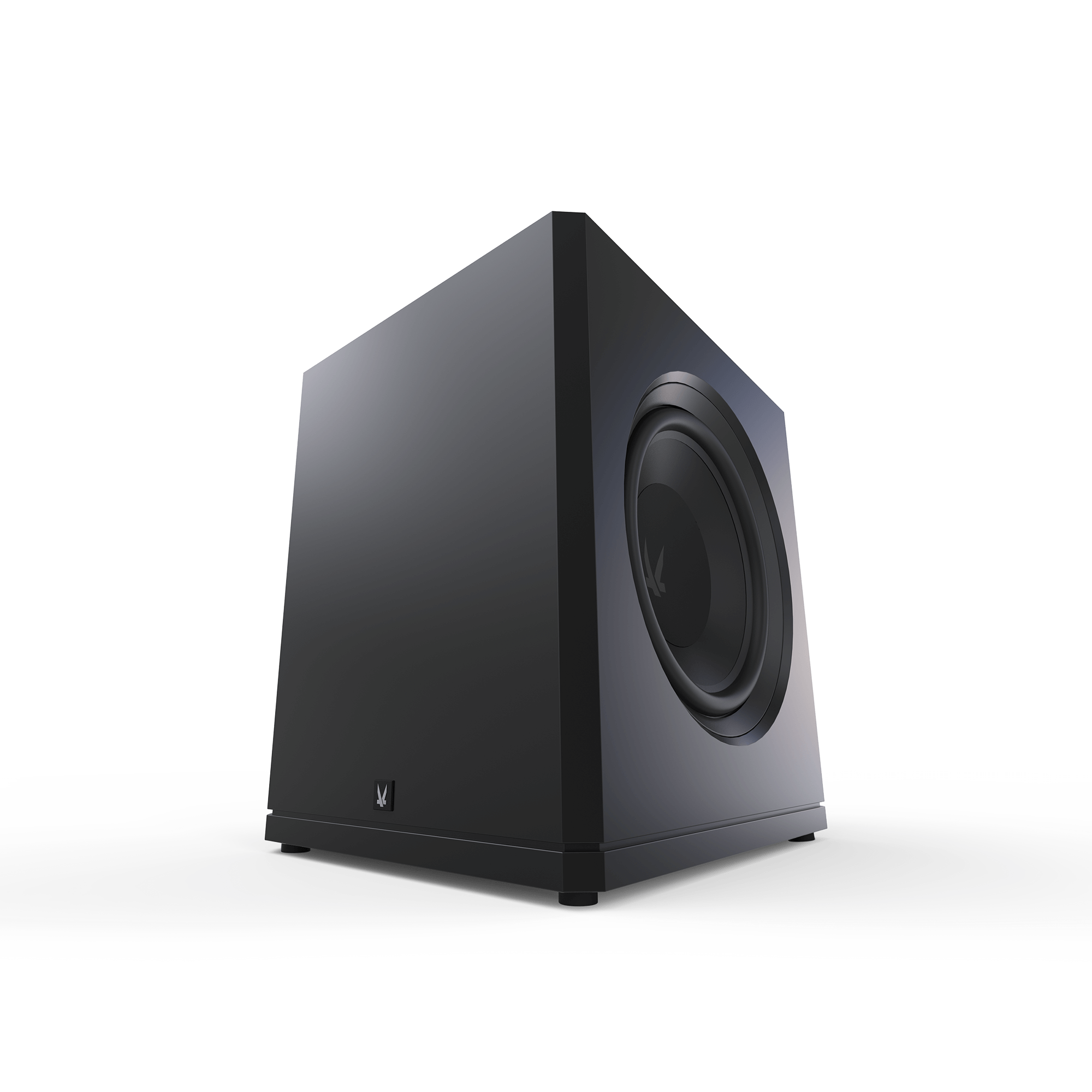 Let there be bass!
Vented or Sealed?
For delivering deep bass with proper amounts of output Arendal makes their 1723 series subwoofers with either one or two 13.8" drivers – and the option of choosing either Vented or Sealed (V for vented, S for sealed). The vented model is somewhat larger and EVEN heavier.
For HIFI use there are many that prefer sealed designs, which offer a slightly tighter bass. On the other hand, the vented design offers higher output and deeper bass.
Force-cancelling
When a woofer is put in motion, the cabinet it is mounted in will have the same force applied in the opposite direction of the woofer motion. By using two drivers, that point in each direction (the so called "force-cancelling" principle) one can cancel the side-moving forces without cancelling the sound. When it comes to the pressure inside the cabinet, this is still present, and this force will literally try to bend the cabinet walls, color the sound and steal from its output. Therefore extra robust and internally reinforced cabinets are required to produce a good subwoofer.
That is exactly what Arendal has delivered with their new 1723 subwoofer series, where they from the unboxing impress with a well executed build quality, made in 1" HDF walls (2" where the woofers are mounted) and a clean finish. The drivers are of their own making, and the subwoofers are equipped with refined DSP and new, powerful amplifier called "avalanche" rated at 1200W for the 2S/V models and 800W for the 1S/V models. The vented ones are larger and heavier than the sealed models, but they are all in the heavy end of the scale.
Setup and listening impressions
I am experiencing Arendal 1723 Subwoofer 2S in two different configurations, where I let a Lyngdorf MP50 handle crossover and delays. I listen to the subwoofer all along with miscellaneous sweeps and test signals, to get an impression of sound pressure, resonances and qualities, thereafter together with a set of Technics SB-R1 and lastly coupled together with Arendal 1723 Monitor (teste here).
The subwoofer is placed in the middle of the room, after some experimenting with placement. In this placement the subwoofer gets no additional support, as there is very little reinforcements from walls and corners. The lager Subwoofer 2S therefore gets to use all its power, which it turns out there is A LOT of.
Resonances and vibration
This is an exemplary subwoofer in all ways. There are no vibrations and no resonances to hear from the subwoofer during our torture test with sweeps from 15 to 200Hz. Absolutely approved!
The first test I start with, is with Arendal 1723 Subwoofer 2S as a subwoofer for the large Technics SB-R1, which already play linear very far down into the bass. The thought was to hear if the subwoofer could give any extra headroom by relieving the speakers in the 20-60Hz area.
The setup itself is simple via Lyngdorf MP50, where the crossover frequency and delays are configured. After that the room perfect calibration is run, which ensures a perfect transition between the speakers and subwoofer. Unfortunately Arendal does not write in their manual that the amp delay is 8ms. I learned this by contacting their excellent support.
The delay in the subwoofers DSP is important to know, so we can ensure correct timing of the subwoofer. In the lyngdorf processor I simply enter the delay at 8ms, and then it very simply calculates together with the total corrective delays.
The best integrated subwoofer DSP I have seen
The DSP is refined and easy to use. It is possible to fine tune all aspects of the subwoofers performance. All adjustements are made on a sharp 2.6" color display, which can cleverly be turned upside down, if you are standing above it! Super well thought through and nice details.
Can be connected to two completely separate systems, simultaneously!
In the menu we find the possibility of making completely separate settings for the subwoofers XLR and RCA inputs. That is a MASSIVE advantage, for some that for example prefer to use the subwoofer with their separate stereo system AND home cinema system. It is pretty easy to optimise the subwoofer perfectly for both and make them automatically switch between the systems. There is also a 12V trigger (or trigger on audio input) and passthrough for both inputs.
There is naturally variable crossover frequencies, variable subsonic filter with different slopes (thank you!), 3 separate EQ modes for sealed and vented subwoofers, as well as a 7 band parametric EQ, which allow perfect control over the subwoofers frequency response in any room.
In other words, there are all possibilities for optimising, as one would normally use a separate subwoofer DSP processor to handle, built in! Arendal has also built in Bluetooth for a future Arendal control app, that can make the calibration even simpler. This is though not available yet, and the functionality is unknown.
Let there be bass!
The first impressions of ultra deep bass support under 60Hz for the large technics R1 speakers is actually quite subtle. It feels like extra headroom, for example if I play very heavy electronic music at loud levels. I also give them a couple of classical pieces with orgel notes that reach the abyss, where we really hear that there is extra support in the deep frequencies which gives an extra dimension of authority. In most circumstances the R1 speakers don't really need the extra help, but it is still very fun to experience how the extra headroom makes them even larger, especially with musical pieces that call for the deepest bass.
Arendal 1723 monitor + 1723 Sub2S
Together with the Arendal 1723 Monitor pair, I insert the foam plugs in the vents, and calibrate the system with a crossover frequency at 90 Hz. The subwoofer is placed between the speakers, and I make another room calibration.
The result in this setup is impressive, far beyond how I experienced the 1723 Monitors alone. The system plays with a completely different self confidence now.
The bass is very well integrated and gives the sound of the 1723 Monitors a big, heavy yet tight body, where one almost can't avoid playing seriously loud because there is so much effortless headroom to play with.
It started with tracks like Beastie Boys "Intergalactic", Thorbjørn Risager "back home", and slightly embarrasing Information Society "Whats on your mind" (don't ask, I just love that track) .. and finally culminating with kloud "blood" (Fabian Mazur Remix) played at nearly 120dB peaks in the listening position, delivered with the largest sense of truism by this system.
In other words you don't need too much imagination to understand what one or several of these can manage in a home cinema!
"THE BASS IS VERY WELL INTEGRATED AND GIVES THE SOUND OF THE 1723 MONITORS A BIG, HEAVY YET TIGHT BODY, WHERE ONE ALMOST CAN'T AVOID PLAYING SERIOUSLY LOUD"
Conclusion
I have a hard time putting my finger at anything that isn't awesome about the Arendal 1723 Subwoofer 2S, where it no matter its price level delivers powerful, flawless, deep, tight and precise bass in ample amounts, with for its performance a very compact design.
The subwoofer's eminent tuning adjustability makes it possible to create perfect results. To put the price into perspective, a M&K X-12 subwoofer in comparison costs about 4000€ and doesn't have anywhere near the same adjustability and it has considerably less output. On top of this, the 1723 has more of a visually compact design and even better integration options for any setup.
"I HAVE A HARD TIME FINDING ANYTHING THAT ISN'T AWESOME ABOUT ARENDAL 1723 SUBWOOFER 2S"
For anyone with the hang for tight subwoofer assistance, then Arendal 1723 series is quite simply some of the best I have heard in this class, with a perfect mix of power, sound tuning adjustability combined with a reassuring mechanical quality.
"ARENDAL 1723 SERIES IS QUITE SIMPLY SOME OF THE BEST I HAVE HEARS IN THIS CLASS, WITH A PERFECT MIX OF POWER, SOUND TUNING ADJUSTABILITY COMBINED WITH REASSURING MECHANICAL QUALITY"
The series four models also gives a good opportunity to choose exactly the solution that fits best for the customers needs. The company's return policy gives anyone the option of testing them in their specific setup, so what are you waiting for?