WHERE DID YOU HEAR ABOUT US?
From a friend in Norway on a home theater discord channel.

WHAT WERE YOU SEARCHING FOR WHEN LOOKING FOR NEW SPEAKERS AND SUBWOOFERS?
Was searching for a 7.2.4 system for a dedicated home theater space in our new home.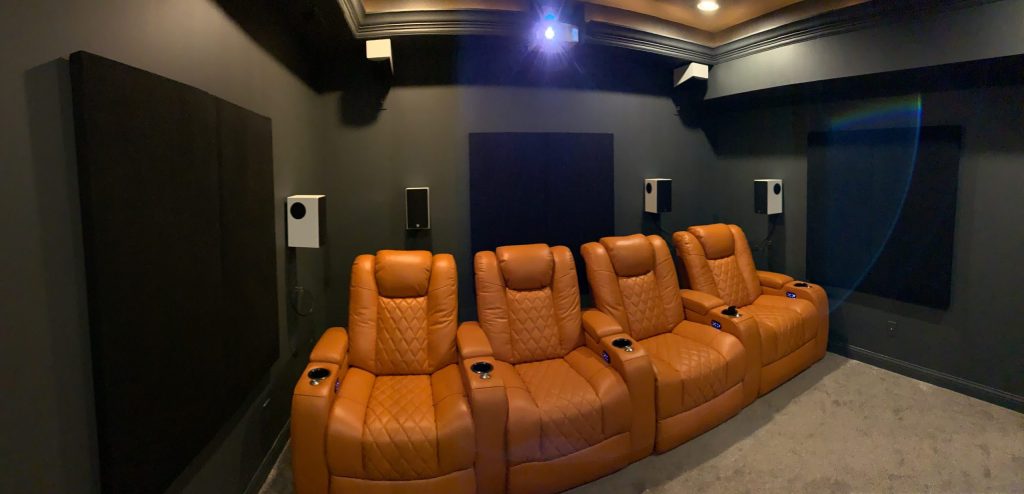 WHY DID YOU CHOOSE ARENDAL SOUND?
My ancestry is Scandinavian so I love to support products from there (Volvo, etc.). Love the premium quality both in construction and sound. When the 1961 series won best speaker system from EISA I pulled the trigger.
IS IT A 2-CHANNEL OR MULTI-CHANNEL SETUP?
Multi channel.
HOW IS YOUR ROOM SET UP?
My room is set up as a dedicated space in our basement for home cinema and gaming. The design is clean and minimalist, and the colors are bold for this genre. I have napa leather seating in cognac, an 80" media console to house my equipment, and a 120" screen. I selected the white matte speakers to go with the rest of the design for a 7.2.4 Dolby Atmos setup.
WHAT EQUIPMENT ARE YOU USING?
All the speakers in my 7.2.4 system are Arendal 1961 series. For my soundstage, I have the towers with a center channel. Surrounds for sides and rears, heights for Atmos, and dual 1V subs to deliver the bass.
I have a 4K Optoma projector that looks great for movies but also has a great response time for gaming. I have a Denon receiver that both powers and processes all the channels. I have an Apple 4K TV for streaming and an Xbox Series X for both gaming and Blu-ray player. I also have a PlayStation 4 Pro. I run a dedicated NAS for my Plex server and stream that through Apple TV.
HOW HAPPY ARE YOU WITH THE ARENDAL SOUND PRODUCTS?
I have been extremely happy with my Arendal Sound system. It has surpassed anything else I have owned or heard, and it looks great at the same time. I receive compliments on the speakers and home theater all the time. My family is constantly using the room, which is something I did not expect. Much of that credit goes to the great sound quality of the speakers.
ANYTHING ELSE YOU WOULD LIKE TO MENTION ABOUT YOUR SYSTEM?
My system is currently the group photo of the Arendal Exclusive Club on Facebook, selected by another Arendal ambassador. I mentioned I was thinking about applying for the Ambassador club and he encouraged me to apply. Looking forward to it. Thanks.
Setup details