HOW IS YOUR ROOM SET UP?
I don't have a dedicated theater room, so my system is in the living room which shares space with our dining area and kitchen.
I use the longest wall of my living room with a subwoofer at each corner, the TV in the center on a stand which houses my receiver, gaming console, and amplifier. To the side of the TV stand are the towers. We have two reclining couches, one in front of the TV and one to the right of that couch. Next to the couch in front of the TV, on either side, I have the bookshelf speakers on stands.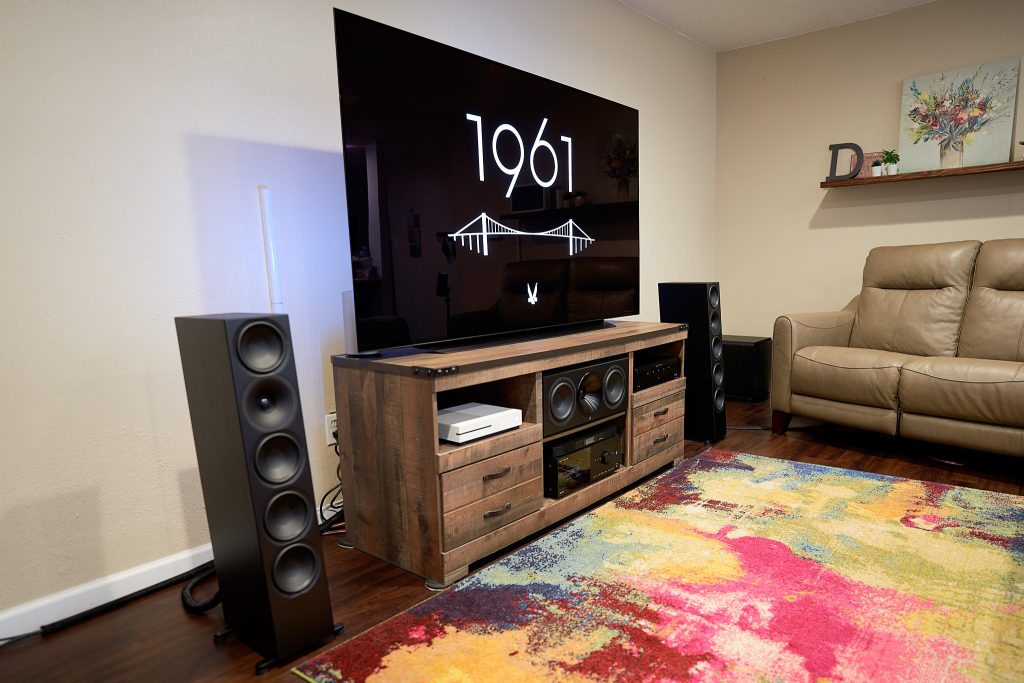 WHAT WAS YOUR GOAL WHEN LOOKING FOR NEW SPEAKERS AND SUBWOOFERS?
I was needing something that was better sounding than my current set but also provided a good value. They also needed to look better than my current set since they would be in our living room.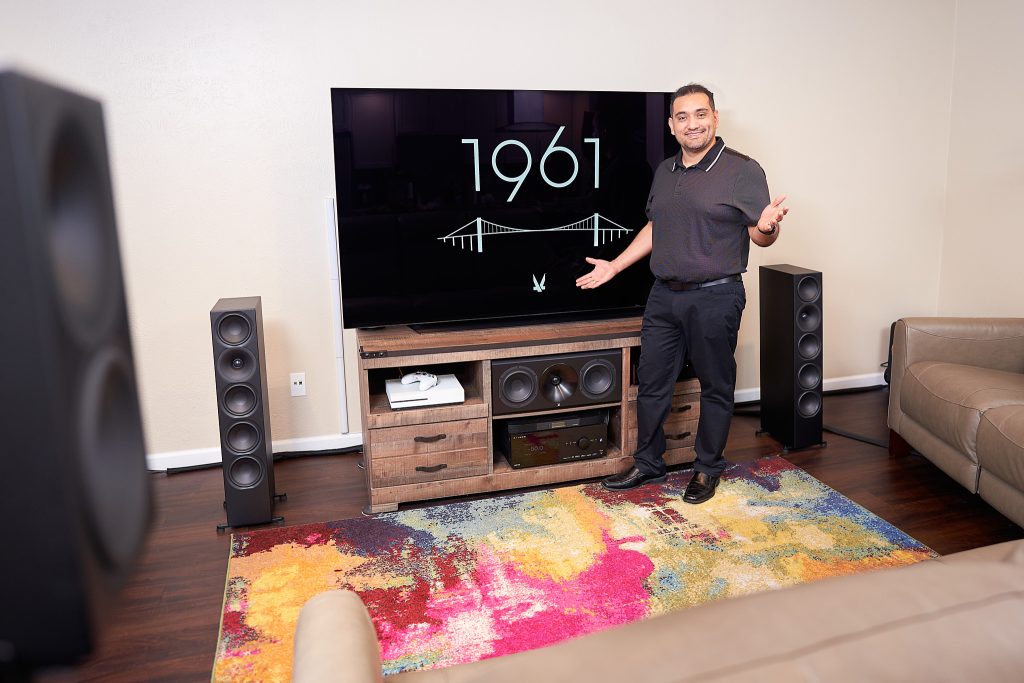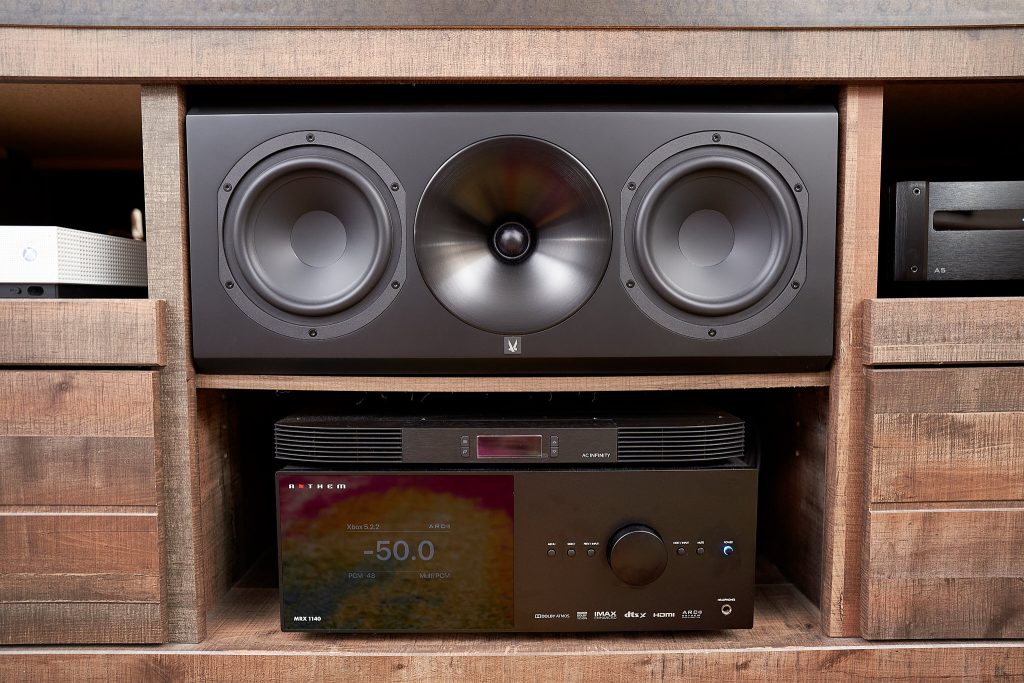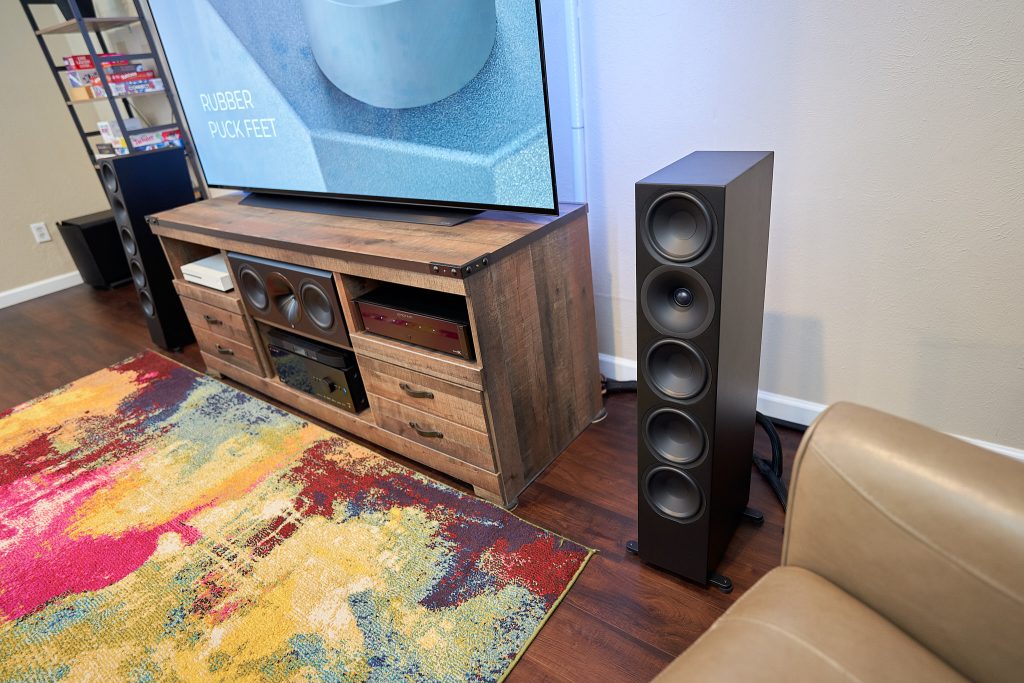 WHERE DID YOU HEAR ABOUT US?
I first heard of Arendal back in late 2021. Before then I had no idea who Arendal was. I was thinking about upgrading so was researching different brands and models to see what a good fit might be. Arendal kept coming up as an option.
While researching for some new speakers, I came across some YouTube videos that mentioned the Arendals which prompted me to look further into them. Hearing all the positive feedback on how they sounded and how they looked, I felt the specifications of the speakers and the size and style met what I was looking for.
WHY DID YOU CHOOSE ARENDAL SOUND?
What drew me to Arendal was all the good things people were saying about them. It seemed as if anyone that used them loved the way they sounded and the way they looked. This was also something that attracted me to them.
My old set of speakers were starting to look a little dated and I really liked the modern, minimalist look that the Arendals had. I don't have a dedicated theater room so these would live in our living room. They not only needed to sound good but look good as well.
I'm someone that researches a lot before a major purchase and the other thing that stood out to me was the value that the Arendal speakers seemed to have. The sound and build quality seemed to be higher than what the cost was.
I came across other brands that cost more than the Arendals but didn't seem to add more to the speaker and also came across brands that were cheaper but didn't seem to provide the same quality.
I was originally going to go with a full set of 1961 speakers (towers, bookshelf, and center) but right before purchasing, I had been hearing how important the center channel speaker is, especially for home theater use. I double-checked the opening in my TV stand and found that the 1723 S center channel would fit. I posted the question about the 1961 vs the 1723 S center on the Arendal community page and if it would truly be a benefit. I received a response from Arendal staff that same day and their suggestions and information led me to go with the bigger center.
YOUR EXPERIENCE WITH THE PRODUCTS?
My experience has been great beginning with receiving the packages. This was quicker than I expected, I had ordered them on a Thursday and received on the following Wednesday and this included a holiday otherwise I would have probably received them sooner. The speakers were all packaged well. Looking at them for the first time made me realize that pictures and video don't do them justice they feel well built and they look just as great.
I was also surprised by the size. The 1961 series is smaller than I thought which would be a plus in my space for the wife acceptance factor (WAF). While the 1961 series is smaller the 1723 S center was a lot bigger than I thought and barely fit in the TV stand.
Running audio calibration for the first time I did a double-take when it went from the front left to the center to the front right. It was seamless. Listening to actual content after that this seamless transition between the speakers made the sound stage sound much better when effects went from one side to the other. Not just the front stage either when effects went to the surrounds and back to the front it still sounded seamless.
Everything also sounded fuller and with better presence. Vocals in movies and music was also much more intelligible. With these speakers I can go louder than before, and they still feel very composed and feel like I could provide them with more amplification.
WHAT ELSE DOES YOUR SYSTEM CONSIST OF?
The equipment that I use is pretty simple. I am using an Anthem MRX1140 with an AC Infinity Aircom T10 to keep it cool. For amplification I have an Emotiva BasX A5 for all 5 speakers. The TV is the LG C1 77". For content we either use the smart TV functions or the Xbox One S which allows for 4K Blu-rays or streaming services. I prefer to use the Xbox as I also have a Raspberry Pi with an LED light strip on the back of the TV that provides responsive ambient light when watching content.
ANYTHING ELSE YOU WOULD LIKE TO MENTION
I couldn't be happier with purchasing the Arendal speakers. The experience is much more immersive than before and the improvement in vocals has made it less necessary to use captions. Movies and songs that I have heard before sound better than they had before.
The look has also been a plus, they are smaller than my old set, at least the towers and bookshelf speakers, so my wife doesn't mind them and going with the matte black they kind of disappear into the room. The build quality also comes across with the finish and the smooth edges of the speakers.
They have definitely made an improvement to the sound in my system while also looking good doing it.
Unboxing VideO:
Review video:
Setup details
WILL YOU BE ABLE TO OPEN YOUR HOME TO CUSTOMERS WHO WANT TO LISTEN TO YOUR SYSTEM?
Absolutely! For appointments please contact sales@arendalsound.com.