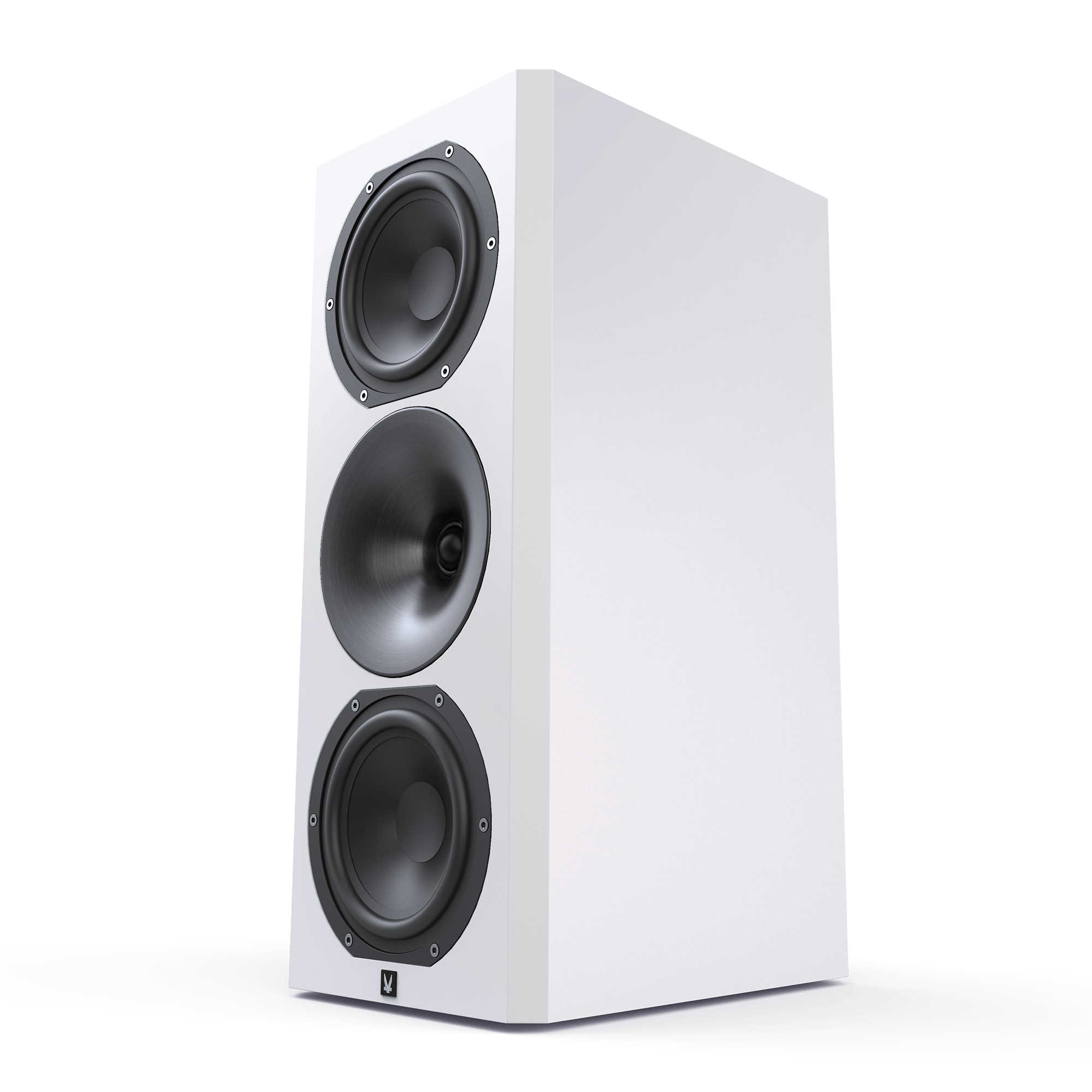 COMPACT, BUT STILL IMPRESSIVE
IT IS NOT LONG SINCE I HAD THE FLOORSTANDING VERSION OF THE 1723 S-SERIES AT HOME, AND IN MY OPINION THEY PLAYED SO IMPRESSIVE THAT WE HUNG A MEDAL FOR PRODUCT OF THE YEAR AROUND THEIR NECK. IS MONITOR JUST AS IMPRESSIVE, PUNCHY AND ENGAGING?
By Håvard Holmedal, Stereo+.
I don't feel like it's a long time since I spoke with the guys from Arendal Sound about their upcoming series of loudspeakers. At that time they were barely able to hold back their pride over the 1723-series, without S. It meant a series of pretty powerful and tall floorstanding speakers and a bookshelf speaker, called Monitor, that for most people where too big for the living room, but perfect in a home cinema with a couple of subwoofers. The success was a fact already a short time after the launch. Since then it has been raining outstanding reviews from in- and outside Norway.
1723 S THX MONITOR
The goal with the slightly downscaled S-series that has 6,5-inch instead of 8-inch drivers has obviously been to preserve sound pressure, sound signature and playing style, but at the same time make the speakers more living room friendly, and easier to handle for the amplifier. The bigger series was not impossible to drive, but with a medium large AV-receiver the speakers were not near their maximum performance levels. With the S-series Monitor, it is a little different. You don't have to empty the bank account to buy an amplifier.
You will find the same 28mm tweeter as in the large 1723-series. It is placed in a big waveguide, and crossed over as low as 1500Hz. This approach is a little unusual as its consequence is that the speaker often handle less power before the tweeter "blows". It doesn't appear to be the consequence on the S-Series Monitor and center speaker. By the way, the Center is the same speaker but with a laying layout for the terminal plate and terminals. The speaker comes with a power recommendation of a whopping 300 Watts and that makes it play loud. Really loud. The sensitivity is stated at 88,7dB and that correlates with my simple measurement. I got 89dB flat, but that is nothing to get stuck in. In-room with both speakers playing together the sound pressure at 1 Watt is between 92 and 93dB. Already at 5-10 Watt it's above normal listening level. Be aware though that that speakers are 4 Ohm, something that means you need a high current amplifier if you want to play really loud without putting the speakers in danger. On the other hand they don't go much below 4 Ohm anywhere, and are still not a particularly difficult load, and especially not if you do what Arendal probably has intended. Connect one or two subwoofers to get the deepest bass from film or music.
GOOD CABINETS
When you unpack the speakers you will probably be surprised of how heavy they are. The cabinets in HDF (heavier and better than MDF) weighs a lot, and the extra thickness on the front baffle also contributes to it. You can choose between gloss and matte finish, and white or black color. For home cinema you choose matte because it gives less problematic light reflections from TV or screen.
Even if this is a shrunken version of the big Monitor-model it measures in at 57cm in height, and if you place it on stands they should be around 40cm. Then you will have the tweeter at correct height.
YOU CHOOSE THE BASS RESPONSE
With two ports and the use of foam plugs, you can choose the bass response. The deepest bass is achieved with both ports open. Then it moves down to 46 Hz. Some will probably say that is not especially impressive, but we are talking about a bookshelf speaker, and when it plays music it produces more bass than one would imagine. If you close one port the bass tapers off at 59Hz, but it still plays pretty deep. If you close both you get a -3dB point at 66Hz. Still it plays deep enough. The bass feels a little leaner. For all that has rooms that amplifies the bass a little on different frequencies (room nodes), such adjustment will possibly make the bass better balanced in the room. If you connect a subwoofer and cross it over at 80Hz it is hardly any difference as the ports tuning is below the crossover frequency.
Arendal also recommend 50 hours of use before they sound optimal. That is probably reasonable, however I can't say I noticed any difference after the first couple of hours. They still got a couple of days break-in before I started listening carefully. Just in case.
THE SOUND SUITS EVERYTHING
There may be those who write off Arendal as pure home cinema speakers, but that is unjust. Traditionally built speakers that has a shape and figure which is suitable for placement in living room and home cinema, can be used with great results both places. If anyone should be in doubt, that should be quite obvious after only a few minutes of testing the S-Monitor. The speaker is dead honest, dynamic and really alive, and gives a great and engaging music-experience, while still managing to dig out substantial amounts of fun from a movie-track. Just don't let the expectations totally overwhelm you. It is still a speaker at 1.600 Euros a pair. Arendal aren't magicians either!
After some playing and change of amplifiers, from AV-receivers to more grown up hi-fi stuff, it is clear that the speaker is precise enough that it clearly separates on the equipment you connect. Unusually well for a speaker in this price range. I use a Yamaha RX-A3070 receiver, and even if its good, powerful and energetic you can clearly hear that it doesn't have the transparency, precision, control in the bass and calmness in the soundstage as I got with for example Electrocompaniet ECI-6.
MOVIE SOUND
I like movie sound that is completely without filter, and with the ability to be both edgy and sharp when needed, and that they can play back lots of dynamics without compressing, flattening out or distorting i any part of the frequency range.
Most impressive is probably the midrange of the 1723 Monitor S, but it is also pretty impressive how much energy the tweeter can handle without any degrade in sound quality. There are no signs of other hardness than the ones on the movie-track, and it shows an impressive resolution and precision even if the drama on the screen reaches big heights.
They lack the bass you want in a dedicated home cinema, but they manage pretty well in a smaller living-room system completely without subwoofer. The deepest bass they can reproduce is controlled and precise, and surprisingly heavy and powerful.
We will come back with a more in-detail home cinema review, but then with these speakers matched with a good subwoofer, a center and two dedicated surround speakers. All from Arendal, of course.
MUSIC
With two speakers we mostly focus on music, and then it suddenly becomes a contender for many really good bookshelf speakers in the price range between 10 and 20 thousand. There are lots of good stuff in this range, and hardly a single producer that doesn't have anything to show for in this price range. It is enough to mention acknowledged brands like B&W, Dali, Canton, KEF, Monitor Audio, Elac, Audiovector and Focal before you understand that the Norwegians behind Arendal Sound has taken on a huge task.
The task however turns out to not be impossible, because Arendal really has something to show for in this price range. 1723 Monitor S is perhaps not the hi-fi purists clear choice, but if you are looking for a speaker that is dynamic, energetic, alive and really fun to listen to, it is an obvious alternative. It is also highly flexible and if you play classical or heavy-metal it doesn't make a big difference. The speaker has no audible tone of voice, or coloring of sound that in any way limits it's diversity.
The effort Arendal Sound has made to make the cabinets heavy, dead and solid may make it more silent and precise than what we normally hear. It is interesting to hear how it stops transients, and how much space for timbre and reverberation it has. It gives a unusually clean and focused sound stage, where each instrument has its own place separated from anything else in the sound stage. This is in turn great for the soundstage depth and width.
1723 S Monitor doesn't have the superior ability as for example KEF LS50 to define room and focus, not the deep bass of the Canton Reference 9, and not the resolution in the tweeter of the B&W 705 S2. When we get questions, or for that sake even critics for being too positive towards Arendal, it is often these arguments being used. Yes, you will probably find qualities in other speakers that Arendal doesn't have, but Arendals strength lays in the uniformity, or the sum of good characteristics. A speaker that can compete with all the best from B&W, Dali, Canton, KEF, Monitor Audio, Elac, Audiovector and Focal all at once, will not be available for anything close to the price range we are talking about here.
As usual I play through our test music, and can hardly find anything the speaker can't handle. The percussion on Song for Olabi is fresh, dynamic and hard-hitting, and even if the bass in the bottom didn't necessarily make the room shake, it was more present than the specifications would indicate. The voice of Dylan on The man in the long black coat is a raspy, colorful and intense, and not least near. Its like you come into the sound. It is simply very open and transparent.
CONCLUSION
This is a very successful downscaling of the big and powerful 1723 Monitor (without S). Many of the main-qualities are kept even if it the sound isn't as big and powerful. Smaller drivers will move less air. When that is said, they don't lack in presence and weight. It is just that the bigger brother in the Arendal-series is extraordinarily big and powerful. 1723 Monitor S scores most points in combination movies and music, but it is a hi-fi speaker that stands surprisingly tall in the price range.
STEREO+ THOUGHTS
An open, energetic and entertaining speaker that is impressive in combination between movies and music.
WE LIKE
Good for movies and music
Solid qualities over the entire range
Very solid build quality
Great dynamics
WE DON'T LIKE