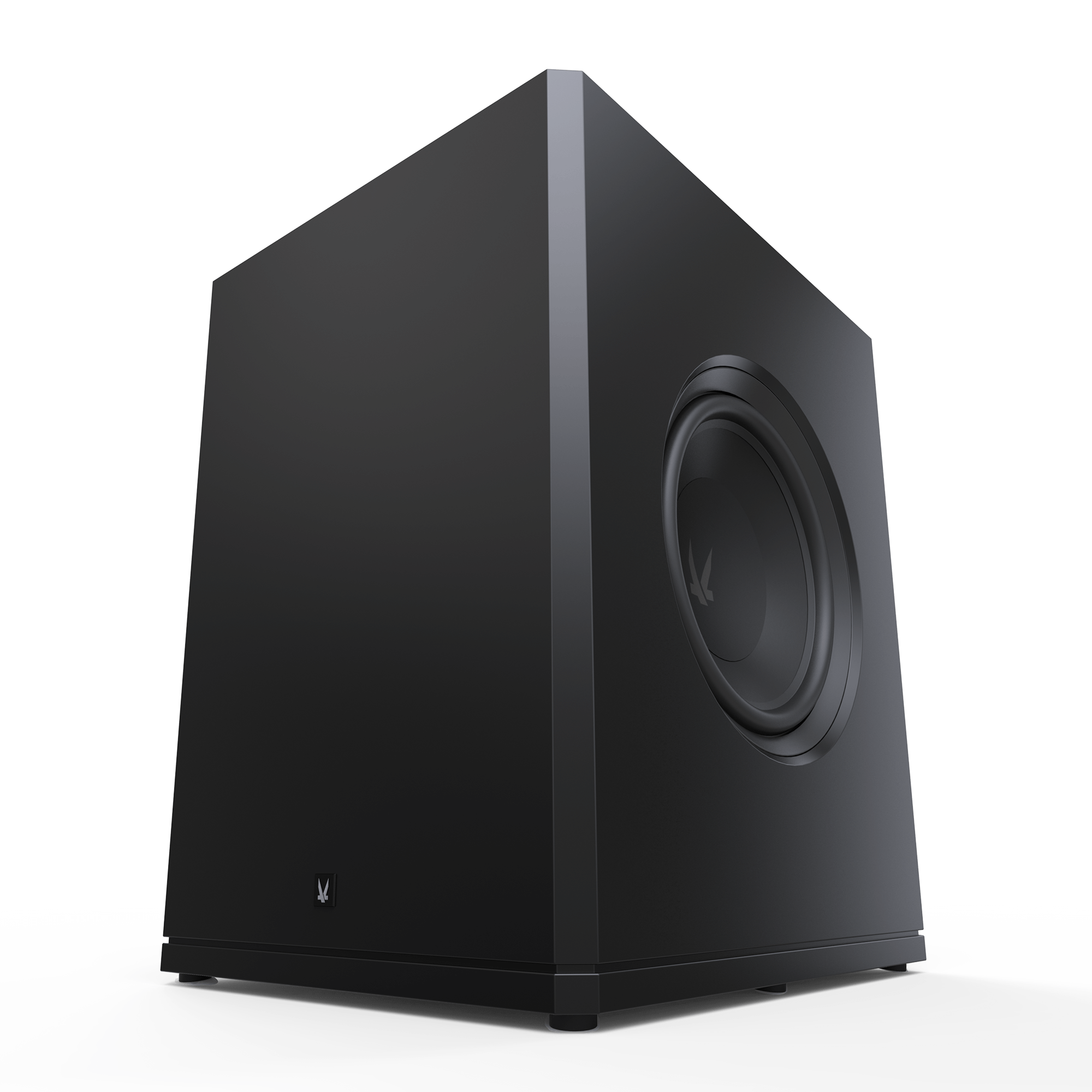 "The performance is something you'll never forget."
"So build quality… this thing is a beast!"
"It has a luxury class feel, matte black finish and it's really nice."
Packing and Appearance
The 1723 2V arrived in a large box that was covered in plastic seal and security tape. Upon opening the box, I was surprised to see polyethylene foam pieces covering not just the top and bottom, like we see in most subwoofers, but foam guarding every surface. Virtually the entire sub was protected by a thick sheet of foam. That is nice to see and will help ensure the sub's fine finish is not so easy to contact as just going through a layer of cardboard. Inside the foam packing, the sub itself was covered with a very posh rayon drawstring sack to protect it from getting scuffed by the foam packing. Included in the packing was a pair of white cotton gloves to protect the subwoofer from fingerprints in the unpacking process, another touch of class on top of the rayon sack.
Once unpacked, the Arendal 1723 2V stands like an austere monolith. If prehistoric apes had found this in their midst, it would have imparted to them the capacity to use tools (cue "Thus Spoke Zarathustra"). The 1723 2V is available in matte black and matte white finishes as well as gloss black and gloss white finishes, and I received the matte black. 'Matte' black is a bit of a misnomer though, and I would characterize this finish as satin black. There are many manufacturers who claim a satin finish that is not as fine as this; typical Norwegian modesty. There is no getting around how large this sub is, and that is certainly a major visual attribute. The vertical edges are beveled, which gives it a more stately demeanor, and the rest of the edges have a very slight rounding that does help to soften the appearance. As large subs go, it is fairly nice-looking by virtue of its minimalism. There are two woofers on opposite sides of the enclosure, so chances are, one of the woofers will be exposed (unless you use the grilles). The magnetic grilles are circular and only cover the woofer instead of the entire front panel like most other subs. In my opinion, the grilles do not improve the appearance of this sub and only help to protect the cone. The cone is pretty nice looking, and the frame is hidden by a trim ring so there are no exposed screws. The texture of the cone bears a similar satin black as the rest of the enclosure except for the Arendal logo printed in the dustcap. There is also a small Arendal logo at the bottom of the front panel. Aside from all of that, it is just smooth, featureless black. The clean look of the 1723 2V helps to offset its huge size and perhaps make it more palatable for those who would otherwise object to such a behemoth.
Design Analysis
The basic design of the 1723 2V is that of a large subwoofer that uses two 13.8" woofers in a slot-ported enclosure. That can be a recipe for a lot of high-quality bass, surely, but it all depends on how well the recipe is executed. Let us examine the ingredients, and we will start with the drivers. The cones are made from a combination of long fiber pulp and fiberglass and are attached to the baskets with a nitrile-butyl rubber surround and a Connex spider. The voice coil has a 2" diameter and uses aluminum wiring around a polyamide former. The basket is a thick stamped steel frame that connects to a beefy motor comprised of a 1 ½" stack of two magnets that are 6" in diameter. There is a heavily bumped-out backplate for longer excursions with reduced risk of hard bottoming, and venting is done under the spider. There are multiple aluminum shorting rings used for reducing inductance. Arendal claims it has a 50% higher excursion than the previous generation of 1723 subwoofers.
The drivers are powered by a 1,200 watts RMS class-D amplifier that Arendal calls the "Avalanche" amplifier. The user controls the 1723 2V sub not through traditional knobs but rather through a 2.6" color LCD screen. This enables a lot more control over the sub than an array of knobs. You can adjust how each input is controlled individually, and aspects of control include different crossover slopes as well as high-pass slopes, wake-up times and wake-up sensitivities, operating mode selection, and even a 7-band parametric equalizer. The 1723 2V has a pair of RCA inputs and output as well as balanced XLR inputs and outputs. The outputs can be handy for daisy-chaining subs in a multi-sub setup as well as running the signal to some active speakers. A subwoofer needs highly sophisticated processing to deal with all of that, and the Avalanche amp has that with a 32-bit microcontroller. The microcontroller is also constantly monitoring performance parameters so that the sub is always operating in safe conditions. Some of the parameters monitored include output voltages, power supply rail voltages, and amplifier temperatures. If it senses anything amiss, it immediately shuts down the unit to prevent damage.
The 1723 2V can be controlled by an app for iOS and Andriod for those who don't want to have to get up off their sofa to change the settings of the subwoofer. All the same settings from the LCD screen can be controlled by the app. The app also has a test tone for when you want to make sure it can produce a signal. One nice thing about the app is the graphic display of the parametric equalizer for those who want to see the effect that their changes have on the response. The app also has a time delay setting that can be changed by 0.25ms increments out to 50ms which can come in handy for situations in a multi-sub system where the subs have different distances. The ability to change time delay can synchronize all the subs so that their arrival of sound can hit the listening position simultaneously.
The drivers and amplifier are mounted in a stout high-density fiberboard enclosure that constitutes the bulk of the weight of the unit. The driver mountings are 2" thick, and the side panels are 1" thick. There is a windowpane brace running along the length of the cabinet to reinforce the mid-section, along with plenty of stuffing to help damp rear pressure waves. One element that also helps to brace the cabinet is the slot port. The port is constructed by running some parallel panels from the back to the front of the cabinet as well as halfway up the front panel and ends in a flaring. This adds more rigidity to the side walls as well as more mass. It is considerably heavier than using cylindrical ports but is a more elegant integration of the vent to the enclosure. Another elegant touch is the mounting of the drivers on opposite sides of the cabinet. The mechanical transfer of energy from the moving mass of the drivers to the enclosure is canceled out completely by the opposite driver per Newton's laws of motion. This means that the drivers impart no rocking motion on the cabinet. Contrary to popular belief though, there is still a need for a braced cabinet since dual opposed driver mountings do nothing to alleviate internal pressure forces.
The 1723 2V comes with a port plug in case the user wants to run it in a sealed operating mode, but there is no sense in getting a sub this large to use it in a sealed configuration. It negates the point of this subwoofer. Many ported subwoofers include port plugs nowadays, and it's not an expensive addition, so I can see their reasoning as "why not." However, all it does is rob the subwoofer of lower-frequency output. Sometimes users will want to temper the low-end in cases of rooms that get a lot of pressure vessel gain which can confer a big deep frequency boost that can make for a boomy sound, but the better solution to that is equalization rather than plugging the port. EQ'ing can shape the response of the sub much more precisely and leaves all the headroom intact. The 1723 V2 has a powerful parametric EQ onboard so that is what should be used to alter the response.
As was mentioned previously, the 1723 2V includes grilles that cover the cones. The grilles are attached with some magnets that have a good amount of force, so they do not come off easily. There are some rubber feet that give about 3/4" clearance from the ground. That isn't a lot of room for fingers that have to lift the sub, and I would wish for just a bit more height to safely lift the sub by hand. The feet have the Arendal emblem molded into the bottom which is a nice point of detail for the sub.
The design of the 1723 2V promises lots of power and also precision with plenty of features that can adjust the sound character and overall behavior of the sub according to the user's tastes. It looks good on paper, but how does it perform in practice? Let's now do some listening to hear the end result of all of this engineering…
Listening Sessions
The best placement for a single sub in my room gives me a relatively flat response for an un-EQ'd single subwoofer, with a window of +/- 4 dB from 25 Hz to 100 Hz with no broad dips in important ranges. This location trades low-end room gain for a relatively flat response, a worthwhile trade for my tastes. The receiver used was a Pioneer Elite SC-55 and the crossover was used mostly at 80 Hz. As always, I will note here that since room acoustics have a huge effect on low frequencies, the way this subwoofer sounds in my room at my listening position is not necessarily going to be the same way it will sound in your room. Readers would do well to keep that in mind, and not just for this subwoofer in this review but for any subwoofer in any review.
Music Listening
The bass was clean all the way through and never evidenced a hint of distortion. If the 1723 2V had limits, I didn't find them. Instead, it found my limits. It could certainly play louder than I was comfortable listening to. Massive bass is a lot of fun to hear, but it does get fatiguing after a while, and by the end of "Idavollur," I felt like I had been run through a clothes dryer cycle on the 'heavy dry' setting. My own weakness aside, the 1723 2V killed it with this album, and anyone who enjoys bass-heavy electronic music is going to love this sub.
Movie Watching
The sub also had no trouble keeping the sound as brutal as the imagery, and it never approached any mechanical limits that I could tell. It had an endless supply of power for all of the drones, rumbling, and pounding noises demanded by the sound mix. The sound mix is layered with different low-frequency sounds and the 1723 2V had no trouble keeping them separate even when they were occurring simultaneously. Viewers will miss a lot by attempting to watch it on a weak sound setup, and the 1723 2V may be more than is needed to get the point across, but it undoubtedly had the goods to fulfill the artistic intentions of the movie. If "Mandy" sounds like your cup of tea, Arendal's 1723 V2 sub is a good way to drink it.
MEASUREMENTS
This is a large sub meant to produce deep bass at high output levels, so all of the other configurations are mostly extraneous. However, we have published them so readers can see the full range of this subwoofer's behavior.
The 1723 2V puts up some big numbers as would be expected from something of its specs. It has a serious mid-bass output that touches 119dB at 63Hz, so it can cause bruises when asked to, and it does so with finesse as well, seeing as how it can't be made to exceed 10% THD. Something else to note is the 12Hz and 16Hz output; the 1723 2V is able to belt out a lot of extremely deep bass. Not surprising for such a large sub but impressive nonetheless. These are some big numbers from a big sub that can fill a big room, and with this level of performance, it easily achieves our Bassaholics 'Extreme' Room Rating.
See graphs and all measurements here.
Conclusion
That brings us to the discussion of the strengths of the 1723 2V; it is such a well-rounded subwoofer that it is strong in every aspect of design. It isn't lacking in anything. The performance is superb; it has a terrific extension with substantial output down to an astonishing 12Hz. 115dB continuous midbass headroom will punch you in the chest all day long with your favorite party tunes. Excellent time-domain performance ensures that the bass is snappy and will not lag behind other components of the sound mix. And its low distortion ensures that the sound that you do hear is what is intended by the artists and sound engineers rather than inadvertent noise added by the system.
The build quality is terrific, and this subwoofer has a sense of solidity that befits its pricing. The enclosure remains inert, even at high output levels, and you could rest your drink on it without fear of it vibrating off of the sub (although I recommend using a coaster so as not to mar the top surface of the lovely finish). It could be used as a speaker stands for a bookshelf speaker or a monitor such as the 1723 THX Monitors for the ultimate Arendal floor-standing speaker system (again, put a protective matte on them for that use). Two 1723 2V subs as speakers stands for some 1723 THX Monitors would be an absolutely monumental setup.
The technology and sophistication are second to none in its price class. App control, LCD screen, control based on inputs, seven-band parametric EQ, master control for subwoofer groups, control over input sensitivity, wake-up sensitivity, and control over many more parameters make this sub a fine-tuner's dream-come-true. You can dial it to perfection, and the onboard parametric EQ negates the need for an outboard equalizer to take down peaks caused by problematic room acoustics. What is more is that it has advanced real-time monitoring over many elements of electrical activity, and it can modify its operation to function optimally in changing circumstances or just shut itself down if it detects anything potentially dangerous so it won't allow itself to be damaged.
On top of the performance, build quality, and advanced features, it also looks nice as far as large subwoofers go. Beveled edges, sleek woofers, and a fine satin or gloss finish do a lot to make this a classy-looking audio product. It can be loud in sound, but it isn't loud in appearance. One thing that can be done to alleviate its size is to use it as an end table; since its vibrations are so minute, it won't rattle anything off, so a table cloth can be placed on it and allow it to be used as a surface to hold stuff.
At the beginning of this review, I asked if the 1723 2V subwoofer would meet the expectations set by the 1723 THX Monitors. I have to conclude that it does. It is a high-performance audio product that doesn't cut any corners. These Norwegians seem to have an obsessive attention to detail. The 1723 2V is a terrific subwoofer that I would be happy to own and can easily recommend to anyone who can accommodate its size. Like its companion loudspeaker series, it is not inexpensive but it does give you a lot of subwoofer for the money. The 1723 2V is a well-crafted subwoofer in every way, and I would say it's a bargain at its $3k asking price. Furthering the bargain, buyers get a 5-year warranty on the electronics and a 10-year warranty on all other components which is the most generous warranty in this segment. Those who are interested in giving it a try are given a 60-day trial period where they can receive a full refund and are only on the hook for return shipping costs (which, to be fair, aren't likely to be cheap for a package of this size). Arendal Sound has delivered another knock-out product, and I am looking forward to getting my hands on more of their products to see if they can continue to maintain this level of craftsmanship in their other offerings.
Pros
Real output down to infrasonic bass ranges
Massive mid-bass punch
Heavy-duty build quality
Sophisticated DSP control & app control
Classy looking for a large sub
Cons