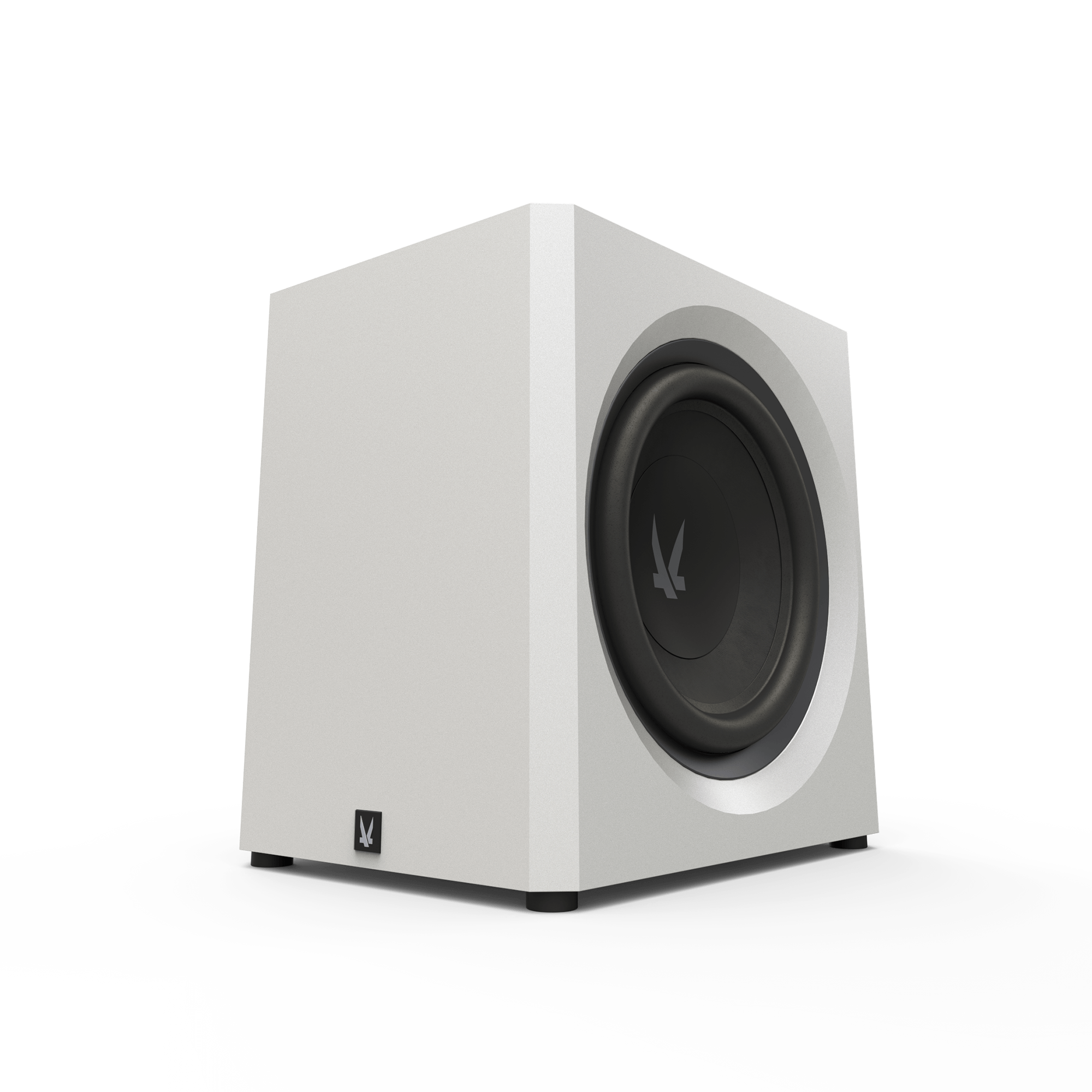 SOUNDS LIKE A MUCH LARGER SYSTEM
Arendal Sound has done impressively well both in Norway and internationally by delivering speakers that are made with a clear red thread, soundwise, and a sound that still surprises the ones who hear their speakers for the first time.
This time around we have picked up the Arendal Sound 1961 Subwoofer 1S, and a pair of 1961 Bookshelf and not even played a single movie. This time it's all about the music. Something really happens when the subwoofer and the satellites are coupled together, acoustically it is nothing less than impressive. In addition to being very fun and engaging.
1961 Bookshelf
Bookshelf is a compact speaker that can be placed on a shelf or hung on a wall. It is not made to stand on a pair of stands, and that can solve multiple problems right away. The most important thing is that the speaker sounds excellent even if you place it on a shelf together with the books from the book club, or the record collection.
They are only 15cm deep and measure about double in height. That does not give the bass the space it needs to output the deepest bass frequencies. But it is not meant to. 1961 Bookshelf is supposed to be used together with a subwoofer.
You will still find the same 28mm tweeter and the large waveguide Arendal Sound uses in the 1961-series, as well as a 5,5" woofer. It gives the compact speaker pretty impressive dynamics and listening enjoyment, the response in the bass rolls nicely off below 70Hz. With a little help from the room the bass comes close to being acceptable, but not quite. And no matter how much fun it creates, it nearly screams for a subwoofer.
The speaker is just efficient enough (about 85dB), but that should not be any problem for even pretty simple amplifiers. The impedance goes down to around 4ohm around 200 and 1000 Hz.
Subwoofer 1S
As we have tested this subwoofer previously we are not going to give it too much attention alone, but with 550 watts and a driver at a little over 12 inches (12.2") this compact subwoofer hits really hard, and with the EQ1 preset we are talking about highly impressive bass down to 19Hz. That is enough so that the home cinema construction starts shaking, but it plays both purer and better with the EQ2-setting. At the same time it is more forgiving with the room in this setting.
You will have to settle then with a little fewer tones in the deepest scale of the bass. But even if it then is rolling off at 26Hz, that is seriously deep, and you need to go up a good step in both size and price for a pair of stereo speakers to match the qualities under 100Hz.
Easy integration
The frequency response of the satellites and the great adjustibilities of the subwoofer ensure that it won't take a whole day to get this sounding great. Here you don't have to worry that you don't have the option of connecting a low pass filter to the satellites. They play little enough under 70Hz that the normal challenges with phase issues in the deeper end of the bass are eliminated.
By matching the filter on the subwoofer to the same frequency it's only phase and volume you have to concentrate on. You can do that by ear, but it is possible to use one of the many free softwares to the phone that measure SPL/dB and if you don't have a CD with test files laying around you will find what you need on one of the music streaming services. Search for Bunker Analog Stereo Test, or The Sheffield Test Disc. And are you wondering how to adjust the phase? The setting that gives the most amount of bass is largely the most correct one.
Dynamic and fun
There are many reasonably priced compact speakers that play with just as impressive details and openness, but there are few that have the same lively way of representing the sound. It is attractive, fun and with a lot more dynamics than one would expect from such a compact pair of speakers. It never gets really loud, but you have no issues passing 103-105dB, and at that point it is only the noisy nachspiel or class reunion party you can't drown out. The subwoofer will manage to do so, but you would like to hear the rest of the sound stage as well.
This package is priced at a reasonable 1.500€ and then the only thing you need are some cables, and possibly a pair of decoupling feet for the subwoofer. A suitable amplifier for the 1961 Bookshelf can almost be anything that can deliver up to 100 real watts for the satellites. You could ask the question whether a Subwoofer 1S is a little overkill, but what it needs to do is absolutely not just about playing loud and deep. With the qualities that exist in 1961 Bookshelf you need to have a subwoofer that plays completely clean and tight, without coloring the sound in any particular way. I can't see that there are so many alternatives in the market that can deliver as a 1S in this price range, or for that matter at a little higher.
I take out some of the bass-tracks on my playlists, and no matter what I ask of the 1S it delivers with brilliance. Therefore the focus easily changes towards more picky musical playbacks and I end up with Terje Rypdal and As if The Ghost…. Was Me? It starts off with a little playing on the cymbals and it sounds exceptionally real. You can hear hard wood against brass in a shower of rich overtones, and Rypdals floating, echo-heavy signature tones are so incredibly lovely and warm. The sound stage is fantastically open and wide, and even if the details are somewhat duller than on a really expensive pair of speakers, there is all reason to be impressed by the level Arendal Sound has hit.
Conclusion
After having heard quite a few speakers from Arendal Sound over the last years it is incorrect to say that I am shocked, but it is very easy to let oneself be impressed by the total sound qualities in this compact 2.1 system. If you have limited possibilities to place a larger pair of floorstanding speakers, or perhaps you just tried it and it didn't work out completely, a 2.1 package may be the right solution for you. We are fully unable to understand why the HiFi standard is a pair of floorstanding speakers, when a pair of compact speakers with a subwoofer can sound so exceptionally brilliant. A great example of exactly that are the 1961 Bookshelf and Subwoofer 1S.
STEREO+ THOUGHTS:
Arendal Sound delivers with 1961 Bookshelf and Subwoofer 1S a 2.1 setup that both is musically inviting, engaging and fun!
CHARACTERS:
User friendliness 9
Quality/Design 9
Performance/Price 9
IMPRESSIVE!