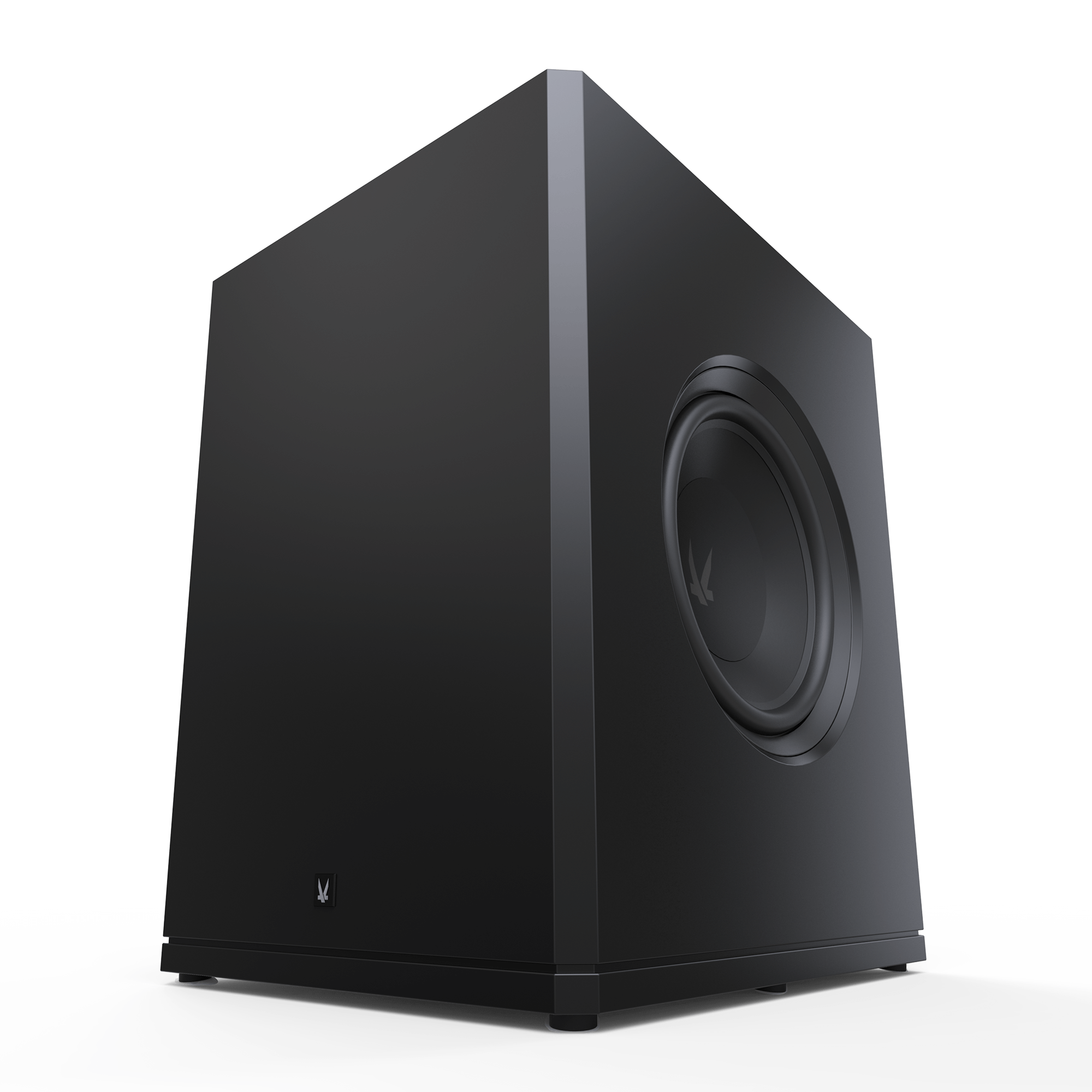 The company Arendal Sound specializes in speakers, subwoofers, and driver designs. As the premiere review of the brand in Israel, I chose the brand's top-end subwoofer, which will suit many buyers in multi-channel and 2-channel audio.
This uniqueness is based on traditional and historical Norwegian elements based on solid art that combines a quality finish with strict standards. The company's founder Jan Ove Lassesen has created a perfect direct-to-consumer luxury product at a price level that is worth every penny.
Impressive and luxurious Clean Design
So, friends, this moment has finally arrived, and this wonderful brand is already here as we have imported this select model.
Dimensions: Height 71.2cm/Width 50cm/Depth 60.9cm.
Weight 60.1 kg
The test subwoofer comes in a Black Gloss finish level of the highest quality finish I have encountered to date (and a pair of magnetized round grills). The subwoofer can be purchased in three additional finishes.
The 1723 2V has a pair of active 13.8 inch woofers, mated to a unique amplification developed by the company called Avalanche. The 1200IQ Amplifier is based on IQ thinking. This term is rarely encountered in audio, especially in subwoofers that combine performance and innovative technology not previously available, which include multiple sensor inputs to outputs to maintain dynamics and full protection of drivers. There is also a powerful MCU controller that regulates all data passing through the signal, ensuring that a balanced operating temperature is maintained.
The amplification unit provides 1200 watts RMS with a frequency response of 17Hz-200Hz +/- 3dB.
At the back of the subwoofer, we can find the amplification plate. This plate is made of aluminum, with an LED display and control knob to adjust settings (also easily handled via the app). In addition, there is a trigger input 12v 3.5mm mini-plug, USB input for connection to a computer that allows firmware updates (made during the review), a power switch, power cord connection, a pair of RCA inputs, and a pair of RCA outputs, a pair of XLR inputs and a pair of XLR outputs. This means that two sources can be connected at the same time, such as a receiver, and an integrated stereo amplifier that includes a subwoofer output. The Arendal Sound 1723 Subwoofer 2V is the type of product built "green" with super quality components and a first-class design and finish, without any materials made of plastic.
Control app
The Arendal Sound 1723 Subwoofer 2V features a Bluetooth transmitter controlled by a beautiful-looking app that is super easy to operate. It can be used from any mobile device or tablet and all functions can be adjusted on the application itself. This feature is not unique to this subwoofer and is slowly becoming the standard. This allows you to sit in the listening area and calibrate the subwoofer accurately and easily to your liking. Another feature that excited me was adjusting the gain output from the receiver to the subwoofer input, meaning we can adjust the signal from the receiver in perfect coordination to the subwoofer. I can tell you that this is the most impressive available today.
Multi-channel audio
The size of the 1723 Subwoofer 2V and the dual 13.8-inch drivers do not create an annoyingly aggressive "boom". They simply blend well in my listening space with my robust front speakers set to large on my receiver. Part of this subwoofer's wonderful capability is thanks to the 1200w RMS amplifier, which takes absolute control of the drivers. The 1723 Subwoofer 2V is the kind of subwoofer that gives a sense of accurate yet natural presence, accompanying you throughout the film with the accuracy that a quality subwoofer is supposed to. But how is this perceived? The function of the subwoofer is not only to kick you with every shot but also to be capable of multiple low-frequency sounds in quick succession. These feelings continued to accompany me in dozens of other passages that I examined.
In the movie "Max Payne", there is a dynamic shooting section in the basement laden with a variety of challenging elements. Here too the 1723 Subwoofer 2V displayed a super impressive control during rapid gunfire with fast movement and a complete stopover and over. This behavior presented an impressive subwoofer performance.
In a sharp transition, we will move to the Dolby Atmos format in a 6.1.4 channel setup. We watched "Mad Max", a rather challenging film to examine in a multi-channel audio system. This film is full of energy and dynamics accompanied by a variety of challenging elements. The subwoofer was simply present and could contain the accumulation of insane energy that is present throughout the film. This subwoofer stood the test in a genius manner, surprising me time and time again. It does not give up while reproducing a variety of sounds with precision and detail. What makes it even better is the fact that its bass is so true, so precise and detailed with an impact that instilled a sense of "quality at its best."
These feelings continued to accompany me even in the movie "Mission Impossible 6". In the 17-minute helicopter chase scene, the Dolby Atmos format is demonstrated at its best. I aim for anyone who has really experience and knows how to fully appreciate the format's capabilities. I can tell you that I have watched this segment dozens of times with and without Atmos speakers which leads me to an unequivocal statement: the Dolby Atmos format requires the installation of fine Atmos speakers. Here too the 1723 Subwoofer 2V performed at the highest level; it knows how to be strong, fast, and accurate. It does not just produce a large amount of bass but instead incorporates naturally throughout the film with powerful accuracy and detail that yields impressive sound quality. This is a capability that I have met in a few subs.
Performance
Multi-channel audio performance is quite similar to music. Even live performances require the same capabilities as two-channel audio: the subwoofer must be available, accurate, natural, fast, and of course detailed.
The 1723 Subwoofer 2V is a vented subwoofer with a rear port slot. The result is quite natural with the right bass, which is particularly fast and accurate. It managed to maintain a particularly delicate texture which was quite surprising for a vented subwoofer. And that in itself surprised me in a good way.
Performance-wise, the Arendal convinced me that it knows how to fit in perfectly with the front speakers I have. I felt that the subwoofer in front of me had particularly impressive and unique features, and this feeling accompanied me again and again when I watched dozens of other scenes. I particularly enjoyed the reunion performance of the band "Buenos Aires," especially in the opening segment.
Music
Regarding the integration of subwoofers in two-channel music, I tend to side with those who claim that sealed subwoofers are more suitable for music than vented subwoofers with huge tube ports, most of which are more suitable for multi-channel cinema. But it still does not apply to all vented subwoofers. What I am saying is that in most cases a sealed subwoofer will perform better in two-channel audio than a vented subwoofer with a large tube port. But the 1723 Subwoofer 2V surprised and impressed me to a great degree in two-channel audio. The 1723 Subwoofer 2V sets a new standard in subwoofers. It should integrate well with two-channel audio in the best way.
The position
This is a relatively large subwoofer with an open port. Throughout the test, I placed the subwoofer in the center of my front stage. Due to the construction and shape, specifically having dual side drivers, it was important for me to test when the subwoofer is not next to a wall or object. This subwoofer can be placed in any area of ​​the listening space when it is only about 20 cm from the wall.
Attenuation
The 1723 Subwoofer 2V comes with six original spikes with rubber pucks designed by the company. Spikes and rubber pucks can be screwed into the subwoofer itself, allowing installation on all types of surfaces, so there is no reason to replace them with another product.
On a Personal Note
I can tell you that I have tested hundreds of products in my life and from the cheapest to the most expensive among them, this product is just different. It is a product that has been well thought, designed and engineered down to every detail. It starts with the product itself wrapped in fine luxury fabric with a large company logo, a pair of fine gloves, and one of the most spectacular operating manuals I have encountered to date. And I do place an emphasis on the operating manual; not only is it remarkably clear and explanatory, but it is also invested in its quality. The initial contact in the booklet explains well the thinking and investment that the company presents on every detail of the product itself. And of course the quality of the product itself, from the quality of the amplification, the components, to the enclosure made of fine HDF that allows it to reach a maximum level of construction and finish that looks just perfect. This also allows a quality paint of the highest levels comparable to different brands that cost several times more than this product. Love the term high-end? For me, Arendal presents a first-class high-end product at a price for every pocket.
Summary
Today in the review we made an in-depth acquaintance with the Norwegian brand Arendal Sound whose examinee is the 1723 Subwoofer 2V. I can tell you that over the course of my life I have tested dozens of different types of subs at different levels from the cheapest to the most expensive. This subwoofer contains a pair of some of the best drivers I have come across and tested, and not just because of its level of pricing. This subwoofer contains a host of features that we expect to get from a subwoofer: it is fast, powerful, dynamic, accurate, and incredibly detailed. This is also thanks to the quality of its amplification. It's the kind of product that excited me time and time again in every file that was played, whether in multi-channel or two-channel, it blended great with my front speakers. The 1723 Subwoofer 2V is the kind of product that hits a bullseye every time and puts a smile on my face again and again. When it comes to cinema and multi-channel performances everything is clear, a subwoofer is a must and it does not matter if you have huge speakers that go down the lowest frequencies.
The role of the subwoofer is extremely important because it participates not only in explosions throughout the film, but when it is not around the cinematic experience just goes down. For me, a subwoofer is a very important component in a multi-channel audio system. This subwoofer managed to convince me to write an enthusiastic review, not only because of the audio quality it produces, but also thanks to its rare build quality and finish that sets a new standard in terms of build quality and product visibility. The company exudes accuracy, thoughtfulness, and integrity in every component of the subwoofer, controlled by the extremely professional app.
Finally, going back to the audio quality, this subwoofer managed to convince me to write about it enthusiastically, thanks to its musicality and ease of integration. It misses nothing and reproduces frequencies correctly and accurately. It is built well and looks dreamy. It is strong, fast, balanced, and most impressively detailed. Its pair of powerful active woofers will elegantly shake your living room during films in the best possible way, thanks to the precision and perfect fit between all the components that work exactly as one. The result is a perfect product that will be hard to find in other subwoofers.