HOW IS YOUR ROOM SET UP?
My room is my bed – home theater – room.
This is the room where I enjoy a good movie and where I also sleep.

Measure approx. 5×3.5 meters, with a height of 3 meters. So approx. 17m2.
WHAT WAS YOUR GOAL WHEN LOOKING FOR NEW SPEAKERS AND SUBWOOFERS?
I was searching for a subwoofer that can sound loud and go deep, and with a couple of 1723 2V in my 17m2 room, I can definitely say I am in bass nirvana.
My listening level are about -16 / -18 from reference level, and with this couple of beast I can easily take out 100dB from 10Hz/12Hz , so it is really a wonderful experience.
For the Speakers, I was searching a product that can be easy to drive, that can support loud SPL without concerning, with a good soundstage and a good dispersion pattern.
Those 1723 Monitor have gigantic soundstage, awesome dynamics, and at the moment I can drive them pretty well with an Anthem mrx 720 (integrated amplifier).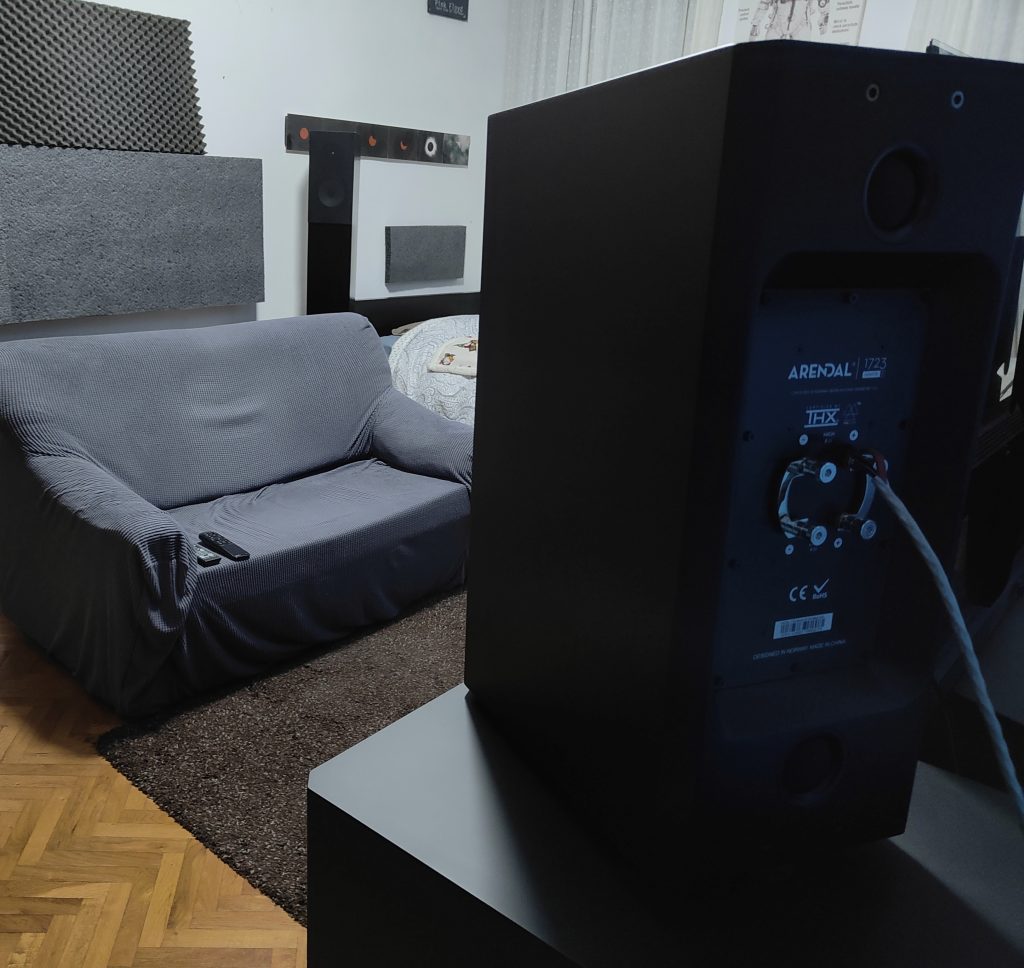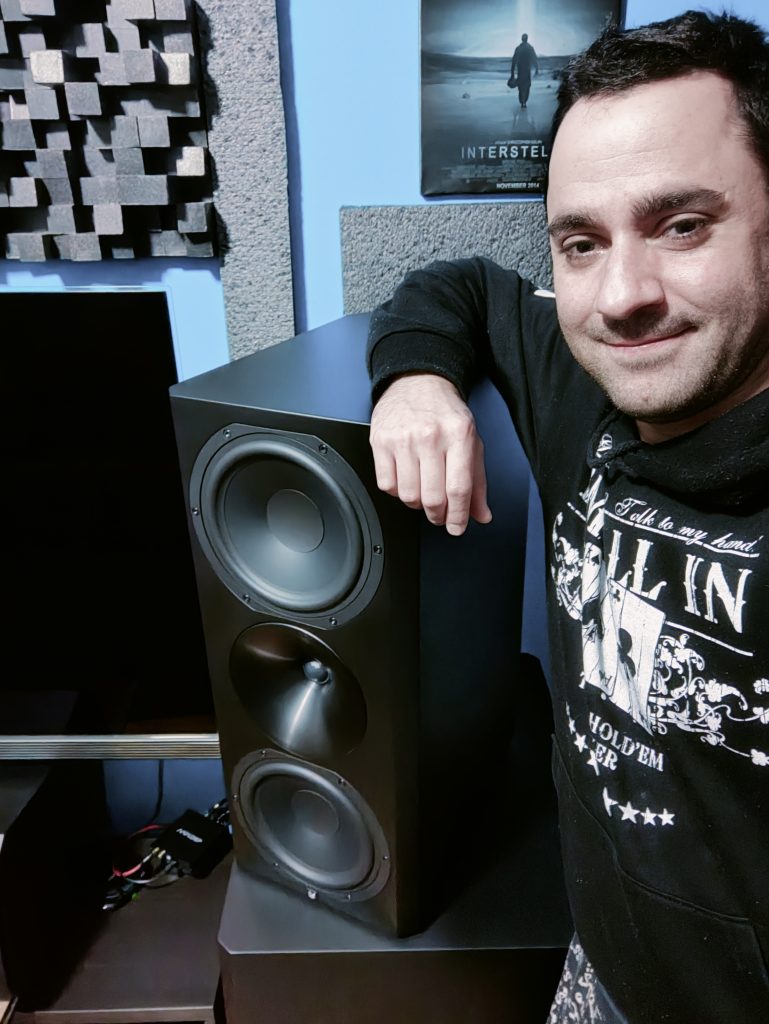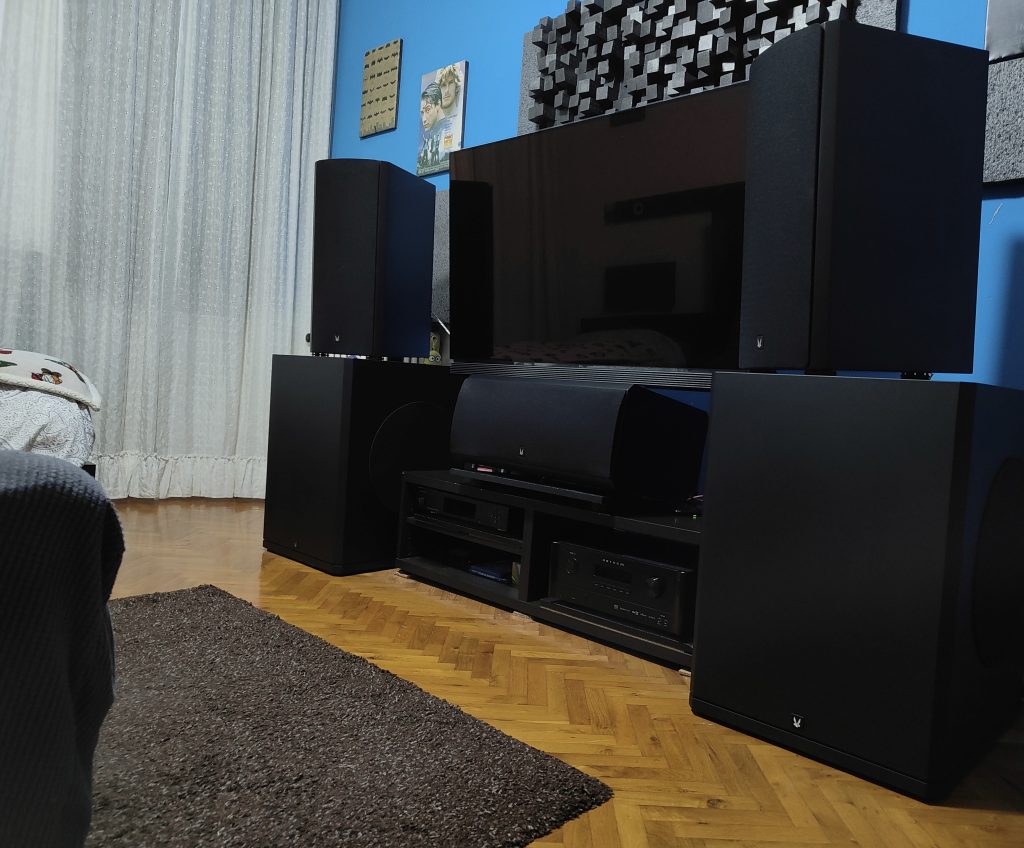 WHERE DID YOU HEAR ABOUT US?
I have hear about Arendal Sound from many forums, at first for their high quality subwoofers, and later for their high quality speakers.
Later, I have read many reviews about their products.
WHY DID YOU CHOOSE ARENDAL SOUND?
I choose Arendal Sound because they have impressed me with their quality/price ratio.
Before Arendal, I had 2 front loudspeaker and a center channel handcrafted. Now the center channel is waiting for a new owner, and the loudspeakers are used for surround role.
Top notch quality product, those Arendals!
YOUR EXPERIENCE WITH THE PRODUCTS?
After some further research on internet, I bought an Arendal Sub1 (Legacy). Oh my God, what a surprise in comparison to the other subwoofer that I had! From the sturdy packaging, the really fast delivery, the white gloves inside the packaging for unboxing the products… really, an experience. And when play some movie, or music, it's fantastic. Deep, articulated, clean bass.
After about 1 year, I have bought a second Sub1 for better room integration, and a 1723 Center speaker.
Few days ago I had the possibility to make a gigantic upgrade, a couple of 1723 2V and a couple of Monitor 1723. So, let's go!
The improvements those subwoofers and speakers have carried into my room is unbelievable.
A pair of 1723 2V subwoofers is my Bass Nirvana, how do I put that feeling into words?
WHAT ELSE DOES YOUR SYSTEM CONSIST OF?
55" Oled at 2 meters (3dLut calibrated)
LCR : Arendal 1723 Monitor and Center
LFE : A couple of Arendal 1723 2V
Surround : handcrafted floorstand loudspeaker
Player : Oppo UDP203
AVR : Anthem MRX720
LFE EQ : Minidsp 2×4 HD
How happy are you with Arendal Sound products?
I couldn't be happier with my Arendal products, they go above and beyond my expectations. From the packaging, to the look of the products, and (to me the most important) the technical characteristic they have.
Setup details
WILL YOU BE ABLE TO OPEN YOUR HOME TO CUSTOMERS WHO WANT TO LISTEN TO YOUR SYSTEM?
Absolutely! For appointments please contact sales@arendalsound.com.