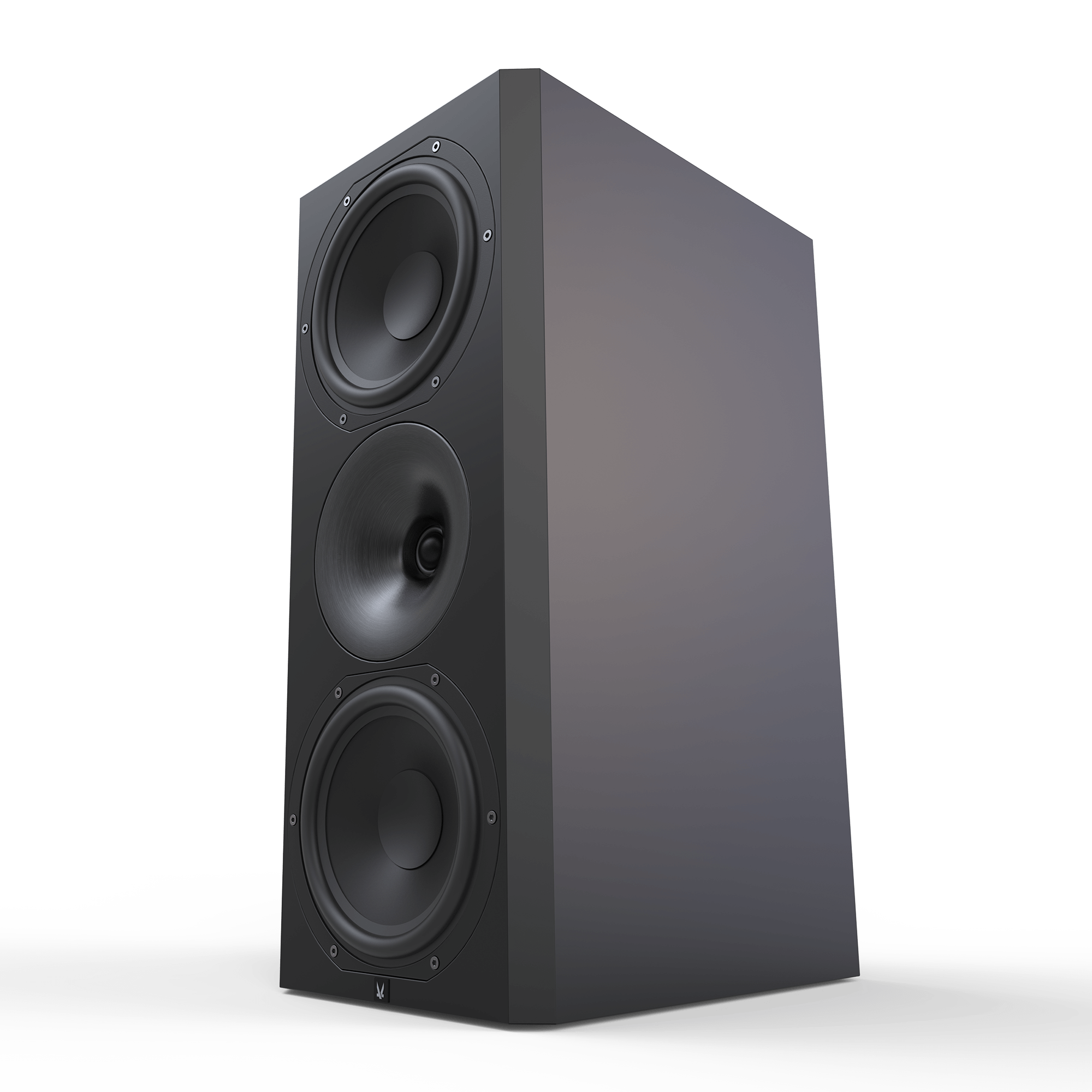 ARENDAL 1723 SYSTEM: NEWCOMER FROM NORWAY WITH EXTREME SOUND CAPABILITIES
By Michael Voigt, Heimkino.
REFINED POWER
A small team strives for a great goal in the far north, on the Norwegian coast of the small and tranquil city of Arendal: to build first-class loudspeakers at a fair selling price. We have examined Arendal Sound in detail, a brand unknown in Germany up to now.
QUICK-INFO
Dedicated home cinema 5/5
Living-room cinema: 4/5
Stereo music: 5/5
Multi-channel music: 5/5
"Yet another loudspeaker brand!" This was indeed my first thought as Jan Ove Lassesen, founder and CEO of Arendal Sound, made an appointment with our editorial office to introduce Arendal Sound, a brand new to us. But I have rarely been so much mistaken, because already my first contact with a monitor-speaker of the Arendal 1723-Serie blew me away massively. One single front loudspeaker of this 5.1 system puts oomphing 25 kg on the scale at a size of 27 x 63 x 40 cm. The excellent finish with scratch-resistant, matt lacquer and the perfectly rounded corners are additional proof of the great importance given by the brand Arendal to great, serious quality.
NORWEGIAN WOOD?
On the cardbox of Arendal products you can read "Made in China". The manufacturing venue is no secret, as Arendal has to produce their goods in the Far East to keep costs low, like 90% of all EU-products do. However, the relevant fact is that the whole development and product design takes place in the Norwegian Arendal city. They will not just use any off-the-shelf, standard drivers either. Arendal rather develops all components by themselves and get them produced to a high standard. Talking about standards: in order to obtain the most rigid and practically resonance-free enclosures, Arendal invests on massive, highly compacted HDF material for the enclosures, instead of the ordinary MDF boards. In order to achieve the acoustically ideal enclosure, special wall thickness and additional bracing are applied. All Arendal loudspeakers are available not only in black matte, but also in gloss finish, either in black or white depending on your taste (Translator note: and white matte also!).
ARENDAL 1723
Just in case you are interested: the town Arendal was granted trade rights for the first time in 1723, so the team of Jan Ove Lassesen took that year as name for the first product range of Arendal loudspeakers: 1723. As we already mentioned, the Monitor is the cardinal point of our 5.1 system. Thus, the 1723 Center, sharing the same drivers and just conceived to rest on its long side, matches exactly the Monitors 1723 used for the front left and right channels. While equipping the Monitors (and Center), the Norwegians could choose from a wide selection and decided for no less than two 170mm powerful woofers. In principle, the Monitors are built as bass-reflex speakers with two reflex ports on the rear side, but convenient foam plugs are included, allowing to use the speakers as sealed enclosures. This feature will prove in fact very exciting during our listening test. Arendal fits a big 28mm silk dome to achieve a dynamic treble, coupling it to a really big waveguide for improved dispersion. This waveguide also improves the efficiency of the silk dome, providing huge dynamics at high frequencies. By the way: all Arendal loudspeakers come with firm bi-wiring terminals and are delivered with two massive metal bridges for connection of the terminal pairs, just in case you were planning to use some regular, simple cable bridges. These terminals and bridges are made of pure copper and plated with rhodium, being thus as conductive as it gets, while staying perfectly protected against corrosion.
Arendal also offers suitable loudspeaker stands for the monitors. The Stands can be filled with sand and feature very stable, transverse metal feet. Visually, they perfectly match the Monitors and are ideal to place the front left and rear channels of this 5.1 system. For €650, you can get these really massive stands.
TRIAXIAL SURROUND SPEAKER
Dipoles are classically required for the diffuse surround field of a real home cinema sound. Arendal offers a proper playback partner with their 1723 Surround. Using the same high-frequency waveguide and one of the same 170mm woofers equipping the front, this surround speaker matches the system tonally to a T. In addition, each chamfered side includes one full-range 80mm driver, so Arendal calls this rear speaker "Triaxial-Speaker". In the end, this is an extremely capable rear speaker, matching perfectly the dynamics and tonal balance of the front.
POWERFUL BASS
Arendal includes three different Subwoofer sizes in their portfolio (Translator note: actually four!) and we settled on the biggest model of their subwoofer range. The Subwoofer 3 is a really impressive ambassador of its family: its 60kg weight and its dimensions of 50 x 70 x 60 cm, with two full-grown 300mm woofers (Translator note: actually 13.8" (350mm) nominal size, 300mm being just the membrane) in dual-opposed configuration really talk business. This huge bass-reflex subwoofer is fed by a 1000Watt amplifier, which can definitely deliver more than enough power for an impressive performance. The dual-opposed configuration of both side drivers cleverly cancels out annoying enclosure resonances. In any case, these would be really marginal, considering the extremely massive enclosure. Unfortunately, Arendal does not include a remote control or a parametric equalizer, just two sound settings for more or less deep bass can be selected with a switch. However, they also offer an option to seal the huge bass-reflex port with its "foam strip", converting the strong bass-reflex monster into a very precise, sealed subwoofer with rather discreet playing manners.
MEASUREMENTS AND LISTENING IMPRESSIONS
Both the front speakers and the Center deliver a formidable linear frequency response in our measurement lab: deviations from the ideal curve fall within -3dB even at 30° off-axis. Terrific! The bass extends down to about 60Hz, so you could almost (Translator notes: You absolutely can!) use this system without a subwoofer. However, it would be a shame to dispense with the Arendal 1723 Subwoofer 3 because this beast delivers distortion-free SPL well above 115 dB (measured at 0.5m) while going down to a more than formidable 25Hz. The utterly low distortion of all speakers in the sets is exquisitely pleasing. The distortion components k2 and k3 stay way below critical values even at really high SPL. The impulse response of the Arendal speakers is excellent, practically no ringing or resonances are found above 800Hz. The system of this Norwegian newcomer manages our listening tests equally well. We have never heard the action flick "John Wick" sounding so crisp and precise in our cinema room.
Utilizing its enormous dynamics and unleashed power, the Arendal system presents even complex sound mixes with crystal-clear resolution, creating a realistic soundfield. At the same time, the subwoofer astounds with an extremely deep bass rumbling in our stomachs without losing an ounce of precision and timing during dynamic swings. Close the bass-reflex ports of the Arendal speakers with the included foam plugs and you will miss some deep-bass mightiness, but the already mentioned precision in the impulse response gets even better, considerably better. It is almost scary how realistic are portrayed explosions or gunshots, everything fits together just perfectly – simply brilliant!
CONCLUSION
With the 1723 system, Arendal has delivered a real highlight for home-cinema fans. The extreme dynamics, the effortless precision and the flawless finish make the Arendal system a real recommendation for ambitious movie fans. On top of that, Arendal customers enjoy a price advantage through the direct sales without middlemen. Thus, the price-performance ratio of Arendal products is also excellent. "Yet another loudspeaker brand?" My ass! With the 1723 serie, Arendal has impressively shown that you can still improve things somewhat!
SCORE
Sound (70% of overall score): 1+ (12/12)
Dynamics/Agility (15 %): 0,8 (12/12)
Deep-bass capability (15 %): 0,8 (12/12)
Tonal balance (10 %): 0,9 (12/12)
Resolution/detail (10 %): 1,1 (10/12)
Speaker matching (10 %): 1,0 (11/12)
Listening region Center (10 %): 1,1 (10/12)
Measurements (15% of overall score): 1,0 (11/12)
Frequency response (5 %): 1,0 (11/12)
Distortion (5 %): 1,0 (11/12)
Power handling (5 %): 0,9 (12/12)
Use (15% of overall score): 1,0 (11/12)
Workmanship (5 %): 1,1 (10/12)
Features (5 %): 1,1 (10/12)
Manual (5 %): 0,9 (12/12)
SUMMING IT UP
Arendal 1723 System
+ Brilliant workmanship
+ maximum dynamics
+ precise transient response
FINAL VERDICT
Reference-grade, Outstanding, 1+