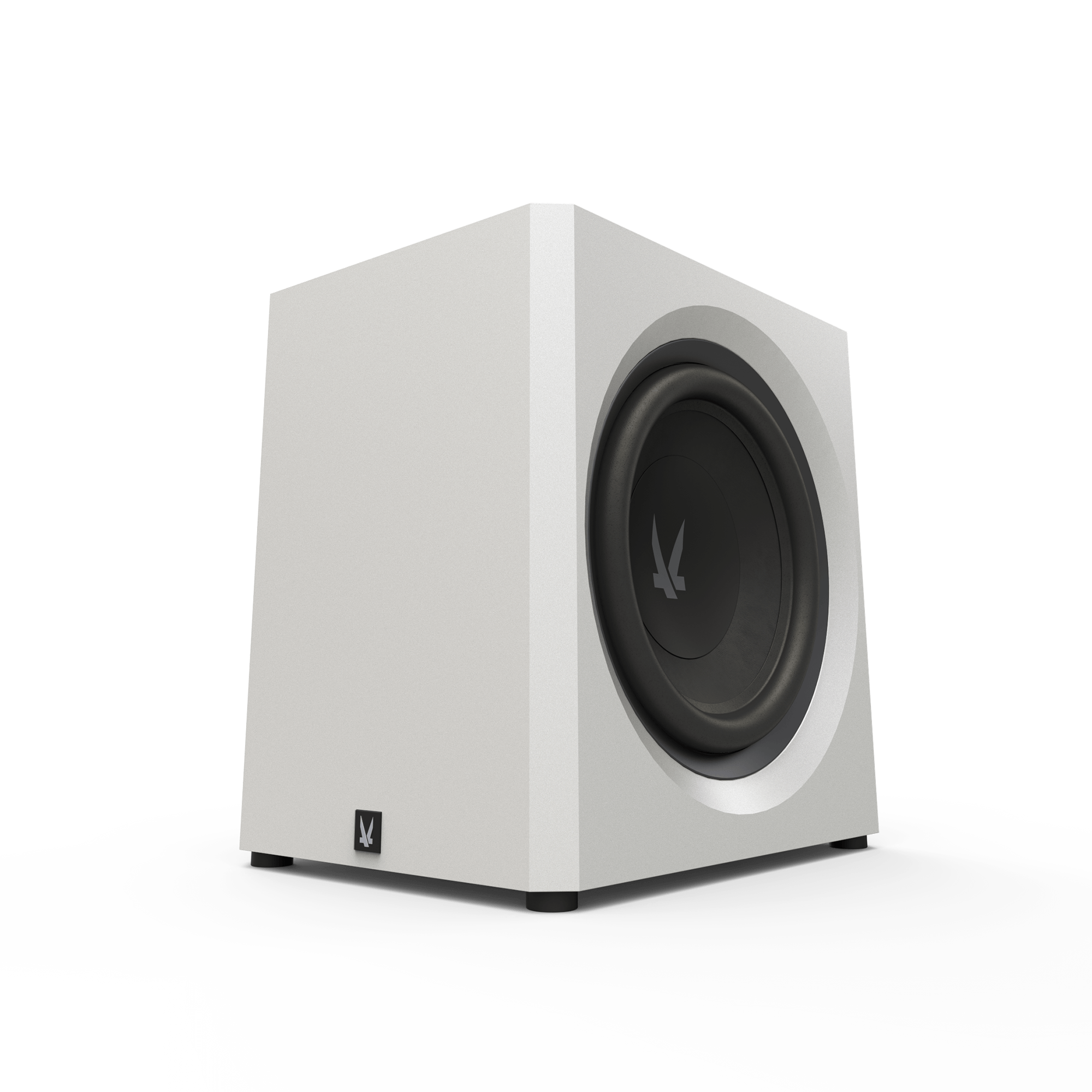 A good deal of power!
Arendal 1961 Subwoofer: A new loudspeaker range
The Norwegian loudspeaker specialist Arendal Sound has already taken a lot of credit for their 1723 range. A crisp, powerful sound, as well as a crystal-clear presentation are aspects that make the Arendal Sound setups popular, especially among home cinema fans. Introducing the brand new 1961 Series, the Norwegians are now offering strong sounding products in an especially interesting price range.
Quick-info
Dedicated home cinema: 5/5
Living-room cinema: 5/5
Stereo music: 5/5
Multi-channel music: 5/5
By Michael Voigt, Heimkino.
Heimkino readers surely remember the various reviews of the 1723 Series, loudspeakers offering extreme dynamics and an incorruptibly neutral sound for stereo as well as multichannel duties. But the high quality of the 1723 models comes of course at a price. The Norwegians placed thus their new 1961 Series in a somewhat lower price segment, including a full range of models with a floorstander, standmount and centre speakers, analog to the 1723 Series, as well as two subwoofer models [t/n: the full range includes Tower, Monitor, Center, Surround, Bookshelf and Height]. The active subwoofers 1961 Subwoofer 1S and 1961 Subwoofer 1V are already available from stock, priced at fair 799 and 999 Euro respectively. As a side note, while the product name of the 1723 Series relates to the foundation of Norwegian city of Arendal in the year 1723, the name 1961 refers to the year in which a suspension bridge to the island Tromoy was inaugurated – the longest one of its kind at its time [t/n: one of the longest].
Subwoofer 1S and 1V
Arendal Sound offers two subwoofer models in their new range, which basically differ only in their alignment principle. While the model 1S comes with a sealed enclosure, the Norwegians used a somewhat larger enclosure with bass-reflex port for the 1V model. Driver and amplifier are identical in both models, so customers are just deciding between two different sound concepts. Both enclosures have a high-class finish, made of MDF [t/n: the material is actually HDF], with a scratch-resistant finishing and available in black or white. Fulcrum of both subwoofers is the mighty 12" driver, which ensures a maximum of distortion-free dynamics with its especially strong magnet motor, extremely robust voice coil and exceptionally stiff membrane. It is driven by a newly developed amplifier module called Avalance 550 IQ, which can pump out a full 550 Watt RMS of power. The highlight of this Avalanche module is the built-in signal processor, which not only brings along the usual settings for crossover frequency and gain, but also a variety of subwoofer tuning options. Among them, we can find a 3-band parametric equalizer, adjustable low-cut (AKA subsonic filter), individually adjustable turn-on and turn-off times and triggering options from connected sources. It is even possible to connect an AVR and a stereo amplifier at the same time, in case you are running two systems in your listening room. The Arendal Sound subwoofers of the 1961 Series detect the signal arriving from the source in use and reproduce the sound arriving to the corresponding input. Hi-fi and home cinema can thus take advantage of the same single (or dual) subwoofer arrangement in the room. The settings on the Avalanche module are easily done via rotary knob and two buttons, being guided through all menus by the high-resolution display on the amplifier plate.
Measurements box
Frequency response 1961 Subwoofer 1S: Arendal's 1961 sealed model plays balanced and precise with a bass depth that can be extended down to 20Hz via built-in equalizer, which also allows to flatten out small peaks.
Dynamic 1961 Subwoofer 1S: even this sealed version delivers high dynamics and sound pressure levels up to 105dB are not a problem.
Crossover frequency 191 Subwoofer 1S: the DSP built in the Avalanche amplifier module takes also care of cutting out higher frequencies and even the slope of the filter can be adjusted.
Frequency response 1961 Subwoofer 1V: good SPL all the way down to 20Hz can be reproduced already in the "neutral setting" (all adjustments disabled) with this Arendal Sound subwoofer. The response becomes very balanced just by tuning its EQ, which extends the deep bass to hit even the 15Hz.
Dynamic 1961 Subwoofer 1V: This bass-reflex can deliver distortion-free SPL beyond 110dB whenever required!
Test bench and listening impressions
The 1961 Subwoofer 1S falls still into the category of "manageable" with its 32x41x41cm and 20kg weight, while the bass-reflex version 1V needs quite some more room arriving to a size of 39x54x50 cm and weighting much heftier 36kg. Both the sealed 1S and the bass-reflex 1V play already at a very high-performance level right out of the box. With the factory setting, the 1S reaches down to 22Hz and the 1V even a bit deeper. Using the PEQ and adjusting its parameters (bandwidth in form of Q-factor, centre frequency in Hertz and positive or negative amplitude in dB), it is possible to achieve a perfectly linear frequency response for both subwoofers and even reach down to lower frequencies, which the 1V hitting even 15Hz after fine tuning. Both subwoofers deliver stunning SPL and an unleashed dynamic in our room, remarkably the larger 1V surpassing even 110dB of distortion-free bass thanks to its bass-reflex arrangement. Both Arendal Sound 1961 subwoofers provide a terrific home cinema sound and extreme bassheads will be especially happy with the 1V. The smaller, sealed 1S has a small edge in terms of precision and detail, being thus the first choice for musical reproduction.
Figure Page 51: the smart amplifier module can be easily configured thanks to the built-in display.
Conclusion
The new Arendal Sound 1961 subwoofers deliver a tight, mighty and highest-quality bass with an impressive power handling within this price range. They can be perfectly integrated in any system or room, optimizing the sound thanks to its intelligent amplifier module with 3-band PEQ. These can be the icing on the cake in any home cinema or hi-fi system.
Figure Page 52: the larger model, 1V, gets support in the deepest bass through its bass reflex port on the rear side to deliver a tremendous SPL.
Score Subwoofer 1S
Sound (70% of overall score): 1,0 (11/12)
Precision (20 %): 1,0 (11/12)
Power handling (20 %): 1,1 (10/12)
Dynamics (15 %): 1,0 (11/12)
Physical impact (15 %): 1,0 (11/12)
Measurements (10% of overall score): 1,0 (11/12)
Frequency response (5 %): 1,0 (11/12)
Distortion (5 %): 1,1 (10/12)
Use (20% of overall score): 1,1 (10/12)
Workmanship (15 %): 1,1 (10/12)
Features (5 %): 0,9 (12/12)
Price/performance: Excellent
Summing it up
+ 3-band equalizer
+ high dynamics
+ freely configurable
FINAL VERDICT
Top class, Outstanding, 1,0
Score Subwoofer 1V
Sound (70% of overall score): 1,0 (11/12)
Precision (20 %): 1,1 (10/12)
Power handling (20 %): 0,9 (12/12)
Dynamics (15 %): 0,9 (12/12)
Physical impact (15 %): 0,9 (12/12)
Measurements (10% of overall score): 1,0 (11/12)
Frequency response (5 %): 1,0 (11/12)
Distortion (5 %): 1,0 (11/12)
Use (20% of overall score): 1,1 (10/12)
Workmanship (15 %): 1,1 (10/12)
Features (5 %): 0,9 (12/12)
Price/performance: Excellent
Summing it up
+ 3-band equalizer
+ extreme dynamics
+ freely configurable
FINAL VERDICT
Top class, Outstanding, 1,0
(t/n: the subwoofers 1V and 1S come with 5 year warranty, not the 2 years stated in the original review)