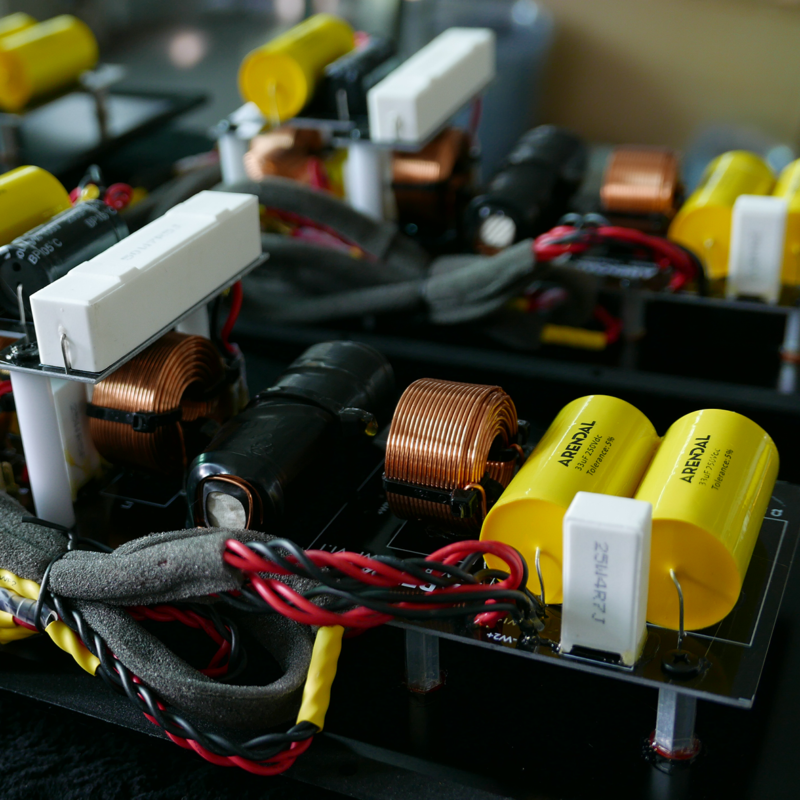 CROSSOVER DESIGN
Crossover design is a culmination of model, measure, listen, remodel, remeasure, re-listen, all while refining performance in increasingly small steps. This is the single most time consuming task in loudspeaker design, as it is the glue without which, even the best components can be made to sound disjointed and poor.
As with the overall design goals for all Arendal Sound products, the crossover must be up to the task to deliver on the promise of hi-fidelity and robust construction, without compromise. All models within the 1723 series share common drive designs and this applies equally to the treble to mid-bass crossover designs across the range. The 1723 Tower and Tower S gains an extra low pass section for the additional bottom bass drivers.
Whilst all the attention and praise is shone on driver selection and design, the crossover plays the most critical role in delivering a smooth, seamless transitioning of the mid-woofer to the tweeter. Special attention must be paid to magnitude, phase and polar response so that the transition is contiguous on and off axis.
Components used are tight tolerance, audio grades, and where no suitable item was found, components were custom made for Arendal Sound. Selection was further refined through destructive testing with 24 hour cycles of pink noise, played at progressively higher levels, without a break, over a period of days. If it could break, we found out why, how soon and rejected it anyway.
For the 1723 Monitor/Monitor S, 1723 Center/Center S the crossover is a 2-way design, with a crossover point of 1500Hz, 1400Hz for 1723 Surround and 1500Hz for 1723 Surround S. Slopes are all 4th order (24dB/octave) which serves to further protect the tweeter at high SPLs and limits out of band interactions between the drivers.
Both tower designs starts as a 2-way design very similar to the monitors, using the upper two woofer with the tweeter. This insures consistent voicing throughout the 1723 family. What sets the towers apart is the addition of the lower two woofers. These operate in tandem in below 120Hz for 1723 Tower and 100Hz for 1723 Tower S with the upper mid/bass drivers to further extend low frequency capabilities and increase headroom across the entire frequency range.
To summarize, all Arendal Sound crossovers have the same characteristics:
24dB/octave slopes.
Heavy gauge, low DCR air-core coils.
Metalized Polypropylene capacitors.
High power, low inductance wire wound resistors.
Wide, 1oz copper traces on 1.6mm thick FR4 PCBs.
Low inductance, low insertion loss, twisted-pair wiring.